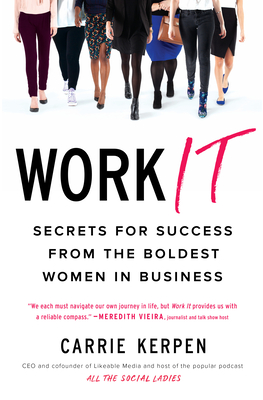 Work It: Secrets for Success from the Boldest Women in Business (Paperback)
Secrets for Success from the Boldest Women in Business
Tarcherperigee, 9780143131816, 256pp.
Publication Date: January 9, 2018
Description
An empowering career guide featuring bold advice from 50 high-profilewomen on how to succeed in work, leadership and life
You don't have to be a #Girlboss or "lean in" to have a dream career and live a life you love. In
Work It
, CEO of Likeable Media and popular podcast host Carrie Kerpen shares lessons from her career and an "advisory board" of powerful women in a wide range of industries to help women everywhere make their aspirations a reality. Packed with actionable tips and stories from the likes of Sheryl Sandberg, Aliza Licht, and Reshma Saujani, this inspiring book reveals their counterintuitive secrets for success, including:
- How and when to say "no" - whether it's a dream job that just isn't the right cultural fit or a low salary proposal, as well as when to say "yes"
- How to make your career work for you and your family rather than the other way around
- How to develop your own FAB PAB (Fabulous Personal Advisory Board) - a support network of women - rather than work with a single mentor
- The importance of talking openly about money - from job offer negotiations and cash flow management, to fundraising venture capital dollars
With advice on everything from mastering social media to navigating office politics and the seemingly impossible work/life balance
, Work It
arms every woman with the courage and skills to achieve success and happiness on her terms.
About the Author
CARRIE KERPEN is the host of the hit podcast, "All the Social Ladies" and CEO and co-founder of Likeable Media, the first global content-as-a-provider company, with major clients such as Century 21, StubHub, and AirBNB. Under her leadership, Likeable Media has been named Crain's 6th "Best Place To Work in NYC," a Top 50 Ad Agency by PivotStack and a Top 50 Fastest-Growing Women-Owned Businesses by WPO and American Express OPEN. On her podcast, she has interviewed more than 150 successful businesswomen in a range of industries about their career journeys, experiences, and life lessons, and her ATSL events draw 100+ attendees each. A keynote speaker and columnist, she lives in New York with her husband, Dave Kerpen, and their children.
Advertisement