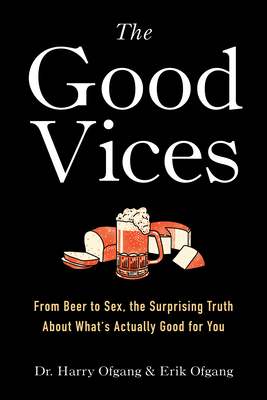 The Good Vices
From Beer to Sex, the Surprising Truth About What's Actually Good for You
Paperback

* Individual store prices may vary.
Description
Being healthy is easier, less expensive, and a whole lot more enjoyable than you think.

Much of the health advice we receive today tells us that in order to be healthy, we must consume a Spartan diet, exercise with the intensity of an Olympic athlete, and take a drug for every ailment. We constantly worry about the foods we should or shouldn't be eating and the medical tests we have neglected to take. And all that worry costs us dearly--financially, emotionally, and physically.

In The Good Vices, prominent naturopathic physician Dr. Harry Ofgang and health journalist Erik Ofgang tear down decades of myth and prejudice to reveal how some of our guilty pleasures are not only okay but actually good for our health. For example:



Like wine, moderate beer and spirit consumption raises our bodies' level of good cholesterol, which protects against heart disease.
Egg yolks are an excellent source of important fat-soluble vitamins.
Research suggests that moderate exercisers can be at least as healthy as, and sometimes even healthier than, those who exercise intensively.

Forget what you thought you knew about what's healthy, and enjoy some good vices instead.
Praise For The Good Vices: From Beer to Sex, the Surprising Truth About What's Actually Good for You…
"The Good Vices emphasizes that having fun and indulging in some of life's simple pleasures can be consistent with a healthier lifestyle. We always knew that eating ice cream was a lot of fun and are happy to hear it can be a part of healthy living. So enjoy a little ice cream, read this book, and be healthy." 
—Jerry Greenfield, cofounder of Ben & Jerry's Ice Cream

"With good humor, the Ofgangs offer insights and scientific evidence against a culture of deprivation, mortification, and unbridled consumerist fads. They restore la dolce vita to a place of prominence—and along the way, show how well-being and genuine care of the self require the right kind of indulgences."
—Stephen Olbrys Gencarella, PhD, folklorist and associate professor at the University of Massachusetts, Amherst

"I have pioneered 'flexible dieting' methods for twenty-five years, and I love seeing a resource like The Good Vices sand the rough edges from rigid diet dogma. The Ofgangs remind us that a healthy lifestyle can be fun!"
—Joe Klemczewski, PhD, coauthor of The Diet Docs' Guide to Permanent Weight Loss

"The Good Vices is so much fun to read, you may not notice how thoroughly and scientifically researched it is. I have been teaching statistics and research design to graduate students for more than 30 years, so I can attest to the care and objectivity these authors have used in evaluating the relevant empirical evidence." 
—Barry H. Cohen, PhD, former director of New York University's MA program in psychology

"Absolutely delightful! The basic acts of eating and drinking today can be daunting with all the 'this is bad for you, this is good for you' background noise. The Good Vices addresses this confusion and puts to rest any doubt about whether my morning coffee is healthy, showing that the comfort and happiness it brings make it doubly good for me. And this applies to other so-called vices. Through simple-to-understand statistics, history, fun vignettes, and useful tips, the authors explain how to chill out and enjoy life through food and drink, family and fun."
--Janice Schenker, co-owner of Caffe Kilim

"This lively, informative read makes the case that healthy living and happy living can be one and the same. And you won't feel so guilty anymore about imbibing in life's guilty pleasures!"
—Josh Pahigian, author of The Ultimate Baseball Road Trip
TarcherPerigee, 9780143131960, 208pp.
Publication Date: June 4, 2019
About the Author
Dr. Harry Ofgang is the founder of Hahnemann Health Associates in New York City and Hahnemann Natural Health and Education Associates in Connecticut. He began his study of medicine at the University of Perugia Faculty of Medicine and Surgery before graduating from the National University of Natural Medicine in Portland, Oregon. In more than thirty-five years practicing natural medicine, he has studied and lectured with some of natural medicine's most renowned figures.

Erik Ofgang is a journalist who writes on health, science, food, and travel. He has taught journalism at Quinnipiac University, Mercy College, and Western Connecticut State University's MFA program.
or
Not Currently Available for Direct Purchase