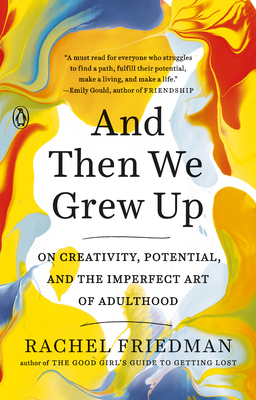 And Then We Grew Up
On Creativity, Potential, and the Imperfect Art of Adulthood
Paperback

* Individual store prices may vary.
Other Editions of This Title:
Digital Audiobook (12/30/2019)
Description
One of Publishers Weekly's Best Books of 2019 

A journey through the many ways to live an artistic life—from the flashy and famous to the quiet and steady—full of unexpected insights about creativity and contentment, from the author of The Good Girl's Guide to Getting Lost.

Rachel Friedman was a serious violist as a kid. She quit music in college but never stopped fantasizing about what her life might be like if she had never put down her bow. Years later, a freelance writer in New York, she again finds herself struggling with her fantasy of an artist's life versus its much more complicated reality. In search of answers, she decides to track down her childhood friends from Interlochen, a prestigious arts camp she attended, full of aspiring actors, artists, dancers, and musicians, to find out how their early creative ambitions have translated into adult careers, relationships, and identities.

Rachel's conversations with these men and women spark nuanced revelations about creativity and being an artist: that it doesn't have to be all or nothing, that success isn't always linear, that sometimes it's okay to quit. And Then We Grew Up is for anyone who has given up a childhood dream and wondered "what-if?", for those who have aspired to do what they love and had doubts along the way, and for all whose careers fall somewhere between emerging and established. Warm, whip-smart, and insightful, it offers inspiration for finding creative fulfillment wherever we end up in life.
Praise For And Then We Grew Up: On Creativity, Potential, and the Imperfect Art of Adulthood…
"As kids, we're told to follow our passions. But that vague advice often doesn't align with the economic realities of getting by in the so-called adult world. How can a person still live an artistic life, even if it doesn't quite align with childhood expectations? Once a serious violinist, Rachel Friedman . . . interviews her cohort of campers at Interlochen Arts Camp to see how their own dreams unfolded, and what they've done with their creative ambition. A must-read for anyone who has, well, grown up."
—Refinery29

"Do you make resolutions for New Year's Eve? Before you do, go out and grab Rachel Friedman's new book, And Then We Grew Up . . . I recommend both of her books [And Then We Grew Up and The Good Girl's Guide to Getting Lost] . . . as you begin a new decade!"
—Ms. Magazine

"Insightful . . . ably illustrates many forms creativity can take. . . . Anyone who's ever looked back longingly at an old passion and wondered what might have been will find an empathetic friend in Friedman."
—Publishers Weekly (starred review)

"An excellent keyhole into the inner life of those who quit."
—Publishers Weekly's Best Books 2019

"There are plenty of books about people who follow their artistic dreams to glory. Rachel Friedman asks, 'How about some books where we focus on gracefully giving up on something?' And Then We Grew Up is a fine specimen of the sort. . . . [an] amiable look at the state of the artist."
—Shelf Awareness

"An intriguing…exploration of talent and expectation. Why some people combine ability, luck, grit, and opportunity to break away from the pack while others quit remains unanswerable, but Friedman explores the topic with an appealing mix of trepidation and curiosity. . . . For creative types, Friedman takes the pressure off, redefining success in more ways than reaching the limelight."
—Kirkus Reviews

"In this funny, insightful book, Rachel Friedman asks hard questions and actually comes up with some answers. It's a must read for everyone who struggles to find a path, fulfill their potential, make a living, and make a life."
—Emily Gould, author of Friendship

"And Then We Grew Up is real as hell and made me feel so seen. Friedman captures so perfectly the endless quest to be a functional happy person in the world who is also, somehow, an art monster. Searching, honest, and generous, this book is a consoling and revealing meditation on making peace with your life."
—Meaghan O'Connell, author of And Now We Have Everything

"Advice about doing what you love often clashes with reality in midlife. In her thoughtful, generous book—a kind of The Big Chill reckoning for mid-life creatives—Rachel Friedman explores how she and her talented childhood friends reached various states of disillusionment and fulfillment. And Then We Grew Up is the perfect gift for anyone trying to reconcile a desire to write, play music, or make art with more pedestrian desires, like having a family, food on the table, or peace of mind."
—Ada Calhoun, author of Wedding Toasts I'll Never Give

"Did you grow up pointed in an artistic direction? Did you not but wonder about those who did? Do you have kids of your own with art in their hearts? If yes on any of those, And Then We Grew Up will be of interest on a dozen levels. With candor and humor and perfect intonation, Rachel Friedman gets at one of the biggest questions of all: What happens to us as we get older?"
—Chris Colin, author of What to Talk About and What Really Happened to the Class of '93

"An insightful, informative, and unexpectedly heartfelt look at all of the ways in which art touches our lives. Friedman reminds us that even if we hang up our dance shoes, neglect our paint set, or box up our musical instruments, creativity never really leaves us."
—Geraldine DeRuiter, author of All Over the Place: Adventures in Travel, True Love, and Petty Theft

"In And Then We Grew Up, Rachel Friedman is a wise and funny guide through a tangle of hard questions about art, work, and life—about what it means to 'make it,' about the many shades of success and failure, and about the search for fulfillment through creativity. Brave enough to examine her own biases, assumptions, and hangups, she provides a way forward for the rest of us who have wrestled with these questions, too. Essential reading for anyone who wonders about the role of creativity and art in their life."
—Eva Holland, author of Nerve: A Personal Journey Through the Science of Fear
Penguin Books, 9780143132127, 256pp.
Publication Date: December 31, 2019
About the Author
Rachel Friedman is the author of And Then We Grew Up and The Good Girl's Guide to Getting Lost. Her work has appeared in The Best Women's Travel Writing, The McSweeney's Book of Politics and Musicals, The New York Times, Creative Nonfiction, and The Chronicle of Higher Education, among others. She lives in Brooklyn with her son.