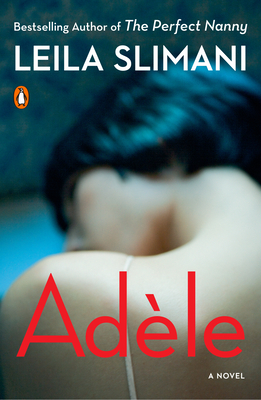 Adèle
A Novel
Paperback

* Individual store prices may vary.
Other Editions of This Title:
Digital Audiobook (3/18/2019)
Library Binding, Large Print (2/6/2019)
Description
"Fascinating . . . Adèle has glanced at the covenant of modern womanhood--the idea that you can have it all or should at least die trying--and detonated it." --The New York Times Book Review

"[A] fierce, uncanny thunderbolt of a book." --Entertainment Weekly

From the bestselling author of The Perfect Nanny--one of the 10 Best Books of the Year of The New York Times Book Review--as well as Sex and Lies and In the Country of Others, her prizewinning novel about a sex-addicted woman in Paris

She wants only one thing: to be wanted.

Adèle appears to have the perfect life: She is a successful journalist in Paris who lives in a beautiful apartment with her surgeon husband and their young son. But underneath the surface, she is bored--and consumed by an insatiable need for sex.

Driven less by pleasure than compulsion, Adèle organizes her day around her extramarital affairs, arriving late to work and lying to her husband about where she's been, until she becomes ensnared in a trap of her own making. Suspenseful, erotic, and electrically charged, Adèle is a captivating exploration of addiction, sexuality, and one woman's quest to feel alive.
Praise For Adèle: A Novel…
One of O, The Oprah Magazine's 10 Titles to Pick Up Now
One of Time's 11 New Books to Read This January
One of Entertainment Weekly's 20 New Books to Read in January
One of amNewYork's 8 New Novels to Read in 2019
One of The Million's Most Anticipated of 2019
One of Nylon's 50 Books You'll Want to Read in 2019

"Bold, stylish and deeply felt." —The Wall Street Journal

"A slim, compelling read, Adèle examines topics ranging from marriage and motherhood to adultery, but the overarching theme is the notion of freedom. . . . The plot of Adèle recalls Kundera's masterwork [The Unbearable Lightness of Being]." —Vanity Fair

"The feverish spark of obsession licks at the corner of nearly every page." —Entertainment Weekly

"Sultry, polarizing." —New York, The Approval Matrix: Highbrow/Brilliant

"[A] short but weighty book about a self-destructive wife and mother caught in the throes of sex addiction." —New York, "6 New Paperbacks You Should Read This January"

"Sensational . . . In her novels, home and hearth are a furnace, not a haven. Families are groups in which power struggles are conducted in close quarters, and with gloves off." —Time

"A feminasty thriller." —O, The Oprah Magazine

"Engrossing . . . Bracing . . . [A] frisson of tension propels Adèle. . . . Shattering." —San Francisco Chronicle

"Brave . . . A skillfully turned novel that gives us nothing we expect . . . Its clean, affectless prose may recall Camus. (A gifted stylist, Slimani can pack a sneaky wallop when she wants.) . . . Any Slimani novel is a major event." —The Philadelphia Inquirer

"Bracingly erotic . . . Once again Slimani unveils a story which reads us and our moral reactions as we turn its pages." —John Freeman, Lit Hub

"The Perfect Nanny put Leila Slimani on my radar, but Adèle cemented my devotion to her work." ―Anne Heltzel, Electric Literature

"If Sally Rooney is her generation's essential writer on sex, Slimani . . . is its most compelling writer on violence. Her prose is grotesque and vivid; indulging nothing that doesn't need to be indulged." —The New Statesman

"Bracing . . . Elegantly written . . . Provocatively enigmatic." —The Guardian

"Thrilling . . . The tight pacing and spare style that had readers hooked to [The Perfect Nanny] are still here. . . . Slimani is one of the few contemporary authors—along, perhaps, with Rachel Cusk and Deborah Levy—writing intelligently about motherhood today." —The Sunday Times (U.K.)

"One of the most unusual books I've ever read. Get a copy if you can, and be prepared to be shaken and stirred by a feat of great writing on an intriguing subject." —Lorraine Candy, The Sunday Times (U.K.)

"Unsparingly lucid . . . [Written] in taut, lithe prose . . . A tender and troubling novel." —Financial Times

"A riveting and psychologically rich novel, its final pages particularly stirring . . . A story that will strike a chord with many women . . . Slimani is a fearless writer who pulls back the curtain to show what secretly thrills and terrifies women." —Evening Standard

"Very racy . . . Intensely graphic . . . Set to cause shockwaves on a global scale." —Daily Mail

"[Slimani] writes with a cool detachment and unflinching emotional honesty that takes your breath away. . . . [She is] as eloquent on aftermath and exile as the chase of the high." —Vogue (U.K.)

"Haunted and compulsive . . . gripping." —Words Without Borders
 
"Fascinating . . . A dizzying array of sex scenes . . . One can't be prepared for Adèle." —The AV Club

"No man would have dared write what she did. It's an extraordinary first novel." —Alain Mabanckou, author of Black Moses and judge for the La Mamounia Prize

"Adèle exposes the contradictory urges of modern womanhood: to want to control and lose control; to mother and destroy; to be adored by many but needed by no one; to be irreproachable in conduct but free to live as she desires. It is a timely, startling read that I dare you to put down." —Courtney Maum, author of Touch

"Searing, incisive, fearless, and a damn fine read." —Elisa Albert, author of After Birth and The Book of Dahlia

"What's really compelling about the way Slimani writes Adèle is that she doesn't try to psychologize her or really account for her motivations. . . . Slimani makes no apologies for her character. But neither are we meant to see her as some kind of unlikable anti-heroine. She's just a woman with certain desires, full stop, and Slimani is more interested in exploring her reckoning with them than in justifying or explaining them." —Lauren Elkin, author of Flaneuse

"[Slimani] is now the archetype of a certain international image of a female French author: talented, open-minded, and politically engaged." —Vanity Fair (France), "The 50 Most Influential French People in the World"

"Exposes the dark desires of a seemingly normal woman . . . Adèle—and the reader—must come to terms with what it is we demand of women in modern times, and how those punishing requirements lead so many of us to crack and try and get autonomy through unorthodox means." —Nylon, "50 Books You'll Want to Read in 2019"

"Almost heart-wrenching . . . Slimani's terse prose hurls toward its inevitable conclusion." —amNewYork

"Cancel your plans, because you'll finish this addictive novel in one weekend." —Apartment Therapy

"Slimani's fascinating follow-up to The Perfect Nanny . . . is a skillful character study. Slimani's ending is the perfect conclusion to this memorable snapshot of sex addiction." —Publishers Weekly

"Eminently relatable . . . Artful, edgy . . . An unflinching exploration of female self-sacrifice and the elusive nature of satisfaction." —Kirkus Reviews

"[A] pacey page-turner . . . that keeps you guessing. . . . [Adèle is] a character that anyone who has ever felt a little unsatisfied with life should be able to relate to." —The Press Association

"Written in prose of elegant but never bloodless neutrality . . . [Adèle] leads readers through the labyrinth of desire into an understanding of solitude, isolation and the search for authenticity as our common fate." —The Independent (London)

"An explosive portrait of the claustrophobia that can come with marriage and motherhood and the damaging consequences of stifling women's sexuality." —Irish Mail on Sunday

"Shocking . . . A brave choice for the international panel of judges [of the La Mamounia Prize] . . . [It] somehow slipped passed Moroccan censors, but it's a safe bet no Moroccan publisher would have dared print it." —The Irish Times

"Displays an undeniable literary power." —L'Express (France)
Penguin Books, 9780143132189, 240pp.
Publication Date: January 15, 2019
About the Author
Leila Slimani is the bestselling author of The Perfect Nanny, one of The New York Times Book Review's 10 Best Books of the Year, for which she became the first Moroccan woman to win France's most prestigious literary prize, the Goncourt. She won the La Mamounia Prize for Adèle. A journalist and frequent commentator on women's and human rights, she is French president Emmanuel Macron's personal representative for the promotion of the French language and culture and was ranked #2 on Vanity Fair France's annual list of the Fifty Most Influential French People in the World. Born in Rabat, Morocco, in 1981, she now lives in Paris with her French husband and their two young children.