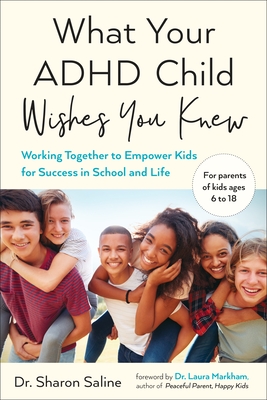 What Your ADHD Child Wishes You Knew
Working Together to Empower Kids for Success in School and Life
Paperback

* Individual store prices may vary.
Other Editions of This Title:
Digital Audiobook (8/6/2018)
Description

A 2018 Best Book Awards winner in Parenting & Family
A 2018 Mom's Choice Book Award winner

A veteran psychologist presents a proven roadmap to help ADHD kids succeed in school and life

You've read all the expert advice, but despite countless efforts to help your child cope better and stay on track, you're still struggling with everyday issues like homework, chores, getting to soccer practice on time, and simply getting along without pushback and power struggles.

What if you could work with your child, motivating and engaging them in the process, to create positive change once and for all? In this insightful and practical book, veteran psychologist Sharon Saline shares the words and inner struggles of children and teens living with ADHD—and a blueprint for achieving lasting success by working together. Based on more than 25 years of experience counseling young people and their families, Dr. Saline's advice and real-world examples reveal how parents can shift the dynamic and truly help kids succeed. Topics include:

* Setting mutual goals that foster cooperation
* Easing academic struggles
* Tackling everyday challenges, from  tantrums and backtalk to staying organized, building friendships, and more.

With useful exercises and easy-to-remember techniques, you'll discover a variety of practical strategies that really work, creating positive change that will last a lifetime.
 

 
Praise For What Your ADHD Child Wishes You Knew: Working Together to Empower Kids for Success in School and Life…
"Short enough for a busy parent to actually read and use; utterly reliable and authoritative but never pedantic; wise, kind, and teeming with the chirping voices of children who have ADHD; this cornucopia of a book will feed you over and over again. Wonderfully written, infused with positive energy and solid information. All parents of children who have ADHD should buy it."
--Edward Hallowell, MD, bestselling author of Delivered from Distraction
 
"We have many effective treatments and strategies to help kids with ADHD better manage daily life, but this book will provide that equally important intervention: feeling understood. I love how this book helps parents create a deeper relationship with their kids so that the whole family can thrive."
--Ari Tuckman, PsyD, MBA, Author of More Attention, Less Deficit and Understand Your Brain, Get More Done

"Dr. Saline helps parents understand the negative and positive thought patterns in their families, expose the components of unhelpful behaviors and, then, using her 5 C's approach, guides them toward workable solutions. I highly recommend this book to assist parents in tuning up their abilities to see and hear their children's signals more accurately, untie the knots of miscommunication, and improve everyone's coping strategies for living with ADHD."
--Aaron T. Beck, M. D., Psychiatrist and Professor Emeritus University of Pennsylvania, Perelman School of Medicine

"When I give presentations for parents of children with ADHD and executive skill challenges, my message to them is Most of these kids turn out fine! This book is an excellent blueprint for parents who want to make that happen. Dr. Saline is a skilled therapist who has learned to listen to her clients. This book teaches us to do the same."
--Peg Dawson, Ed.D., Psychologist and author of Smart but Scattered
 
"Dr. Saline provides compassionate, consistent and comprehensive guidance around the broad impact of ADHD on individuals and families. Her 5 C's provide a practical foundation for overcoming the wide-ranging challenges of living with ADHD." 
--Mark Bertin MD, Developmental Pediatrician and author of How Children Thrive and Mindful Parenting for ADHD
 
 "Sharon Saline is a rare commodity — a psychotherapist who "gets it"! Not only does she understand complex kids, but she speaks to parents in a kind, straightforward, clear way that helps them improve their communication with their kids — in the heat of the moment, when they need it most. Creatively developed, constructive in its advice, and compassionately written, this is the kind of book I'd recommend to the parents in my community."
--Elaine Taylor-Klaus, co-founder of ImpactADHD.com and author of Parenting ADHD Now
 
"Dr. Saline does an excellent job of bringing compassion and insight to address the struggles children with ADHD face. She infuses each of her concepts with quotes from children of all ages as they share the impact ADHD has on them. The book will leave you feeling positive and inspired to face the challenges together with your child."
--Cindy Goldrich, Ed.M., ACAC, ADHD Parent Coach and Teacher Trainer, PTS Coaching
  
"After making a diagnosis of ADHD, parents often ask me 'what do we do now?' Finally, there is a resource I can recommend that gives concrete advice on how to help their children, illustrated with stories, examples, and the science behind the advice."
--Jonathan Schwab, MD, Medical Director, Northampton Area Pediatrics
 
 "As a school psychologist, I recognize the struggles of these children and am grateful for the wisdom they share. As a parent, my first reaction to reading this book is 'here we are, in print!' My mom take-home message is that by following Dr. Saline's sage advice, we parents can become the champions our ADHD kids really need."
--Kathy Casale, School Psychologist and parent of two kids with ADHD
 
 "I wish I'd had this insightful and compelling book when my children were younger. A must-read for the parent of a child with ADHD."
--Ayelet Waldman, author of A Really Good Day
 
"This book is a treasure trove for any parent of a child diagnosed with ADHD. I will return to it over and over, as a parent, a teacher and a fellow-sufferer of 'bullet brain.'"
--Nerissa Nields, singer/songwriter and co-founder of The Nields Band, author of How to Be an Adult
 
"As a teacher and a parent, I know how often our children's frustrations become our own. Dr. Saline helps children, caregivers and educators feel supported and equipped for success."
--Amy Meltzer, Award-Winning teacher and parent of a teen with ADHD
 
 "This book is a treasure in how it simplifies what parents need to do to best support kids with ADHD.  Frustrated parents can exhale and learn how to create a positive, collaborative dynamic at home using Sharon Saline's many helpful tips and strategies."
--Debbie Steinberg Kuntz, LMFT and Founder of Positive Impact Family
  
"This book is a gift for ADHD kids and their parents, packed full of wisdom and practical tips from kids and adults alike. The five C's are tools I use and teach in my own practice all the time." 
--Christopher Willard, PsyD, faculty, part time, Harvard Medical School, author Growing Up Mindful and Raising Resilience

"Essential reading for parents and teachers who want to help ADHD children succeed. Dr. Saline expertly captures the voices of youth describing the multi-faceted challenge of ADHD, while providing practical, and research-tested strategies to support their learning, problem solving and relationships."
--Sam M. Intrator, Professor, Education and Child Study, Smith College

"Saline's prescription is simple, easily adopted, and highly convincing."
--Publishers Weekly
TarcherPerigee, 9780143132394, 272pp.
Publication Date: August 7, 2018
About the Author
Sharon Saline, Psy.D., maintains a busy psychotherapy practice working with children, teens, families and adults with ADHD and other mental health issues. She has spoken and conducted workshops nationally and internationally on ADHD and the adolescent brain. Thousands of parents, teachers, school administrators and mental health clinicians have attended her presentations, trainings and workshops.