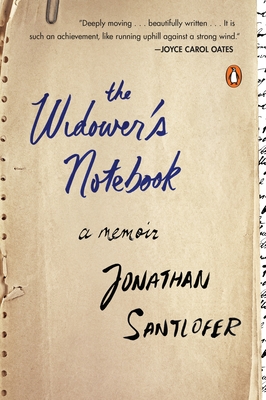 The Widower's Notebook
A Memoir
Paperback

* Individual store prices may vary.
Other Editions of This Title:
Digital Audiobook (7/9/2018)
Library Binding, Large Print (1/23/2019)
Description
Written with unexpected humor and great warmth, The Widower's Notebook is a portrait of a marriage, an account of the complexities of finding oneself single again after losing your spouse, and a story of the enduring power of familial love.

"This is deeply moving ... beautifully written and modulated, with a dollop of droll, black humor. It is such an achievement, like running uphill against a strong wind."--Joyce Carol Oates

On a summer day in New York Jonathan Santlofer discovers his wife, Joy, gasping for breath on their living room couch. After a frenzied 911 call, an ambulance race across Manhattan, and hours pacing in a hospital waiting room, a doctor finally delivers the fateful news. Consumed by grief, Jonathan desperately tries to pursue life as he always had--writing, social engagements, and working on his art--but finds it nearly impossible to admit his deep feelings of loss to anyone, not even his to beloved daughter, Doria, or to himself.

As Jonathan grieves and heals, he tries to unravel what happened to Joy, a journey that will take him nearly two years.
Praise For The Widower's Notebook: A Memoir…
"Wrenching, heartbreaking, intense and emotional - but valuable, too: we're all approaching the age where this will happen to us - or to others because of us - and understanding that it can be dealt with is consoling.  I don't know how Santlofer found the fortitude to write this, but I'm deeply grateful he did. I think the world is a better place with this book in it."—Lee Child, #1 New York Times bestselling author

"The Widower's Notebook, Jonathan Santlofer's searingly truthful chronicle of mortality, is, among its wonders, a book about the preciousness of life and love, rendered all the more heart-wrenching, and all the more vital, by a loss almost beyond imagining. It's a true tragic beauty."
—Michael Cunningham, Pulitzer Prize winning author of The Hours

"The Widower's Notebook is a searing rendition of the complex relationship between men and grief—an intense despair that is too often starved for words.  This chronicle of devastation is itself devastating, a deeply powerful and unflinchingly honest report of how painfully and strangely life continues in the wake of a sudden, tragic death."—Andrew Solomon, National Book Award winner

"The Widower's Notebook is an intimate, honest, heart-wrenching, and at times even funny account of grieving as well as the memoir of long, satisfying, loving marriage. This is an important and welcome addition to the literature of loss and grief from the male point of view. I will be giving this Notebook to friends reeling from loss but also to old and new couples who need models of how to weather the many little deaths and losses that occur as they journey a life together. Santlofer has given us a brave, beautiful gift, heartfelt and invaluable."
—Julia Alvarez, bestselling author of How the García Girls Lost Their Accents and Saving the World

"Widower is stunning, harrowing, un-put-down-able… Jonathan Santlofer finds language that is immediate and intimate for the irreconcilable trauma of loss. Without pause he captures the shattered time that is grief—this book is fearless, brave for its humanity, honesty, love. Santlofer brings the reader into his heart, sharing all the things that one feels but dares not say aloud, all that one wants to know but can't ask of themselves, of those around them, of their lost loved one."—A.M. Homes, author of May We Be Forgiven

"As an extended meditation - not on grief but on grieving - it is direct, unadorned and humane. It is, as well, a rare thing, a portrait of a happy marriage."—Paul Theroux, New York Times bestselling author
 
"Jonathan Santlofer's book is a miraculous act of seeing, in words and in drawings — of reconstituting, in a work of art, what his wife Joy was like and what their marriage was like and what the loss has been. A riveting memoir of grief, and an indelible portrait of a long and deeply good marriage." —Joan Wickersham, National Book Award finalist and author of The Suicide Index
 
"A brave book! A truthful and poignant account of an unexpected death filled with wisdom about life and a man's struggle to be allowed to grieve."—Sheila Kohler, author of Once We Were Sisters

"Jonathan Santlofer, with painful honesty, renders real grief in all its sprawl and inconsolable intensity."—Edmund White, author of A Boy's Own Story

"Jonathan Santlofer's stunning The Widower's Notebook raises all the blinds on immense and sudden loss, bringing light to all its dark corners. In so doing, he offers a deeply moving, often funny, always big-hearted portrait—not just of grief but of a long and rich marriage brought to vivid life, and of a mighty father-and-daughter relationship both tested and enduring. A true gift."—Megan Abbott, bestselling author of You Will Know Me
Penguin Books, 9780143132493, 272pp.
Publication Date: July 10, 2018
About the Author
Jonathan Santlofer is a writer and artist. His debut novel, The Death Artist, was an international bestseller, translated into seventeen languages, and is currently in development for screen adaptation. His fourth novel, Anatomy of Fear, won the Nero Award for best novel of 2009. His short stories have appeared in numerous anthologies. He is also the creator and editor of several anthologies including It Occurs to Me That I Am America, a collection of original stories and art. His paintings and drawings are included in many public and private collections. He lives in New York City.
Coverage from NPR