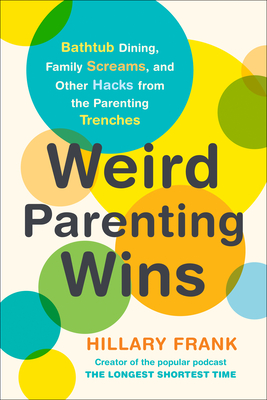 Weird Parenting Wins
Bathtub Dining, Family Screams, and Other Hacks from the Parenting Trenches
Paperback

* Individual store prices may vary.
Other Editions of This Title:
Digital Audiobook (1/14/2019)
Description
Unconventional--yet effective--parenting strategies, carefully curated by the creator of the popular podcast The Longest Shortest Time

Some of the best parenting advice that Hillary Frank ever received did not come from parenting experts, but from friends and podcast listeners who acted on a whim, often in moments of desperation. These "weird parenting wins" were born of moments when the expert advice wasn't working, and instead of freaking out, these parents had a stroke of genius. For example, there's the dad who pig-snorted in his baby's ear to get her to stop crying, and the mom who made a "flat daddy" out of cardboard and sat it at the dinner table when her kids were missing their deployed military father.
    Every parent and kid is unique, and as we get to know our kids, we can figure out what makes them tick. Because this is an ongoing process, Weird Parenting Wins covers children of all ages, ranging in topics from "The Art of Getting Your Kid to Act Like a Person" (on hygiene, potty training, and manners) to "The Art of Getting Your Kid to Tell You Things" (because eventually, they're going to be tight-lipped). You may find that someone else's weird parenting win works for you, or you might be inspired to try something new the next time you're stuck in a parenting rut. Or maybe you'll just get a good laugh out of the mom who got her kid to try beets because...it might turn her poop pink.
Praise For Weird Parenting Wins: Bathtub Dining, Family Screams, and Other Hacks from the Parenting Trenches…
*An NPR Best Book of 2019*

"Forget attachment parenting, helicopter parenting, free-range parenting or tiger parenting. It is time for what's-on-my-butt parenting."
—The Wall Street Journal
 
"Weird Parenting Wins succeeds as a source of ideas and genuine laughs that people can enjoy in five-minute intervals in between, well, parenting."
—The Washington Post

"Frank reconsiders everything from potty training to grappling with adolescence."
—TIME

"It's a laugh-out-loud parenting companion filled with tiny victories."
 —NPR.org

"A funny and heartwarmingly honest book that's sure to give parents some surprising hacks."
 —BuzzFeed

"Genius." 
—NBC News Better

"[Hillary Frank] compiled some hilarious and heartfelt hacks into a book called Weird Parenting Wins."
—Brit+Co

"What makes Weird Parenting Wins so joyful to flick though is the realization that in your most desperate moments, you might just be doing something right."
—Romper

"It takes a lot of weird to win at parenting, and a lot of love for your fellow weird parents to collect all that weird in one place. The result of both is the irresistible Weird Parenting Wins. I can't stop reading, I can't stop laughing, and I can't stop totally relating. This is a book for anyone who's ever told his children that it's illegal to be too loud in restaurants or played a rousing game of 'What's on My Butt' while lying face-down on the couch, and for anyone who thinks those sound completely crazy—but might have a story of her own. Crazy, dear, empathetic, and anything but guilt-inducing, this is the parenting book that unites us all." 
—KJ Dell'Antonia, author of How to be a Happier Parent

"From the New Year's Goat to the Lifesavers Game, this is the most hilarious (and practical) parenting advice ever!"
—Grace Lin, author of Newbery Honor Winner Where the Mountain Meets the Moon

"Parenting is a psychological dance, one of the most complicated psychological dances anybody does. How many steps do you know? How quickly can you turn and dance in another direction? Those are good things to know about yourself and I personally feel—that as a general rule—it is better to have more moves than fewer. Most parents are incredibly busy, so Weird Parenting Wins is full of fast hacks. Highly entertaining but also soothing to know that you are not alone in your incompetence. Truly a delight."
—Alix Spiegel, co-host of Invisibilia 

"Parenting books might help us understand child development, but any parent in the thick of the journey knows that other parents have great tips and tricks for solving everyday parenting dilemmas. In Weird Parenting Wins, Hillary Frank shares advice from real parents in the trenches to tackle everything from sleep training (or not) to picky eating to getting those tight-lipped big kids to talk. Humorous and helpful, this book is packed with parenting wins for everyone."
—Katie Hurley, LCSW, author of No More Mean Girls and The Happy Kid Handbook 


TarcherPerigee, 9780143132554, 256pp.
Publication Date: January 15, 2019
About the Author
Hillary Frank began her career as a contributor on This American Life. She is the creator of the podcast The Longest Shortest Time and has received awards from the Third Coast International Audio Festival, The Association for Women in Communications, The Academy of Podcasters, and The New York Festival's World's Best Radio Programs. Hillary is also the author of three young adult novels: The View from the Top, I Can't Tell You, and Better Than Running at Night.
Coverage from NPR