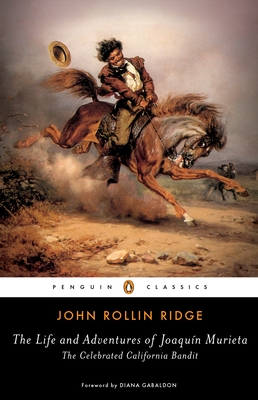 The Life and Adventures of Joaquín Murieta (Paperback)
The Celebrated California Bandit
Penguin Classics, 9780143132653, 208pp.
Publication Date: July 10, 2018
Other Editions of This Title:
Paperback (8/15/1977)
Paperback (2/1/2012)
* Individual store prices may vary.
Description
The first novel to feature a Mexican American hero: an adventure tale about Mexicans rising up against U.S. rule in California, based on the real-life bandit who inspired the creation of Zorro, the Lone Ranger, and Batman

With a new foreword by Diana Gabaldon, the #1 New York Times bestselling author of the Outlander series

An action-packed blend of folk tale, romance, epic, and myth, The Life and Adventures of Joaquín Murieta tells the story of the Gold Rush-era Mexican immigrant Joaquín Murieta, whose efforts to find fortune and happiness are thwarted by white settlers who murder his family and drive him off his land. In retaliation, Murieta organizes a band of more than 2,000 outlaws--including the sadistic "Three-Fingered Jack"--who take revenge by murdering, stealing horses, and robbing miners, all with the ultimate goal of reconquering California.

The first novel written by a Native American and the first novel published in California, The Life and Adventures of Joaquín Murieta speaks to the ways in which ethical questions of national security and racialized police violence have long been a part of U.S. history. This edition features excerpts from popular rewritings of the novel, including Johnston McCulley's first novel about Zorro, The Curse of Capistrano (also known as The Mark of Zorro).
About the Author
John Rollin Ridge (1827-1867), also known as Yellow Bird, was born in Georgia to a Cherokee father, who was murdered by a Cherokee leader for having supported the treaty that led to the Trail of Tears. After killing a man who had stolen his horse, Ridge fled to California, where he identified with Mexican Americans who had been displaced from their land by white settlers. He wrote for the San Francisco Herald, among other publications, and was the first editor of the Sacramento Bee. His only novel, The Life and Adventures of Joaquín Murieta, was published in 1854.
Hsuan L. Hsu (editor/introducer) is a professor of English at the University of California, Davis.
Diana Gabaldon (foreword) is the author of the multimillion-copy #1 New York Times bestselling Outlander series. She lives in Scottsdale, Arizona, with her husband.
Praise For The Life and Adventures of Joaquín Murieta: The Celebrated California Bandit…
"Remarkably readable and entertaining . . . Offers a window on the real social dynamics—race, culture, and prejudices—of the time, and may offer grounds for reflection on how much things have changed. Or haven't." —from the Foreword by Diana Gabaldon, #1 New York Times bestselling author of the Outlander series

"One of the most influential and one of the most invisible novels in the history of American literature . . . It remains a vital novel today as racial profiling, deportations, criminalization, police violence, and racialized dispossession continue to devastate American communities in spite of putatively 'colorblind' laws [and] offers a bracing rejoinder to racially disproportionate rates of incarceration, the systemic nature of antiblack police brutality, and the intensified militarization of the U.S.-Mexico border fueled by racial stereotypes such as President Trump's invocation of 'bad hombres.'  . . . A classic American story of anti-racist insurrection." —from the Introduction by Hsuan L. Hsu