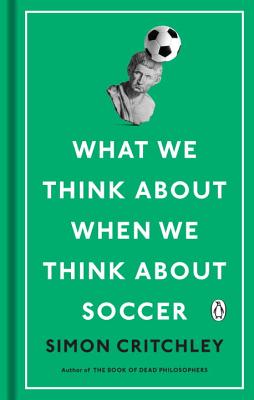 What We Think About When We Think About Soccer
Hardcover

* Individual store prices may vary.
Other Editions of This Title:
Digital Audiobook (1/1/2018)
MP3 CD (1/2/2018)
Compact Disc (1/2/2018)
Compact Disc (1/2/2018)
Description
You play soccer. You watch soccer. You live soccer You breathe soccer. But do you think about soccer?

Soccer is the world's most popular sport, inspiring the absolute devotion of countless fans around the globe. But what is it about soccer that makes it so compelling to watch, discuss, and think about? Is it what it says about class, race, or gender? Is it our national, regional, or tribal identities? Simon Critchley thinks it's all of these and more. In his new book, he explains what soccer can tell us about each, and how each informs the way we interpret the game, all while building a new system of aesthetics, or even poetics, that we can use to watch the beautiful game.
 
Critchley has made a career out of bringing philosophy to the people through popular subjects, and in What We Think About When We Think About Soccer he uses his considerable philosophical acumen to examine the sport that has captured the hearts and minds of millions.
Praise For What We Think About When We Think About Soccer…
"Simon Critchley beguiles as he illuminates." —David Mitchell, author of Cloud Atlas

"Simon Critchley is a figure of quite startling brilliance" —Jonathan Lethem, author of The Fortress of Solitude

"[Critchley] approaches every subject — be it suicide or soccer — with the same intellectual rigor. The writing is not only deep and philosophical, but approachable and conversational." —Los Angeles Times

"Critchley makes the sport's myths tangible without removing our sense of awe." —Rolling Stone

"No one else thinks quite like [Critchley]." —The New York Review of Books

"In this irresistible treatise on how soccer came to be the dominant sport around the globe…. Critchley's depth and range of knowledge is remarkable."—Publishers Weekly (Starred review)
 
"We have to admit that, like many Americans, what we mostly thought about when we thought about soccer was, 'Why the heck don't they just catch the ball and run?'  That was before we read Simon Critchley's phenomenology of 'the  beautiful game.'  Now we know, among other things, what it's like to be a ball, and it turns out that from the ball's point of view, it really is quite poetic.  This is not only a fun book about soccer; it's also a fascinating work of phenomenology and aesthetics by a first-rate philosopher." —Thomas Cathcart and Daniel Klein, authors of the New York Times bestseller Plato and a Platypus Walk into a Bar…

"This slim book will provide many pleasures…anyone who is passionate about a game and is willing to read a smart assessment of what it means to be a fan will find much to admire." —Kirkus Reviews

"Brilliant. . . Critchley offers a thoroughgoing — and often very personal — report." —LA Review of Books

"Critchley has written a beautiful book about the beautiful game—about the way that soccer, at its best, can be elevated to an art form that enchants us, unites us, and occasionally appalls us.  Like any form of art, soccer has something to tell us about the world, how it is organized and how is occasionally comes apart.  The World Cup is coming—fans should start reading." —John Kaag, author of American Philosophy: A Love Story

"Soccer is the world's most beautiful game, with many aspects of it that are unexplainable. Simon Critchley's book reminded me why millions—myself included—are so obsessed with this sport and how it has captured the imaginations of people all over the world." —Robbie Rogers, author of Coming Out to Play

"For any soccer lover with an interest in philosophy this is certainly the book for you. But even if you're more of the former than the latter, Critchley's clear writing style provides the reader with a deeper understanding, and love even, for the most thought-about sport around the world."—Soccer America
Penguin Books, 9780143132677, 224pp.
Publication Date: October 31, 2017
About the Author
Simon Critchley is Hans Jonas Professor at the New School for Social Research. His books include Very Little…Almost Nothing (1997), Infinitely Demanding (2007), The Book of Dead Philosophers (2009) and The Faith of the Faithless (2012). Recent works include a novella, Memory Theatre, a book-length essay, Notes on Suicide and a book on David Bowie. He is series moderator of 'The Stone', a philosophy column in The New York Times and co-editor of The Stone Reader (2016). He is also 50% of an obscure musical combo called Critchley & Simmons. Ponders End, their new album, was recently released.