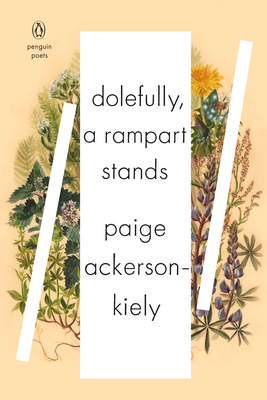 Dolefully, A Rampart Stands (Penguin Poets) (Paperback)
Penguin Books, 9780143132684, 96pp.
Publication Date: February 5, 2019
* Individual store prices may vary.
Description
A collection of haunting, image-rich poems about isolation, captivity, and vanishing.

The poems in Paige Ackerson-Kiely's third collection are set primarily in the rural northeast of America, and explore rural poverty, entrapment, captivity, violence, and a longing to vanish. Ranging from free verse to a long noir prose poem, they examine who her, or our, "captors" might be. Ackerson-Kiely is interested in characters who are aware of their foibles, and who find ways to turn away from those problems in search of connection and freedom.
About the Author
Paige Ackerson-Kiely is the author of two poetry collections, In No One's Land and My Love is a Dead Arctic Explorer. She is a generalist and lives in Peekskill, New York.
Praise For Dolefully, A Rampart Stands (Penguin Poets)…
Praise for Dolefully, A Rampart Stands:

"Ackerson-Kiely's talent for the uncanny is extraordinary. Her ability to create entire atmospheres through single lines elevates her poems to something approaching the oracular, while never straying from the colloquial and the quotidian . . . Dolefully, a Rampart Stands announces a pastoral poetry for the 21st Century . . . a brilliantly disquieting collection." —Rain Taxi Review

"Playful, punchy, clever, and strange, Ackerson-Kiely's poems are on-rhythm and off-center . . . some of the most unique pieces you'll read this year." –The Millions, "Must-Read Poetry" 

"Dark, yet brimming with life." —HelloGiggles 

"Ackerson-Kiely sketches a landscape in which sexism and economic oppression are indelibly linked . . . [revealing] the ways that power, censorship, and disbelief are internalized, as they live with us in our most solitary moments, and they circumscribe what is possible within our dreaming." –Kristina Marie Darling, Kenyon Review 

"[Paige Ackerson-Kiely]'s third collection pulls no punches in depicting rural life, rustic customs, and the concerns of bar patrons and working folks. Her poems frequently escape into wildly imaginative imagery . . . consistently one of the most nuanced poets writing today, [she] offers evocative and unmatched verisimilitude." –Booklist


Praise for My Love Is a Dead Arctic Explorer:

"Funny and wild with expertly conceived images . . . [Ackerson-Kiely's] poems make the familiar more familiar . . . and remind us to be absolutely shot through with anxiety and uncertainty and desire." —Michael Robbins, Chicago Tribune

"Dark, full of nature, and full of life, this collection will snarl its way into your soul." —Flavorwire