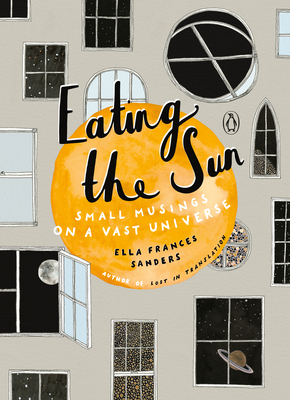 Eating the Sun
Small Musings on a Vast Universe
Hardcover

* Individual store prices may vary.
Other Editions of This Title:
Digital Audiobook (11/25/2019)
Description
Winner of the 2019 Whirling Prize

"Strong on science but just this side of poetry." —Nature 

A beautifully illustrated exploration of the principles, laws, and wonders that rule our universe, our world, and our daily lives, from the New York Times bestselling creator of Lost in Translation

Have you ever found yourself wondering what we might have in common with stars, or why the Moon never leaves us? Thinking about the precise dancing of planets, the passing of time, or the nature of natural things? 

Our world is full of unshakable mystery, and although we live in a civilization more complicated than ever, there is simplicity and reassurance to be found in knowing how and why.
 
From the New York Times bestselling creator of Lost in Translation, Eating the Sun is a delicately existential, beautifully illustrated, and welcoming exploration of the universe—one that examines and marvels at the astonishing principles, laws, and phenomena that we exist alongside, that we sit within.

"[A] lyrical and luminous celebration of science and our consanguinity with the universe. . . . Playful and poignant." —Brain Pickings
Praise For Eating the Sun: Small Musings on a Vast Universe…
Praise for Eating the Sun

"[A] lyrical and luminous celebration of science and our consanguinity with the universe. . . . Playful and poignant." —Brain Pickings

"Sanders elucidates many of the wonders of our world . . . Each inspiring snapshot feeds the curiosity of anyone interested in exploring the universe that we exist in and that exists in us." —Scientific American

"With this pairing of witty illustrations and an open-weave narrative—strong on science but just this side of poetry—Ella Frances Sanders has penned a pocket-sized book vast in ambition." —Nature

"Ella Frances Sanders uses intricate illustration and thoughtful articulation to ask and answer the big questions about the universe, the solar system, and the world, marveling at the way nature works in a way that's both visually and intellectually powerful." —Food52

"If you're looking for a book to ignite passion in science, and a reminder that despite the misery shown daily in the news the universe is in actual fact quite beautiful, then you should read this book." —Chemistry World 

"Sanders beautifully personifies the universe with lyrical prose and whimsical color illustrations . . . poetic yet scientifically illuminating . . . Sanders renders [scientific] language both accessible and appealing to her audience. Even more importantly, she consistently captures a sense of awe and wonder at the universe, and ignites (or reignites) that same sense in the reader." —Publishers Weekly (starred review)

"A wonder-filled excursion into the sometimes-baffling and formidable world of science. . . . Presenting information in a charming, conversational style, the author seeks to demystify science with panache. . . . A fun, accessible introduction to a variety of scientific topics that readers can explore further." —Kirkus Reviews

"In this sweet and optimistic new book, author-illustrator Sanders explores the sweeping science of the universe and then breaks it down so that even right-brainers and hopeless romantics can comprehend. . . . Unique and delightful . . . Sanders's marveling is inspiring and sure to be contagious, even for the least scientifically minded of readers." —Booklist

"Wondrous . . . Remarkable . . . Read[s] like poetry. . . . [Sanders's] colorful drawings, like her writing, encourage a childlike awe. This slim but lyrical exploration of the universe elicits poetry and awe out of science." —Shelf Awareness for Readers


Praise for Lost in Translation

"A great little book . . . lovely." —The Washington Post

"Beautifully illustrated." —BuzzFeed

"A fantastic collection." —Entertainment Weekly

"Thoroughly fascinating." —Refinery29

"A charming little book with delightful illustrations." —San Francisco Chronicle
Penguin Books, 9780143133162, 160pp.
Publication Date: April 16, 2019
About the Author
New York Times bestselling author Ella Frances Sanders is the writer and illustrator of two previous books, Lost in Translation: An Illustrated Compendium of Untranslatable Words from Around the World and The Illustrated Book of Sayings: Curious Expressions from Around the World, which have both been translated into eight languages.