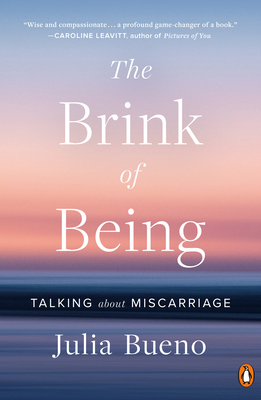 The Brink of Being (Paperback)
Talking About Miscarriage
Penguin Books, 9780143133230, 320pp.
Publication Date: July 2, 2019
Other Editions of This Title:
Digital Audiobook (7/1/2019)
* Individual store prices may vary.
Description
"Wise and compassionate . . . a profound game-changer of a book." --Caroline Leavitt, author of Pictures of You

Though approximately one in four pregnancies ends in miscarriage, it remains a rarely talked about, under-researched, and largely misunderstood area of women's health. This profoundly necessary book--the first comprehensive portrait of the psychological, emotional, medical, and cultural aspects of miscarriage--aims to help break that silence.

With candor, warmth, and empathy, psychotherapist Julia Bueno blends women's stories (including her own) with research and analysis, exploring the effect of pregnancy loss on women and highlighting the ways in which our society fails to effectively respond to it. The result is a galvanizing, urgent, and moving exploration of a too-often-hidden human experience, and a crucial resource for anyone struggling with--or seeking to better understand--miscarriage.
About the Author
Julia Bueno is a psychotherapist who specializes in working with women who have experienced pregnancy loss or struggled to conceive. Her writing has been published in The Times (UK), Express, Therapy Today, and welldoing.org, among others. She lives in London with her husband and two sons.
Praise For The Brink of Being: Talking About Miscarriage…
Praise for The Brink of Being:

"[M]oving . . . a comprehensive picture of shame, grief, and other emotions that accompany such a specific trauma. The Brink of Being is also a call of action to doctors, families, and our broader society: How can we better support people who miscarry?" —Bitch Media

"This book should be required reading for anyone who has had a miscarriage or been close to a woman who has." —The Mercury 

"Those who have been touched by miscarriage will surely find [The Brink of Being to be] a great resource outlining the emotional landscape after pregnancy loss or as a guide to better understand what a woman might be enduring." —Associated Press

"Bueno's choice of language is considered and thoughtful, unpacking difficult issues that are so often avoided for fear of causing distress. She writes with sensitivity and compassion, filling a much-needed void in discussion around the subject, and opening the door to more candid conversations." —Observer

"A much-needed book on this difficult and often unspoken loss." —Julia Samuel, author of Grief Works

"Intelligent, sensitive, and utterly candid . . . The sort of book women have long been searching for." —Meaghan O'Connell, author of And Now We Have Everything

"A book of profound insight, rare courage, and calm, searching compassion." —Zoe Williams, author of The Madness of Modern Parenting

"A thoughtful work that identifies and honors an important passage of life for a great many women." —Julia Leigh, author of Avalanche

"[A] profound game-changer of a book that can not only support women, but can help reshape a society that often ignores or sweeps women's issues under that proverbial rug." —Caroline Leavitt, New York Times bestselling author of Pictures of You 

"Beautifully written and thoroughly researched, The Brink of Being is vital reading, both for those who have experienced miscarriage and for the people who want to support them. I think a lot of people are going to be stronger for reading this." —Keith Stuart, author of The Boy Made of Blocks

"Julia is one of the most intuitive, compassionate, and curious psychotherapists around, and in her approach to miscarriage all of these qualities are shown." —Sathnam Sanghera