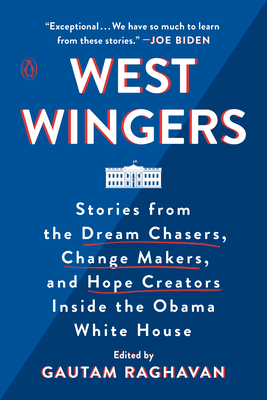 West Wingers
Stories from the Dream Chasers, Change Makers, and Hope Creators Inside the Obama White House
Paperback

* Individual store prices may vary.
Other Editions of This Title:
Digital Audiobook (9/24/2018)
Description
The Obama White House staff invites us behind-the-scenes of history for a deeply personal and moving look at the presidency and how the president's staff can change the nation

"West Wingers is exceptional. . . . We have so much to learn from these stories." —Joe Biden

When we elect a president, we elect with them an entire team that will join them in the West Wing to help run the country. Each of these staffers has a story to tell, and in West Wingers, Barack Obama's White House staff reveals how these extraordinary citizens shape the presidency and the nation.

In these moving and revealing personal stories, eighteen Obama staffers bring us deep inside the presidency, offering intimate accounts of how they made it to the White House, what they witnessed, and what they accomplished there.  We hear from a married gay staffer pushing the president towards marriage equality; a senior aide working to implement the Affordable Care Act while battling Stage IV cancer; a hijab-wearing Muslim adviser accompanying the President to a mosque. In each one we see the human face of government, staffers devoting themselves to the issues that have defined their lives. From the triumphs of Obamacare and marriage equality to the tragedy of the Charleston shooting, this book tells the history of the Obama presidency through the men and women who worked tirelessly to support his vision for America. More than just a history though, West Wingers is an inspiring call to arms for public service, a testament to the possibility of real social change, and a powerful demonstration of what true diversity, inclusivity, and progress can look like in America.

"These deeply moving stories offer more than a fascinating view into the window of history: they show us how hope becomes real, sustainable change." —Valerie Jarrett, former senior advisor to President Obama
Praise For West Wingers: Stories from the Dream Chasers, Change Makers, and Hope Creators Inside the Obama White House…
"West Wingers is exceptional because of the people in it: ordinary citizens who did extraordinary work and always put the American people first. We have so much to learn from their stories."–Joe Biden

"There is no calling higher than public service. West Wingers brings us inspiring stories of women and men who unselfishly answered that call, remarkable citizens who worked for President Barack Obama to shape a better future for all Americans. These deeply moving stories offer more than a fascinating view into the window of history: they show us how hope becomes real, sustainable change."–Valerie Jarrett, former senior advisor to President Obama

"These gifted thinkers will lead us to a better place. They will make a major contribution to our future—as a nation, as a people—with what they have learned working for President Obama. We all should be inspired by their involvement, their passion, and their work. Their contribution to our nation will inspire our young people to dream dreams, to be hopeful, and to never give up or give in."–Congressman John Lewis

"There are few things more enthralling than a backstage seat in the White House, and West Wingers brings together a powerful group of Obama administration insiders to shine a spotlight on what it really takes to fight for social change."–Adam Grant, New York Times bestselling author of Give and Take, Originals, and Option B (with Sheryl Sandberg)

"These are essential American stories. Through diverse voices sharing their amazing experiences working to move our country forward, West Wingers creates an inspiring roadmap to a better future." –Sheryl Sandberg, New York Times bestselling author of Lean In and Option B (with Adam Grant)

"West Wingers gives us exactly what our country needs right now: a model for compassionate leadership and a commitment to making life better for all Americans regardless of race, class, or religion." –Van Jones, Host of The Van Jones Show and New York Times bestselling author of Beyond the Messy Truth

"It's hard to truly understand how special the Obama White House was without having been there, but West Wingers gets you as close as humanly possible. You may not have previously known the names of the amazing team contributing to this book, but you should. Our kids should. Their stories will leave you inspired and hopeful for our future."–Kal Penn, actor and former Associate Director of the White House Office of Public Engagement

"West Wingers is not a typical partisan political book. It's a peek behind the curtain at the highs and lows and the joys and disappointments of working for the President of the United States. It's impossible to read without seeing the humanity in this diverse group of voices. Each fascinating chapter tells a piece of American History from a different and often overlooked perspective."–Kate Andersen Brower, New York Times bestselling author of First in Line, First Women and The Residence

"I loved West Wingers! It's an Obama-era version of The West Wing, featuring a cast of do-gooders, wonks, idealists and change-makers that Aaron Sorkin never could have dreamt up. It's a fascinating behind-the-curtain glimpse at a band of absurdly dedicated, mostly unknown and unsung true believers. Not least, it's a postcard from a galaxy far away: a White House mostly devoid of lying, back-stabbing, leaking or high drama." -Chris Whipple, New York Times bestselling author of The Gatekeepers

"A welcome contrast to the current dismal state of the White House." –Kirkus

"Heartfelt and earnest . . . [A] memorable collection of essays, which shares those diverse and empathetic perspectives on behind-the-scenes events." –Publishers Weekly

"It's fascinating to relive President Obama's time in office through the eyes of the team that helped him run the country." -Hello Giggles
Penguin Books, 9780143133292, 336pp.
Publication Date: September 25, 2018
About the Author
Gautam Raghavan served as Barack Obama's liaison to the LGBT community as well as the Asian American and Pacific Islander community from 2011-2014. Prior to this, he worked for the Department of Defense, the 2008 Obama Campaign, and the Democratic National Committee. Raghavan was born in India, raised in Seattle, and graduated from Stanford. He currently lives in Washington, D.C. with his husband Andy and their new daughter, Maya.

Contributors to West Wingers: Gautam Raghavan, Michael Strautmanis, Leah Katz-Hernandez, Brad Jenkins, Heather Foster, Cecilia Muñoz, Hope Hall, Michael J. Robertson, Raina Thiele, Lynn Rosenthal, Bill Yosses, Darienne Page, Deesha Dyer, Ned Price, Julie Chavez Rodriguez, Rumana Ahmed, Stephanie Valencia, and Aneesh Raman.