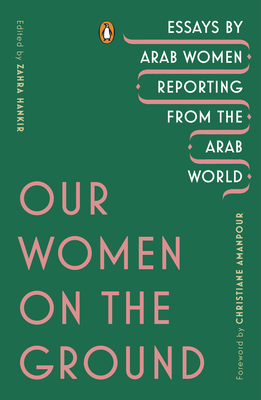 Our Women on the Ground
Essays by Arab Women Reporting from the Arab World
Paperback

* Individual store prices may vary.
Other Editions of This Title:
Digital Audiobook (8/5/2019)
Description
Nineteen Arab women journalists speak out about what it's like to report on their changing homelands in this first-of-its-kind essay collection, with a foreword by CNN chief international correspondent Christiane Amanpour

"A stirring, provocative and well-made new anthology . . . that rewrites the hoary rules of the foreign correspondent playbook, deactivating the old clichés." —Dwight Garner, The New York Times

A growing number of intrepid Arab and Middle Eastern sahafiyat—female journalists—are working tirelessly to shape nuanced narratives about their changing homelands, often risking their lives on the front lines of war. From sexual harassment on the streets of Cairo to the difficulty of traveling without a male relative in Yemen, their challenges are unique—as are their advantages, such as being able to speak candidly with other women at a Syrian medical clinic or with men on Whatsapp who will go on to become ISIS fighters, rebels, or pro-regime soldiers. 

In Our Women on the Ground, nineteen of these women tell us, in their own words, about what it's like to report on conflicts that (quite literally) hit close to home. Their daring and heartfelt stories, told here for the first time, shatter stereotypes about the region's women and provide an urgently needed perspective on a part of the world that is frequently misunderstood.

INCLUDING ESSAYS BY: Donna Abu-Nasr, Aida Alami, Hannah Allam, Jane Arraf, Lina Attalah, Nada Bakri, Shamael Elnoor, Zaina Erhaim, Asmaa al-Ghoul, Hind Hassan, Eman Helal, Zeina Karam, Roula Khalaf, Nour Malas, Hwaida Saad, Amira Al-Sharif, Heba Shibani, Lina Sinjab, and Natacha Yazbeck
Praise For Our Women on the Ground: Essays by Arab Women Reporting from the Arab World…
"Refreshing (and long overdue) . . . Will appeal to readers of all genders and backgrounds who want to broaden their understanding of the Arab world."
—NPR

"A refreshing anthology of essays by female writers whose work cut through the many clichés of Middle East reporting. Their accounts provide honest and raw depictions, recounted from their own experiences and from other women whose stories are often overlooked when reporting on foreign policy and conflict."
—The New York Times

"It has been many years since I have, at the end of a book, felt compelled immediately to start again from the beginning. . . . [A] superb compendium of reporting by Arab women . . . Intelligence and depth of insight . . . radiate[s] from these brilliant journalists."
—Bobby Ghosh, Bloomberg

"Excellent."
—n+1

"A masterpiece . . . [and] an absolute must-read."
—Bust

"Truly groundbreaking."
—InStyle

"Powerful."
—Bustle

"Incredibly eye-opening."
—Cosmopolitan

"Showcases journalism at its bravest. Determination, grit and humour shine through the writing of reporters who frequently face opposition from their own families."
—The Guardian, "The Best Books of 2019"

"Refreshing and revelatory . . . A rich mosaic of an often-misunderstood region . . . [that] allows the authors to represent themselves not merely as female journalists or Arabs but as full human beings."
—Ms. Magazine

"Several of the[se women] have reported bravely on the conflict in Syria and the travails of women living under ISIS rule. . . . They provide a perspective and a range of contacts and ideas born of experience that had previously been largely missing."
—The New York Review of Books

"These nineteen brief, riveting essays argue for a more honest, experiential approach [to journalism]."
—The Times Literary Supplement

"These voices and stories are much needed." 
—Book Riot

"In an era where the truth is put up for debate, let's celebrate these women, who venture into conflict to get at the truth."
—Refinery29

"Remarkable [and] illuminating."
—Booklist (starred review)

"[A] timely and affecting collection . . . [that] will appeal greatly to readers interested in global women's issues, journalism, and the modern Arab world. . . . Heartrending and deeply humanistic."
—Library Journal (starred review)

"Offering a blend of memoir, war reporting, cultural commentary, history, and politics, these powerful essays deliver insightful analysis."
—Publishers Weekly

"These stories from the field are rare and remarkable. . . . A timely, engaging work that reveals why the journalist's profession is so important and so endangered."
—Kirkus

"Powerful [and] essential." 
—BookPage

"Candid, evocative and above all, daring." 
—Harper's Bazaar Arabia

"[A] pioneering collection . . . Journalism at its most honest and reflective."
—The Arts Desk

"Provides an intimate glimpse into the courage and pressures bearing on the determined women who report on their own homelands." 
—Chatham House

"Inspiring and extraordinary."
—Stylist

"A beautiful book of gripping and illuminating essays."
—America Magazine

"A compelling and gripping read."
—Middle East Monitor

"A revelation."
—The National

"Out of the gloom of the Middle East, this book brims with new voices—Arab women reporting on their world as no one else has seen it. A terrific read, full of insight and surprise."
—David E. Hoffman, Pulitzer Prize-winning author of The Billion Dollar Spy

"This astounding, affecting collection offers a sweeping panorama of the contemporary Arab experience. . . . Rich with understanding and sincere emotional connection."
—Megan K. Stack, author of Women's Work

"A remarkable book that fills a tremendous gap . . . The voices of these trailblazing women are even more vital today."
—Hassan Hassan, New York Times bestselling co-author of ISIS

"A dazzling book that elegantly demonstrates how to tell stories with humility, affection, and truthfulness." 
—Azadeh Moaveni, author of Lipstick Jihad and Guest House for Young Widows

"Stark and haunting. I loved this book. . . . A must-read."
—Janine di Giovanni, author of The Morning They Came for Us

"With steely courage and pens of fire, these sahafiyat—Arab female journalists—tell the stories of their countries' conflicts, providing rigor, depth and insight few outside commenters could match."
—Molly Crabapple, co-author and illustrator of Brothers of the Gun and author of Drawing Blood

"The journalists in this book have demonstrated the highest professional achievements and courage. . . . Without them, the stories of today and tomorrow will remain only partly told."
—Christiane Amanpour, from the Foreword
Penguin Books, 9780143133414, 304pp.
Publication Date: August 6, 2019
About the Author
Zahra Hankir is a Lebanese-British journalist who writes about the intersection of politics, culture, and society in the Middle East. Her work has appeared in Vice, BBC News, Al Jazeera English, Bloomberg Businessweek, Roads & Kingdoms, and Literary Hub, among others. She was awarded a Jack R. Howard Fellowship in International Journalism to attend the Columbia Journalism School and holds degrees in politics and Middle Eastern studies.

Christiane Amanpour (foreword) is CNN's chief international anchor and host of the network's award-winning, flagship global affairs program Amanpour, which also airs on PBS in the United States. She is based in the network's London bureau. Christiane's illustrious career in journalism spans more than three decades. After joining CNN in 1983, Amanpour rose through the organization, becoming the network's leading international correspondent reporting on international crises in the Gulf War, Iraq, Afghanistan, North Korea, Palestinian territories, Iran, Sudan, Israel, Pakistan, Somalia, Rwanda, the Balkans, Egypt, and Libya. Amanpour has interviewed most of the top world leaders over the past two decades and has received every major broadcast award, including an inaugural Television Academy Award, eleven News and Documentary Emmys, four Peabody Awards, and nine honorary degrees. In 2014, she was inducted into the Cable Hall of Fame and in 2018 was inducted into the Broadcasting & Cable Hall of Fame. She is a member of the American Academy of Arts and Sciences, a Commander of the Most Excellent Order of the British Empire, an honorary citizen of Sarajevo, and a UNESCO Goodwill Ambassador. Amanpour is a graduate of the University of Rhode Island.