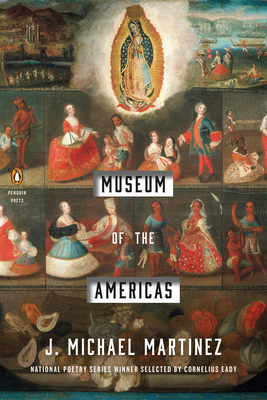 Museum of the Americas (Penguin Poets)
Paperback

* Individual store prices may vary.
Description
Longlisted for the 2018 National Book Award in Poetry

Winner of the National Poetry Series Competition, selected by Cornelius Eady--an exploration in verse of imperial appropriation and Mexican American cultural identity

"Marvelous, argumentative, and curiosity-provoking" --The New York Times Book Review

The poems in J. Michael Martinez's third collection of poetry circle around how the perceived body comes to be coded with the trans-historical consequences of an imperial narrative. Engaging beautiful and otherworldly Mexican casta paintings, morbid photographic postcards depicting the bodies of dead Mexicans, the strange journey of the wood and cork leg of General Santa Anna, and Martinez's own family lineage, Museum of the Americas gives accounts of migrant bodies caught beneath, and fashioned under, a racializing aesthetic gaze. Martinez questions how "knowledge" of the body is organized through visual perception of that body, hypothesizing the corporeal as a repository of the human situation, a nexus of culture. Museum of the Americas' poetic revives and repurposes the persecuted ethnic body from the appropriations that render it an art object and, therefore, diposable.
Praise For Museum of the Americas (Penguin Poets)…
Praise for Museum of the Americas:

"Diorama-like, this book displays what has been, in American culture, displayed, and thereby displaced. It is at once a natural history of American racism and colonialism, utterly devastating in its cumulative impact, and a gorgeous mash-up of genres and forms: bold, light, and ruthlessly smart." —Dan Chiasson, The New Yorker, "The Poetry I was Grateful for in 2018"

"This marvelous, argumentative and curiosity-provoking book is itself best thought of as a kind of corrective cabinet of wonders, one whose portraits and specimens complicate the dominant narratives of imperial conquest and control . . . Martinez's approach is as brainy as it is entertaining, as political as it is personal." —Kathleen Rooney, The New York Times Book Review

"Masterful . . . Martinez's poems are dynamic personal doxologies of Mexican-American tradition and inheritance . . . Ambitious and historical, Martinez's book earns praise." — Nick Ripatrazone, The Millions

"[A] fascinating hybrid collection that explores how current events reflect long-held prejudices about Mexicans and people of color." —The Washington Post

"A beautiful, personal, well-conceived, and historically contextualized indictment of empire, the aestheticization of biopolitics, and the white gaze." — Publishers Weekly

"[A] showcase for some smoldering linguistic skills and a powerful argument against racism." —The Santa Barbara Independent 

 "J. Michael Martinez's visionary lyricism lands like a dark amber lightning bolt on the ivory blade of the American poetic genome, sparking a poesis of radiant mutations that we always dreamed possible---but wondered if they could ever truly transpire.  With echoes of Pound and Melville, Paz and Borges and more, he forges a sui generis poetics of mestizo becoming that ranges from anatomizing pre-Columbian deities to memories of his Mexican American grandmother's funeral, with all of the atrocities and wonders that have passed between.  Museum of the Americas offers a borderless American Genesis story that begins in Tenochtitlán, rather than Plymouth Rock.  It feels like a tale we've been waiting to be told." — John Phillip Santos

"This is a fascinating, layered collection of poetry that blurs genre in some really interesting ways. Martinez offers, as the title suggests, a museum of the Americas, and especially engages with Mexican migration and its effect on the body. Given the goings on of the world, this poetry is especially timely. Every piece in this book offers something beautiful or haunting or illuminating; every thought, every word, every image is precisely rendered." — Roxane Gay

"J. Michael Martinez may call this stunning collection a museum, but once you enter, it'll feel more like a dip into a repository of fun house mirrors; our entwined histories here are pushed, pulled, elongated, and always reflected straight back, with laser sharpness, to the reader's gaze. It is a book perfectly crafted to meet the complicated days we are living through." — Cornelius Eady

"J. Michael Martinez's poetics is at once direct, critically incisive, and aesthetically adventurous. This collection is brimming with the enigma of social agency as manifested through culture. Museum of the Americas stands as a beacon for how the impulse towards radical democratic vision and practices can be tracked by a bold reformatting of historicity that speaks to our current moment." — Rodrigo Toscano

"The book's larger cultural issues will get a lot of attention, and they should, as they deepen the conversation, but what has stayed with me most are the very personal poems in this book, about Martinez and his father and his grandmother, which serve as great tributes to their lives." — Alex Dueben, The Rumpus 
Penguin Books, 9780143133445, 112pp.
Publication Date: October 2, 2018
About the Author
Visiting Assistant Professor of Poetry at St. Lawrence University, J. Michael lives in upstate NY.
or
Not Currently Available for Direct Purchase