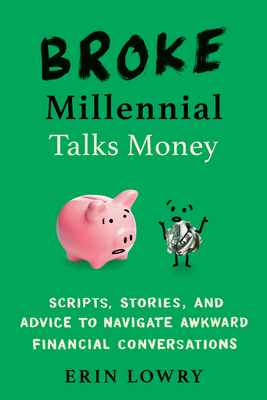 Broke Millennial Talks Money
Scripts, Stories, and Advice to Navigate Awkward Financial Conversations (Broke Millennial Series)
Paperback

* Individual store prices may vary.
Description
A comprehensive guide to talking about money in every aspect of your life, including at work, with friends and family, and in relationships, from the author of the Broke Millennial series.

Let's face it--talking about money is always awkward. In this user-friendly and approachable guide, finance writer Erin Lowry helps take the stress out of these tricky conversations. With scripts, tips, and troubleshooting advice, she takes you through every possible money talk scenario, including:

• how to tell your friends you can't afford the same lifestyle they can
• how to ask your parents if they can afford retirement and if they'll need your support as they age
• how to talk to your coworkers about your salary and negotiate with your boss
• how to broach the subject of a prenup with your fiancé

Lowry arms you with all of the financial knowledge you'll need in order to get the most out of each interaction, whether that's with your friends, your spouse, your employer, or your mom. It's time to demystify our money and hash out these tough topics with the important people in our lives, and this helpful book will make it all much easier.
Praise For Broke Millennial Talks Money: Scripts, Stories, and Advice to Navigate Awkward Financial Conversations (Broke Millennial Series)…
"Erin Lowry is THE voice of personal finance for millennials. In Broke Millennial Talks Money she delivers a powerful prescription for financial health and a roadmap for navigating some of the most challenging money conversations we face."
- Dr. Brad Klontz, Financial Psychologist & Author

"This is Erin Lowry's best book yet. She removes the taboo of talking about money by providing actionable advice, sample dialogues and real-life examples for practically every financial conversation imaginable. After reading Broke Millennial Talks Money, you'll no longer shy away from money discussions with your co-workers, friends, family members or romantic partners. You'll be ready to talk!"
- Cameron Huddleston, author of Mom and Dad, We Need to Talk: How to Have Essential Conversations With Your Parents About Their Finances

"Learning how to talk about money is the first step in making more of it. While the focus may be on money, this book is really about the relationships we have with each other and what we value in our lives. It is straightforward, engaging, and relatable. I highly recommend it for everyone - not just millennials!"
- Claire Wasserman, author and founder of Ladies Get Paid
 
"Money conversations aren't the sexiest tactic in Personal Finance, but they're fundamental to reaching your financial goals. If you've been stalling, this book takes 'I don't know where to start' off the table. If you've ever frantically texted your Group Chat in search of the right words to react to an awkward situation with money, this is the book for you. Read it if you want to stop adding layers of cringe to already-awkward moments because you don't know what to say. The scripts offered in Broke Millennial Talks Money aren't abstract or colorless. They're the kind of insights that can only come from thousands of thoughtful interactions over time. I walked away from it feeling seen. I was able to recognize my own conversational shortcomings and gain a greater appreciation for the struggles that everyone faces. There's no shortage of tips and tricks to get unstuck regarding financial goals, but a productive conversation remains unmatched. I'll be referencing this book every time I need to get out of my own head and just talk!"
- Kiersten Saunders, co-founder of Rich & REGULAR

"In Broke Millennial Talks Money, Erin Lowry makes messy and awkward money conversations easy and straightforward. No matter if it's talking money with our boss, friend, or parents, she gives us scripts we can use as a guide, shares important context about why talking about money is difficult to begin with and cheers us on to have these important conversations (see ya, pay gaps!). We all need to read this book!"
- Ashley Feinstein Gerstley, founder of the Fiscal Femme and author of The 30-Day Money Cleanse 

TarcherPerigee, 9780143133650, 304pp.
Publication Date: December 29, 2020
About the Author
Erin Lowry is the author of Broke Millennial: Stop Scraping By and Get Your Financial Life Together and Broke Millennial Takes On Investing: A Beginner's Guide to Leveling Up Your Money. Her first book was named by MarketWatch as one of the best money books of 2017, and her style is often described as refreshing and conversational. Lowry's been featured in The New York Times and The Wall Street Journal, and on CBS Sunday Morning, CNBC, and Cheddar. She has written for USA Today, Cosmopolitan, and Refinery29. Lowry also regularly speaks at universities and conferences around the country. She spent most of her childhood living in Asia, but is now settled in New York City with her husband.