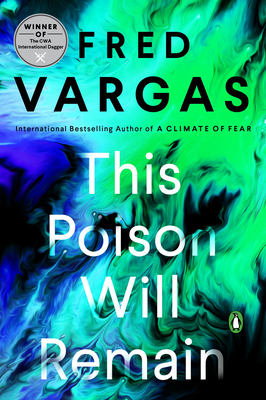 This Poison Will Remain (A Commissaire Adamsberg Mystery #7) (Paperback)
Penguin Books, 9780143133667, 416pp.
Publication Date: August 20, 2019
Other Editions of This Title:
Compact Disc (8/20/2019)
* Individual store prices may vary.
Description
Commissaire Adamsberg investigates the death of three men linked by their childhood at an orphanage in Nimes, all killed by the venom of the recluse spider, in the new novel by the #1 bestselling French crime writer

"A wildly imaginative series."—The New York Times

"Adamsberg is a terrific creation and his team of misfits a joy to watch in action."—Peter Robinson, New York Times bestselling author of the Inspector Banks series

A murder in Paris brings Commissaire Adamsberg out of the Icelandic mists of his previous investigation and unexpectedly into the region of Nîmes, where three old men have died of spider bites. The recluse has a sneaky attack, but is that enough to explain the deaths of these men, all killed by the same venom?

At the National Museum of Natural History, Adamsberg meets a pensioner who tells him that two of the three octogenarians have known each other since childhood, when they lived in a local orphanage called The Mercy. There, they had belonged to a small group of violent young boys known as the "band of recluses." Adamsberg faces two obstacles: the third man killed by the same venom was not part of the "band of recluses", and the amount of spider venom necessary to kill doesn't add up.

Yet after the Nîmes deaths, more members of the old band succumb to recluse bites, leading the commissaire to uncover the tragedy hidden behind the walls of the orphanage.
About the Author
Fred Vargas is a #1 bestselling author in France, Italy, and Germany. She is the winner of four International Dagger Awards from the Crime Writers Association, and is the first author to achieve such an honor. In 2018, Vargas won the Princess of Asturias Prize for letters.
Praise For This Poison Will Remain (A Commissaire Adamsberg Mystery #7)…
Praise for This Poison Will Remain

"Brilliantly twisty… Vargas deserves a wide American readership."
—Publishers Weekly (starred)

"I so enjoyed This Poison Will Remain, real vintage Vargas: playful, thought-provoking, a total delight. And beautifully translated. Adamsberg is one of my favorite detectives."
—Ann Cleeves, author of the Shetland mysteries

Praise for Fred Vargas and her Commissaire Adamsberg Mysteries 

"Wry humor and offbeat plots blend with a subtly dangerous charm to make Fred Vargas the queen of French crime writers."
—Martin Walker, author of the Bruno, Chief of Police Series

"Vargas writes with the startling imagery and absurdist wit of a latter-day Anouilh, about fey characters who live in a wonderful bohemian world that never was but should have been."
—The New York Times Book Review 

"Fred Vargas' books are murder mysteries, yes -- cunning, corkscrew murder mysteries -- but so much else besides: delicate comedies, engrossing tours of French geography and history, fascinating excursions into folklore and myth."
—A. J. Finn, #1 New York Times bestselling author
 
"Vargas' characters are like something out of a fairy tale – eternal opposites, ever-renewing archetypes despite their fresh adventures each time. That's why each novel's opening feels new."
—The Philadelphia Inquirer 
 
"Anyone who enjoys kooky characters and intricate detail will happily follow Vargas along."
—Entertainment Weekly

"Readers should settle in to be unsettled. Delight is found not so much in the details of plot as in the oddities of character. The crime, the suspects, and the commissaire are all pleasantly off-kilter and equally baffling. A definite pick for Francophile mystery buffs who also enjoy Georges Simenon's Maigret series."
—Library Journal
 
"Adamsberg, always an intuitive sleuth rather than a rational one, is the perfect hero for a series where reality is always a moving target."—Booklist 

"Vargas remains the gold standard in modern crime fiction."—Kirkus