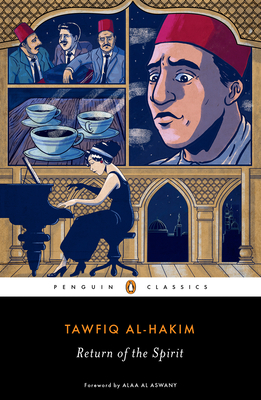 Return of the Spirit (Paperback)
Penguin Classics, 9780143133971, 384pp.
Publication Date: July 9, 2019
* Individual store prices may vary.
Description
The celebrated, revolutionary novel from a pioneering Egyptian writer Tawfiq al-Hakim, now for the first time in Penguin Classics with a foreword by Egyptian writer Alaa Al-Aswany

First published in Arabic in 1933, Egyptian playwright and novelist Tawfiq Al-Hakim's Return of the Spirit follows a patriotic young Egyptian and his extended family as they grapple with the events leading up to the 1919 Egyptian revolution. Though often cited as an apprenticeship novel in the vein of Joyce's A Portrait of the Artist as a Young Man with a touch of failed romance a la Goethe's Sorrow of Young Werther, Al-Hakim's classic is most recognized for being a trailblazing political novel that illustrates the way one man's spiritual awakening ties to a political awakening of a nation. While enthusiasm for the book was stifled in the mid-20th century due to a shift in Egyptian government rule, the 2011 Tahrir revolution in Egypt caused it to be examined anew as a strong expression of nationalist solidarity and an exposé of the heritage-stripping power of Western colonialism that resonates with 21st-century Egyptians. Return of the Spirit is considered Al-Hakim's most important novel despite writing more plays than novels, and his adept understanding of class and culture within Egyptian society has cemented his place as one of the country's most celebrated writers and cultural critics.
About the Author
Tawfiq al-Hakim (1898-1987) is considered one of the most significant figures in twentieth-century Arabic literature, and Return of the Spirit one of Egypt's most important novels. Al-Hakim is also known as the founder of modern Egyptian drama.

Alaa Al Aswany is the author of The Yacoubian Building, which was long-listed for the International IMPAC Dublin Literary Award in 2006 and was the best-selling novel in the Arab world for more than five years; Chicago, named by Newsday as the best translated novel of 2006; The Automobile Club of Egypt; and the story collection Friendly Fire. He has received numerous awards internationally, including the Bashrahil Prize for the Arabic novel, the Kavafis Award from Greece, and the Premio Grinzane Cavour from Italy. He was recently named by the London Times as one of the best fifty authors to have been translated into English over the plast fifty years.

William Maynard Hutchins is renowned for his translations of Tawfiq al-Hakim's work, as well as of Naguib Mahfouz's Cairo Trilogy and the novels of Fadhil al-Azzawi, Ibrahim al-Koni, Hassan Nasr, and others. He is also author of Tawfiq al-Hakim: A Reader's Guide. He is professor of Islamic and religious studies at Appalachian State University.
Praise For Return of the Spirit…
"Return of the Spirit I believe marked the true birth of the Arabic novel...[it] was a bombshell."
⁠—Naguib Mahfouz