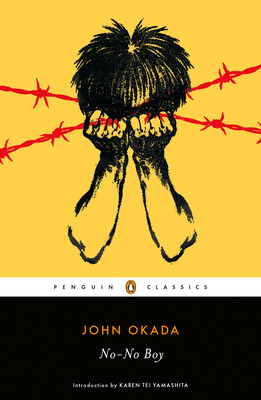 No-No Boy (Paperback)
Penguin Classics, 9780143134015, 240pp.
Publication Date: May 21, 2019
Other Editions of This Title:
Paperback (6/11/2014)
Paperback (2/1/1978)
* Individual store prices may vary.
Description
The first Japanese American novel: a powerful, radical testament to the experiences of Japanese American draft resisters in the wake of World War II

A Penguin Classic

After their forcible relocation to internment camps during World War II, Japanese Americans were expected to go on with their lives as though nothing had happened, assimilating as well as they could in a changed America. But some men resisted. They became known as "no-no boys," for twice having answered no on a compulsory government survey asking whether they were willing to serve in the U.S. armed forces and to swear allegiance to the United States. No-No Boy tells the story of one such draft resister, Ichiro Yamada, whose refusal to comply with the U.S. government earns him two years in prison and the disapproval of his family and community in Seattle. A touchstone of the immigrant experience in America, it dispels the "model minority" myth and asks pointed questions about assimilation, identity, and loyalty.

Celebrate Asian American and Pacific Islander (AAPI) Heritage Month with these four Penguin Classics:
 
America Is in the Heart by Carlos Bulosan (9780143134039)
East Goes West by Younghill Kang (9780143134305)
The Hanging on Union Square by H. T. Tsiang (9780143134022)
No-No Boy by John Okada (9780143134015)
About the Author
John Okada (1923-1971) was born in Seattle, Washington, and was interned during World War II at the Minidoka War Relocation Center before joining the U.S. Air Force and earning the rank of sergeant. After the war, he finished his undergraduate degree at the University of Washington and earned a master's degree from Columbia University. His first and only novel, No-No Boy, was published in 1957. Okada died of a heart attack at the age of 47, leaving behind a wife and two children.

Karen Tei Yamashita (introduction) was a National Book Award finalist for her novel I Hotel, which won the California Book Award, the American Book Award, the Asian/Pacific American Librarians Association Award, and the Association for Asian American Studies Book Award. A recipient of the John Dos Passos Prize for Literature, she has been a U.S. Artists Ford Foundation Fellow and a University of California Presidential Chair for Feminist Critical Race and Ethnic Studies. She is a professor of literature and creative writing at the University of California, Santa Cruz.
Praise For No-No Boy…
"Brilliant . . . Spectacular and troubling and topical . . . Filled with charged moments and observations." —Maureen Corrigan, NPR's Fresh Air

"A daring book . . . A close literary kin to Richard Wright's Native Son . . . There is no other novel like it about Japanese Americans in the postwar period. . . . A cautionary tale . . . of the incarceration of immigrant families based on racial prejudice, executive privilege, and the false assertion of military necessity . . . Over a half century later, Okada's novel challenges us once again with the question of character, asking us, as individuals and as a society, what are we made of." —Karen Tei Yamashita, from the Introduction