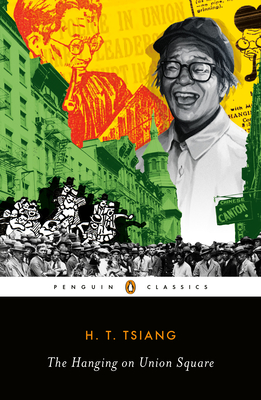 The Hanging on Union Square (Paperback)
Penguin Classics, 9780143134022, 240pp.
Publication Date: May 21, 2019
Other Editions of This Title:
Paperback (5/31/2013)
* Individual store prices may vary.
Description
A subversively comic, genre-bending satire of bourgeois life by an essential Chinese American voice

A Penguin Classic

It's Depression-era New York, and Mr. Nut, an oblivious American everyman, wants to strike it rich, even if at the moment he's unemployed, with no job prospects in sight. Over the course of a single night, in a narrative that unfolds hour by hour, he meets a cast of strange characters—disgruntled workers at a Communist cafeteria, lecherous old men, sexually exploited women, pesky authors—who eventually convince him to cast off his bourgeois aspirations for upward mobility and become a radical activist. Absurdist, inventive, and suffused with revolutionary fervor, and culminating in a dramatic face-off against capitalist power in the figure of the greedy businessman Mr. System, The Hanging on Union Square is a work of blazing wit and originality. More than eighty years after it was self-published, having been rejected by dozens of baffled publishers, it has become a classic of Asian American literature—a satirical send-up of class politics and capitalism and a shout of populist rage that still resonates today.

Celebrate Asian American and Pacific Islander (AAPI) Heritage Month with these three Penguin Classics:
 
America Is in the Heart by Carlos Bulosan (9780143134039)
East Goes West by Younghill Kang (9780143134305)
The Hanging on Union Square by H. T. Tsiang (9780143134022)
About the Author
H. T. Tsiang (1899-1971) was born in China and emigrated to the United States at the age of twenty-seven. He studied at Stanford and Columbia, and while living in New York he wrote poetry and op-eds, acted in local theater productions, and washed dishes in a Greenwich Village nightclub. Faced with countless rejections from publishers, he self-published three novels, hawking them at downtown political meetings. He also appeared as an actor in Hollywood, most notably in the film Tokyo Rose, and in 1943 he staged a theatrical adaptation of The Hanging on Union Square in Los Angeles that counted Alfred Hitchcock, Gregory Peck, Orson Welles, and Rita Hayworth among its audience members during its five-year run. He died in Los Angeles.

Floyd Cheung (editor, afterword, notes) is a professor of English and American studies at Smith College.

Hua Hsu (introduction) is a staff writer at The New Yorker, an associate professor of English at Vassar College, and the author of A Floating Chinaman: Fantasy and Failure Across the Pacific.
Praise For The Hanging on Union Square…
"A surreal overnight journey . . . Thirty-year-old bestseller The Joy Luck Club perennially provides irrefutable proof Asian American stories warrant shelf space. That Penguin Classics—their venerable list considered a significant barometer of what comprises the Anglophone literary canon—has added this . . . is, undoubtedly, long-awaited, long-deserved recognition." —The Christian Science Monitor

"I finished H. T. Tsiang's masterpiece a few hours ago and I'm still not sure where I am and what day this is. My mind has been picked apart and reassembled. I need a drink." —Gary Shteyngart, author of Super Sad True Love Story

"[Tsiang] was radiant, boisterous, unforgettable." —The New Yorker

"A portrait of a New York City for the rich and the poor, the immigrant and the native-born, the newly homeless and the seasoned itinerant . . . Tsiang . . . tried to tell America what it really looked like. . . . [Unlike his] social-realist contemporaries—the Steinbecks and the dos Passoses— . . . Tsiang had little interest in steely, self-serious misery. In the book, as in his life, he is constantly cheeky and self-deprecating. . . . Tsiang's manic spirit animates his voice. . . . Though the book's formal aspects range from jarring to quaint to delightful, they all reflect the infectious freedom with which Tsiang wrote. His flinging disregard for the fashionable and the novelistic are thrilling, but so are the serious, deep convictions underlying them. For anyone with revolutionary sympathies, it's an emotionally stirring book." —The Nation

"This is a voice to which the white world . . . will have to listen more and more as time passes." —Upton Sinclair

"[The Hanging on Union Square] felt like slipping into another person's hallucination." —Hua Hsu, from the Introduction

"[A] masterwork." —Floyd Cheung, from the Afterword

"Tsiang's writings are quintessentially of the intermingled (and dangerous) public street culture of downtown Manhattan creative life. He carried the mantle, unknowingly, of Wong Chin Foo—who five decades earlier challenged Denis Kearney to a duel with Irish potatoes at Cooper Union's Great Hall. And we, the Mr. Nut faction of the Asian American movement, carry on Tsiang's spirit!" —John Kuo Wei Tchen, author of New York Before Chinatown: Orientalism and the Shaping of American Culture, 1776-1882

"An artist of distinction, H. T. Tsiang created a genre unto itself in 1935 with The Hanging on Union Square. Its republication after seventy-five years rescues—from an outlaw existence—a strangely and beautifully evocative satiric allegory." —Alan Wald, author of American Night: The Literary Left in the Era of the Cold War

"[The Hanging on Union Square] is original in form without being labored; and it's remarkable for its whimsical insights into various strata of society and for its flashing counterpoint of almost savage sensuality and delicate pity. Throughout, it is alive and evocative. Mr. Tsiang's fanciful and often fantastic visions . . . convey more truth than a shelf of reportorial novels." —Waldo Frank