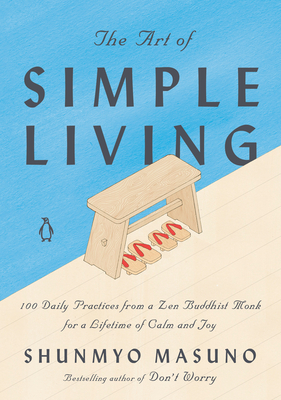 The Art of Simple Living (Hardcover)
100 Daily Practices from a Japanese Zen Monk for a Lifetime of Calm and Joy
Penguin Books, 9780143134046, 224pp.
Publication Date: April 2, 2019
* Individual store prices may vary.
Description
"Does for mental clutter what Marie Kondo has done for household clutter." --Publishers Weekly

Relax and find happiness amid the swirl of the modern world with this internationally bestselling guide to simplifying your life by a Japanese monk who embodies the wisdom of Zen.

In clear, practical, easily adopted lessons--one a day for 100 days--renowned Buddhist monk Shunmyo Masuno draws on centuries of wisdom to teach you to Zen your life. Discover how . . .

• Lesson #4: lining up your shoes after you take them off can bring order to your mind;
• Lesson #11: putting down your fork after every bite can help you feel more grateful for what you have;
• Lesson #18: immersing yourself in zazen can sweep the clutter from your mind;
• Lesson #23: joining your hands together in gassho can soothe irritation and conflict;
• Lesson #27: going outside to watch the sunset can make every day feel celebratory;
• Lesson #42: planting a flower and watching it grow can teach you to embrace change;
• Lesson #67: understanding the concept of ichi-go ichi-e can make everyday interactions more meaningful;
• Lesson #85: practicing chisoku can help you feel more fulfilled.

A minimalist line drawing appears opposite each lesson on an otherwise blank page, giving you an opportunity to relax with a deep breath between lessons. With each daily practice, you will learn to find happiness not by seeking out extraordinary experiences but by making small changes to your life, opening yourself up to a renewed sense of peace and inner calm.
About the Author
Shunmyo Masuno is the head priest of a 450-year-old Zen Buddhist temple in Japan, an award-winning Zen garden designer for clients all over the world, and a professor of environmental design at one of Japan's leading art schools. He has lectured widely, including at the Harvard Graduate School of Design, Cornell University, and Brown University.

Allison Markin Powell (translator) is the translator of Hiromi Kawakami's Strange Weather in Tokyo, The Nakano Thrift Shop, and The Ten Loves of Nishino, as well as works by Osamu Dazai, Fuminori Nakamura, and Kanako Nishi, among others. She was the guest editor of the first Japan issue of Words Without Borders and maintains the online database Japanese Literature in English. She lives in New York.

Harriet Lee-Merrion (illustrator) is an award-winning illustrator whose work has been published worldwide in such publications as The New York Times, Marie Claire, and The Guardian and exhibited in New York, London, and Berlin.
Praise For The Art of Simple Living: 100 Daily Practices from a Japanese Zen Monk for a Lifetime of Calm and Joy…
"Even just the title of this book appeals. There are many reasons that a Zen monk might acquire a lifetime of wisdom—the least of which is my personal edification—but I'm grateful for it all the same." —Estelle Tang, Elle.com

"100 snack-size Zen activities you can do daily to add more calm to your life . . . The Art of Simple Living brings the spirit of Zen Buddhism to everyday life." —The Daily Telegraph

"Powerful . . . A profoundly beautiful work, easy to read, encouraging deep thought and reflection, but most importantly, acting as a practical guide to Zen action." —The Japan Times

"This in­ternational bestseller has helped people around the world quiet the chaos of everyday life, stress less and appreciate more. . . . Masuno's tips are easy to execute. . . . Through this inspiring guide, Masuno shows that every step you take on the path of personal growth, no matter how small, can have a major impact." —BookPage

"A bestseller in Japan, this will certainly resonate with fans of Zen practice, or those simply looking to declutter a busy mind." —Publishers Weekly

"100 deceptively simple daily practices . . . to help you find, and embrace, the stillness at the center of your existence." —Energy Times

"Living a simpler life is a practice. It's ordinary and it's everyday. Shunmyo Masuno's simple and relevant practices land gently and with the most comforting ordinariness, like a warm breath of familiarity to us, the frazzled masses." —Sarah Wilson, New York Times bestselling author of First, We Make the Beast Beautiful

"Our mind is blazing in the new dopamine war between alarmist news and attention-hooking apps. The Art of Simple Living is a bucket of water on the flames." —Neil Pasricha, New York Times bestselling author of The Book of Awesome and The Happiness Equation

"I love this book. These little Zen practices can bring so much serenity to your life." —Francine Jay, bestselling author of The Joy of Less and Lightly

"I haven't carried a purse in years, but this book almost made me wish I did, so I could keep it within reach." —Cait Flanders, bestselling author of The Year of Less

"I love The Art of Simple Living. With easy-to-follow, inspiring advice and lovely stories illustrating little things you can do that can have a big effect on your peace of mind, it'll bring joyful moments into every day of your life." —James Wallman, bestselling author of Stuffocation

"The Art of Simple Living makes the time-tested wisdom of the Buddha radically accessible by providing easy-to-follow yet profound practices that blend perfectly with, and are a natural part of, everyday life. It is an encouraging and straightforward companion for all who seek to amplify the inherent peace of their minds." —Dzogchen Ponlop Rinpoche, author of Emotional Rescue and Rebel Buddha

"This little treasure needs to be at every bedside. It awakens us to the most ordinary, everyday moments of our lives, revealing the richness, peace, and joy that come from living simply." —Allan Lokos, founder and guiding teacher, Community Meditation Center, NYC; author of Through the Flames, Patience, and Pocket Peace