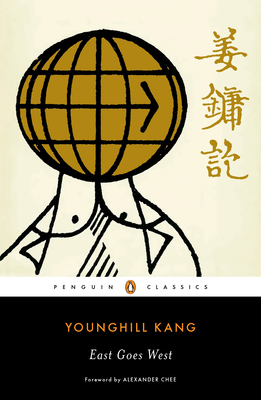 East Goes West (Paperback)
Penguin Classics, 9780143134305, 432pp.
Publication Date: May 21, 2019
* Individual store prices may vary.
Description
"A wonderfully resplendent evocation of a newcomer's America" (Chang-rae Lee, author of Native Speaker) by the father of Korean American literature

A Penguin Classic

Having fled Japanese-occupied Korea for the gleaming promise of the United States with nothing but four dollars and a suitcase full of Shakespeare to his name, the young, idealistic Chungpa Han arrives in a New York teeming with expatriates, businessmen, students, scholars, and indigents. Struggling to support his studies, he travels throughout the United States and Canada, becoming by turns a traveling salesman, a domestic worker, and a farmer, and observing along the way the idealism, greed, and shifting values of the industrializing twentieth century. Part picaresque adventure, part shrewd social commentary, East Goes West casts a sharply satirical eye on the demands and perils of assimilation. It is a masterpiece not only of Asian American literature but also of American literature.

Celebrate Asian American and Pacific Islander (AAPI) Heritage Month with these three Penguin Classics:
 
America Is in the Heart by Carlos Bulosan (9780143134039)
East Goes West by Younghill Kang (9780143134305)
The Hanging on Union Square by H. T. Tsiang (9780143134022)
About the Author
Younghill Kang (1903-1972) was born in what is now North Korea and emigrated to the U.S. in his late teens. He studied at Boston University and Harvard and published widely in such outlets as The New York Times and The Nation. While teaching English at New York University, he was introduced by fellow professor Thomas Wolfe to legendary Scribner's editor Maxwell Perkins, who would publish Kang's books. Kang was the first Asian to be awarded a Guggenheim Fellowship; he would be awarded two in his lifetime, among his many other honors.

Alexander Chee (foreword) is the bestselling author of the novels The Queen of the Night and Edinburgh and the essay collection How to Write an Autobiographical Novel. His work has appeared in The Best American Essays 2016 and The New York Times, and he is a contributing editor at The New Republic. The winner of a Whiting Award, he is an associate professor of English and creative writing at Dartmouth College. He lives in New York City.

Sunyoung Lee (afterword, notes) is the publisher and editor in chief of Kaya Press, which specializes in literature from the Asian and Pacific Island diasporas. She lives in Los Angeles.
Praise For East Goes West…
"A Nabokovian stylistic tour de force." —Alexander Chee, author of The Queen of the Night and How to Write an Autobiographical Novel

"The story of Chungpa Han is truly, like the old New York he encounters, as 'million-hued as a dream.' A wonderfully resplendent evocation of a newcomer's America, Younghill Kang's classic novel is as vibrant and pointed in its vision today as it was 60 years ago, and may prove to be one of our most vital documents. East Goes West deserves rediscovery." —Chang-rae Lee, author of Native Speaker

"Thrillingly timeless . . . The finest, funniest, craziest, sanest, most cheerfully depressing Korean-American novel . . . A vast, unruly masterpiece that is our earliest portrait of the artist as a young Korean-American . . . East Goes West's tumbling prose and loose, picaresque structure feel amazingly 'free and vigorous' (per [Thomas] Wolfe) today. . . . The novelist and memoirist Alexander Chee's rousing introduction to the new Penguin Classics edition . . . argues strongly for its relevance today. . . . Its value is in the heady mix of high and low, the antic yet clear-eyed take on race relations, the parade of tragic and comic bit players, and above all, the unleashed chattering of Chungpa's distinctive voice. . . . The Penguin edition . . . reminds us of how excellent [Kang] really was. . . . This brash modernist comic novel still feels electric." —Ed Park, The New York Review of Books

"Kang is as wide awake and high-spirited as he is scholarly and thoughtful, and he writes with a keen sense of character. . . . East Goes West offers a rich largesse of color and flavor, personality and impression and event. It is one of those rare books which will arouse interest, ring changes on laughter and leave its residue of thought." —The New York Times Book Review 

"An immigrant epic that criss-crosses a less-than-welcoming American landscape . . . Thirty-year-old bestseller The Joy Luck Club perennially provides irrefutable proof Asian American stories warrant shelf space. That Penguin Classics—their venerable list considered a significant barometer of what comprises the Anglophone literary canon—has added this . . . is, undoubtedly, long-awaited, long-deserved recognition." —The Christian Science Monitor

"Kang is a born writer, everywhere he is free and vigorous: he has an original and poetic mind, and he loves life." —Thomas Wolfe

"After Mr. Kang, most books seem a bit flat. . . . What a man! What a writer!" —Rebecca West

"Here is a really great writer." —H. G. Wells

"[Kang is] the father of Korean American literature. . . . East Goes West is a stunning testament to [his] indomitable spirit, his perspicacious eye, and his special mirth. The book provides us with a rare view of how urban American life was experienced—and critiqued—by Korean immigrants in the 1920s. Sunyoung Lee's afterword . . . offers original insights into what she calls Kang's 'acrobatic talent for mediation' between 'the faltering traditions of . . . Korea and the seductive promise of American modernity.'" —Elaine Kim, co-author of East to America: Korean American Life Stories

"Whitmanesque in scope,Younghill Kang's East Goes West attempts both self-realization and comprehension of all of America. But an undercurrent of sadness haunts this story of a young man's heroic American odyssey—the sadness of 'exiled' Korean men stranded between two worlds, living out their lonely lives on the periphery of American society, working in menial jobs far beneath their education." —Kichung Kim, author of An Introduction to Classical Korean Literature 

"Unique and vividly realized . . . In its portrait of a young man's fracturing idealism, it is also an extraordinary, if coded, critique of American materialism." —Sunyoung Lee, from the Afterword

"Groundbreaking and inspirational . . . A call to action, a call for the country to live up to the dream it has of itself . . . This book is for all of us." —Alexander Chee, from the Foreword