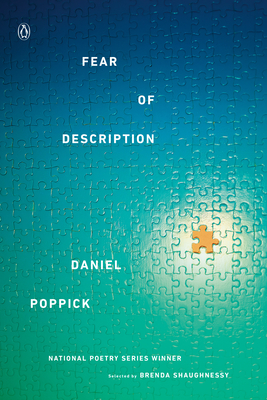 Fear of Description (Penguin Poets)
Paperback

* Individual store prices may vary.
Description
From Midwestern bars to Brooklyn apartments, narrative poems that find millennials adrift--in political upheaval and personal crisis--and trying to find their way back to one another

Winner of the 2018 National Poetry Series competition, selected by Brenda Shaughnessy

These poems tell the story of a generation in crisis: at odds with its own ideals, precariously (or just un-) employed, and absolutely terrified of seeing itself in the planet's future. Is our contemporary moment pure tragedy, or a dark joke? Can it be both? Cutting back and forth in time and ranging between elegiac lyrics and autobiographical accounts of a group of poets moving from Iowa to Brooklyn in the years just before and after the 2016 election, Fear of Description reinvigorates the prose poem, exploring the slippery terrain between grief and friendship, artifice and technology, writing and ritual, hauntings and obsessions--searching for joy in art but instead finding it in pitch darkness.
Praise For Fear of Description (Penguin Poets)…
Praise for Fear of Description:

"Poppick's second collection represents a slice of his generation . . . [he] is having fun, and his readers might join him . . . Poppick does best when he lets himself delight in verbal unpredictability, when figures of speech jump out, or sparkle and shine." —The New York Times Book Review 

"Every scene [in Fear of Description] is laced with a heady sense of the uncanny—both because Poppick is a gifted defamiliarizer of quotidian experience and because his narrator, like many of us, has begun to see everything through a lens of preapocalyptic dread. What happens when the onset of adulthood coincides with an age of ecological catastrophe? When corporate jargon suffuses our most intimate social interactions? Rising to these questions, Poppick never loses his equanimity; he delivers even the worst of news with waggish wit, rhapsodic delight in the possibilities of language, and great stores of tenderness for his friends." —The Yale Review

"No matter where a reader begins in Fear of Description, the end is near and a beginning closer.  As far as this book travels, it's always there to meet itself, though its trajectory is never predictable.  There is also the ancient lament of the worker/writer, trying to sing a timeless song in an age of ring tones. Poppick's stop-motion ability to convey multitude in moments is genius—Merwin-like in its sensorial clarity, and, where the poet chooses formal restriction, Keatsian in density and bloom." —Brenda Shaughnessy, author of Our Andromeda

"In Fear of Description, Daniel Poppick, like many of the most interesting writers of our time, folds the labor of writing into the content of his poetry, stirs it around, and comes up with something genuinely free. The wildness of his lines had me amazed and grateful." —Lucy Ives, author of Impossible Views of the World 

"Fear of Description is a bold book. Through Poppick's memories we relive that brief window of youth when friendship is the magic audience that grounds us. In a world that seems stingy and random, Poppick and his friends glean meaning from seances, road trips, shared economic anxiety, houses, and shaving rituals. Tears, like the dead, sneak up on them." —Jennifer Moxley, author of The Open Secret 

"Lively . . . Poppick's penchant for syntactical disorder and oddity creates a giddy state of confusion . . . [this] sage, anthemic collection memorably explores the journey of millennials." —Publishers Weekly
Penguin Books, 9780143134381, 96pp.
Publication Date: October 1, 2019
About the Author
Daniel Poppick's first book of poetry, The Police, was published by Omnidawn in 2017. His writing has appeared in BOMB Magazine, Granta, The New Republic, Fence, the PEN Poetry Series, and other journals. The recipient of awards from the MacDowell Colony and the Corporation of Yaddo, and a graduate of the Iowa Writers' Workshop, he has taught writing at the University of Iowa, Coe College, and the Parsons School of Design. He currently lives in Brooklyn, where he works as a copywriter and coedits the Catenary Press.
or
Not Currently Available for Direct Purchase