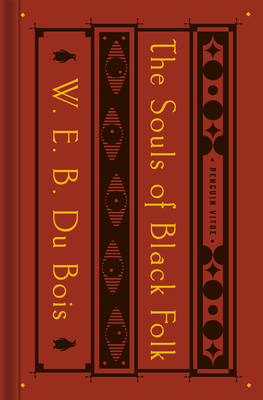 The Souls of Black Folk
With "The Talented Tenth" and "The Souls of White Folk" (Penguin Vitae)
Hardcover

* Individual store prices may vary.
Other Editions of This Title:
Digital Audiobook (11/30/2008)
Digital Audiobook (10/11/2010)
Paperback (2/10/2014)
Paperback (9/19/2020)
Paperback (9/26/2020)
Paperback (1/10/2014)
Paperback (3/10/2021)
Paperback (5/24/2019)
Paperback (9/19/2020)
Paperback (3/13/2014)
Paperback (4/21/2008)
Paperback (10/15/2011)
Paperback (9/19/2020)
Paperback (6/21/2011)
Paperback (6/2/2018)
Description
A collectible hardcover edition of the landmark book about being black in America, featuring an introduction by Ibram X. Kendi, the #1 New York Times bestselling author of How to Be an Antiracist

A Penguin Classic
 
When The Souls of Black Folk was first published in 1903, it had a galvanizing effect on the conversation about race in America--and it remains both a touchstone in the literature of African America and a beacon in the fight for civil rights. Believing that one can know the "soul" of a race by knowing the souls of individuals, W. E. B. Du Bois combines history and stirring autobiography to reflect on the magnitude of American racism and to chart a path forward against oppression, and introduces the now-famous concepts of the color line, the veil, and double-consciousness.

Penguin Vitae--loosely translated as "Penguin of one's life"--is a deluxe hardcover series from Penguin Classics celebrating a dynamic and diverse landscape of classic fiction and nonfiction from seventy-five years of classics publishing. Penguin Vitae provides readers with beautifully designed classics that have shaped the course of their lives, and welcomes new readers to discover these literary gifts of personal inspiration, intellectual engagement, and creative originality.
Praise For The Souls of Black Folk: With "The Talented Tenth" and "The Souls of White Folk" (Penguin Vitae)…
"I was assigned this book of essays in college and it was transformative for me as a person and a writer. Du Bois captures the complexity and the interiority of what it's like to be black in the United States, and even though it was written more than a century ago, the way Du Bois writes makes it feel like he wrote this book last year." —Tomi Adeyemi, #1 New York Times bestselling author of Children of Blood and Bone, in the Good Morning America Book Club

"A work that is still relevant today . . . Vividly depict[s] what it was like to be black . . . Many of the ideas that Du Bois outlined in the book still endure. . . . [A book] for anyone who wants to understand America." —Lynn Neary, NPR's Morning Edition

"[The Souls of Black Folk is] the foundation on which Du Bois built a lifetime of ideas, and on which the black and antiracist intelligentsia continues to build today. . . . In 1903 . . . black newspapers . . . typically shouted in unison, 'SHOULD BE READ AND STUDIED BY EVERY PERSON, WHITE AND BLACK.' . . . And today it still SHOULD BE READ AND STUDIED BY EVERY PERSON." —Ibram X. Kendi, from the Introduction

Penguin Classics, 9780143134435, 288pp.
Publication Date: February 23, 2021
About the Author
William Edward Burghardt Du Bois (1868-1963) was born in Great Barrington, Massachusetts. A sociologist, historian, poet, and writer of several novels, Du Bois was one of the main founders of the National Association for the Advancement of Colored People. He was a lifelong critic of American society and an advocate of black people against racial injustice. He spent his last years in Ghana, where he died in exile at the age of ninety-five.

Ibram X. Kendi (introduction) is the Andrew W. Mellon Professor in the Humanities at Boston University and the founding director of the BU Center for Antiracist Research. A contributing writer at The Atlantic and a CBS News correspondent, he is a coeditor, with Keisha N. Blain, of the #1 New York Times bestseller Four Hundred Souls and the author of many other books, including The Black Campus Movement, which won the W. E. B. Du Bois Book Prize; Stamped from the Beginning: The Definitive History of Racist Ideas in America, which won the National Book Award for Nonfiction; and three #1 New York Times bestsellers: How to Be an Antiracist; Stamped: Racism, Antiracism, and You, co-authored with Jason Reynolds; and Antiracist Baby, illustrated by Ashley Lukashevsky. A MacArthur Fellow and one of Time magazine's 100 most influential people in the world, Kendi lives in Boston, Massachusetts.