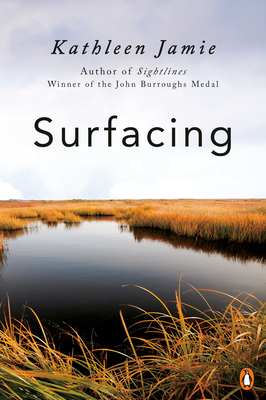 Surfacing (Paperback)
Penguin Books, 9780143134459, 256pp.
Publication Date: September 24, 2019
* Individual store prices may vary.
Description
An immersive exploration of time and place in a shrinking world, from the award-winning author of Sightlines.

In this remarkable blend of memoir, cultural history, and travelogue, poet and author Kathleen Jamie touches points on a timeline spanning millennia, and considers what surfaces and what reconnects us to our past. From the thawing tundra linking a Yup'ik village in Alaska to its hunter-gatherer past to the shifting sand dunes revealing the impressiely preserved homes of neolithic farmers in Scotland, Jamie explores how the changing natural world can alter our sense of time. Most movingly, she considers, as her father dies and her children leave home, the surfacing of an older, less tethered sense of herself. In precise, luminous prose, Surfacing offers a profound sense of time passing and an antidote to all that is instant, ephemeral, unrooted.
About the Author
Kathleen Jamie, one of the UK's foremost poets, is the author of four books of poetry and three nonfiction titles, including Sightlines. Her many awards and honors include the 2017 Royal Geographic Society Ness Award, conferred upon Jamie "for outstanding creative writing at the confluence of travel, nature and culture"; the 2013 Costa Book Award; as well as numerous prestigious poetry awards, including the Somerset Maugham Award, Forward Poetry Prize of the Year, and Geoffrey Faber Memorial Award (twice). A professor of creative writing at the University of Stirling, she lives with her family in Fife, Scotland.
Praise For Surfacing…
"Kathleen Jamie's stories of what the earth revels as our coastlines erode pose a profoundly important question: what is it that our civilization has lost sight of and might the artifacts uncovered there help us to heal our relationships with each other and the more-than-human world? To read Surfacing is to travel in the company of a curious and dear friend, equally attuned to the hawk on the horizon as she is to the ground beneath her feet." —Elizabeth Rush, author of Rising: Dispatches from the New American Shore

"In a lyrical, beautifully rendered collection of essays, poet Jamie (Sightlines) meditates on the natural world, lost cultures, and the passage of time….Jamie's observations about time and the interconnectedness of human lives, past and present, are insightful, and her language elegant. The result is a stirring collection for poetry and prose readers alike." —Publishers Weekly


Praise for Kathleen Jamie:

"A sorceress of the essay form. Never exotic, down to earth, she renders the indefinable to the reader's ear. Hold her tangible words and they'll take you places." —John Berger, author of Ways of Seeing and About Looking

"Whether she is addressing birds or rivers, or the need to accept loss or, sometimes, the desire to escape our own lives, her work is earthy and rigorous, her language at once elemental and tender." —2012 Costa Poetry Prize citation

"Kathleen Jamie is a supreme listener … in the quietness of her listening, you hear her own voice: clear, subtle, respectful, and so unquenchably curious that it makes the world anew." —Richard Mabey

"The leading Scottish poet of her generation." —The Sunday Times (London)