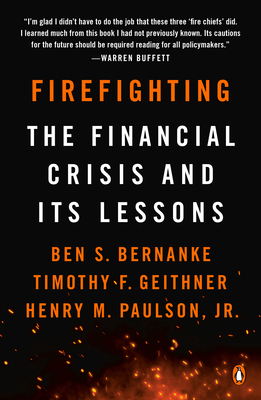 Firefighting
The Financial Crisis and Its Lessons
Paperback

* Individual store prices may vary.
Description
From the three primary architects of the American policy response to the worst economic catastrophe since the Great Depression, a magnificent big-picture synthesis--from why it happened to where we are now.

In 2018, Ben Bernanke, Tim Geithner, and Hank Paulson came together to reflect on the lessons of the 2008 financial crisis ten years on. Recognizing that, as Ben put it, "the enemy is forgetting," they examine the causes of the crisis, why it was so damaging, and what it ultimately took to prevent a second Great Depression. And they provide to their successors in the United States and the finance ministers and central bank governors of other countries a valuable playbook for reducing the damage from future financial crises. Firefighting provides a candid and powerful account of the choices they and their teams made during the crisis, working under two presidents and with the leaders of Congress.
Praise For Firefighting: The Financial Crisis and Its Lessons…
Longlisted for the Financial Times/McKinsey Business Book of the Year Award

"If what these three men did during the financial crisis had not been done, the world would, in my view, have experienced a second great depression. This makes the story told in this short book fascinating and important." —Martin Wolf, Financial Times

"A primer on why the crisis was possible (and why, even so, almost nobody saw it coming); a ticktock on how the crisis and the financial rescue unfolded; and a very scary warning about the future." —Paul Krugman, New York Times

"I'm glad I didn't have to do the job that these three 'fire chiefs' did. I learned much from this book I had not previously known. Its cautions for the future should be required reading for all policy makers." —Warren Buffett

"A clear, concise account illustrating why financial fires must be anticipated if they're to be controlled." —Kirkus

"All kinds of readers will find [Firefighting] a readable summary of the crisis, but its paramount value comes from the authors' explanations and defenses of their whatever-it-takes actions and assessment of current financial system risks." —Library Journal, starred review
Penguin Books, 9780143134480, 240pp.
Publication Date: April 16, 2019
About the Author
Ben Bernanke, currently a Distinguished Senior Fellow at the Brookings Institution, was the chairman of the Federal Reserve from 2006 to 2014. Timothy F. Geithner is currently President of Warburg Pincus and was the 75th Secretary of the Treasury for President Obama's first term. He is the author of Stress Test: Reflections on Financial Crises. Hank Paulson is the founder and chairman of the Paulson Institute, and served as the 74th Secretary of the Treasury under President Bush. He is the author of On the Brink and Dealing with China.
or
Not Currently Available for Direct Purchase