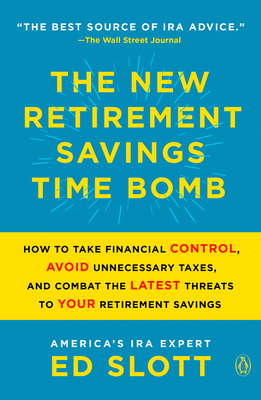 The New Retirement Savings Time Bomb
How to Take Financial Control, Avoid Unnecessary Taxes, and Combat the Latest Threats to Your Retirement Savings
Paperback

* Individual store prices may vary.
Other Editions of This Title:
Paperback (12/30/2003)
Paperback (12/18/2007)
Description
The premier guide for retirement and investment planning by "America's IRA Expert" (Mutual Funds magazine)-fully updated to reflect the recent tax rule changes

With the possible e xception of home property, the most valuable asset for most Americans is their retirement fund. Yet most people don't know that the IRS is waiting to grab up to 90 percent of their hard-earned retirement savings. Now, in this fully updated edition of The Retirement Savings Time Bomb, renowned tax advisor Ed Slott explains in clear-cut layman's terms what people need to know to keep their money and pass it on to their families.
Praise For The New Retirement Savings Time Bomb: How to Take Financial Control, Avoid Unnecessary Taxes, and Combat the Latest Threats to Your Retirement Savings…
"Ed Slott is my go-to person for smart tax-saving advice on retirement plans. Right now, people planning for retirement especially need his help. Congress has passed a slew of new laws affecting your personal tax-favored plans, some of which make them less secure. This book shows you how to wring all the tax benefits possible from your plans, including smart ways of passing any remaining money to your heirs. Highly recommended!" —Jane Bryant Quinn, Author of How to Make Your Money Last: The Indispensable Retirement Guide
 
"If you're planning for or living in retirement, this book is required reading. Ed Slott is among the most trusted and knowledgeable retirement experts in the United States and the insights you will gain from reading this book will be invaluable. You'll learn how to create tax-efficient retirement income, take advantage of the most recent tax laws, as well as pass on more of your hard-earned wealth to your loved ones. The world is filled with those who proclaim to be retirement experts, but Ed Slott is truly that - an expert who deserves your time and attention." —Robert Powell, editor of Retirement Daily and TheStreet, USA Today columnist, editor of Retirement Management Journal and host of Exceptional Advisor podcast
 
"Ed Slott is my go-to resource on the nuances of tax and retirement planning. His non-nonsense style makes the dizzying changes in the rules and laws surrounding these often confusing topics understandable and more importantly, actionable." —Jill Schlesinger, CFP®, CBS News Business Analyst and author of The Dumb Things Smart People Do withTheir Money
 
"If you need to understand the ins-and-outs of retirement, look no further than this book by Ed Slott. He is the go-to expert for reporters and media folks like myself. When I have a question, I call Ed!" —Erin Arvedlund, author Too Good to Be True: The Rise and Fall of Bernie Madoff, and financial writer, Philadelphia Inquirer
 
"Congress has turned retirement savings into a quagmire of laws, regulations and acronyms that can serve as tax traps or opportunities. When advisers and journalists need help understanding the latest complexities, they often turn to Ed Slott, who can explain them with care and flair." —Kathleen Pender, business columnist, San Francisco Chronicle
 
"Retirement planning is more complicated than it ought to be, but that's where Ed Slott comes in. He has a knack for providing tax- and retirement-planning guidance that's easy to understand, up-to-the-minute current, and--dare I say it?--fun. This book will be an indispensable part of many retirees' toolkits." —Christine Benz, Morningstar
Penguin Books, 9780143134541, 448pp.
Publication Date: March 2, 2021
About the Author
Ed Slott is a highly sought-after professional speaker, CPA, and tax advisor. He is a Professor of Practice at The American College of Financial Services and his diverse client list includes major corporations such as New York Life, Fidelity Investments, Merrill, Nationwide Insurance, and Prudential. Slott's writing frequently appears in national publications such as The Wall Street Journal, The New York Times, and USA Today, and he has appeared on broadcast television and radio stations nationwide. He is publisher of the popular monthly newsletter Ed Slott's IRA Advisor. For more information, visit his website: www.irahelp.com.