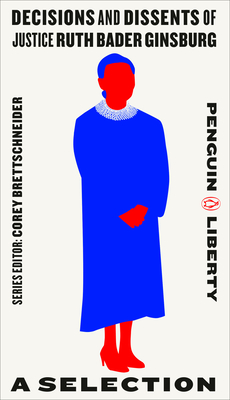 Decisions and Dissents of Justice Ruth Bader Ginsburg
A Selection (Penguin Liberty #2)
Paperback

* Individual store prices may vary.
Description
National Indie Bestseller

The trailblazing Supreme Court Justice Ruth Bader Ginsburg in her own words. Her most essential writings on gender equality and women's rights, reproductive health care, and voting and civil rights, now available in a short, accessible volume as part of the new Penguin Liberty series.

A Penguin Classic

Penguin Liberty is a newly curated series of classic historical, political and legal classic texts relevant to constitutional rights. This collection includes key concurrences, dissents, and selected writings by Justice Ginsburg that address gender equality and women's rights, reproductive health care, and voting and civil rights. The volume includes Justice Ginsburg's landmark Supreme Court opinions for cases including Bush v. Gore (2000), Lily Ledbetter v. Goodyear Tire & Rubber Company (2007), Shelby County v. Holder (2013), Burwell v. Hobby Lobby (2014), and more. Each Penguin Liberty volume will feature a series introduction and volume introduction by series editor Corey Brettschneider.
Praise For Decisions and Dissents of Justice Ruth Bader Ginsburg: A Selection (Penguin Liberty #2)…
"Accessible, well-edited selections amply demonstrating the astute thinking and sharp voice of an indispensable legal mind."
—Kirkus, starred review

"Brettschneider reminds us that the right to dissent is essential to freedom. Ginsburg's clear and frequently evocative language in her court opinions makes full use of this right."
 —Booklist

"A portable collection of RBG's writing on gender equality, reproductive rights, and other legal opinions, ideal for gift-giving."
—Library Journal

Penguin Classics, 9780143135111, 176pp.
Publication Date: September 8, 2020
About the Author
Corey Brettschneider is professor of political science at Brown University, where he teaches constitutional law and politics, as well as visiting professor of law at Fordham Law School. He has also been a visiting professor at Harvard Law School and the University of Chicago Law School. His recent writing has appeared in The New York Times, Politico, and The Washington Post. His new book is The Oath and the Office: A Guide to the Constitution for Future Presidents, which Kirkus calls "vital reading for all Americans." Brettschneider is frequently interviewed about constitutional issues on BBC, Sirius XM, and other media outlets. He is also the author of two books about constitutional law and civil liberties and numerous articles that appear in top academic journals and law reviews. His constitutional law casebook is widely used in classrooms throughout the United States. Brettschneider holds a PhD in politics from Princeton and a JD from Stanford Law School.