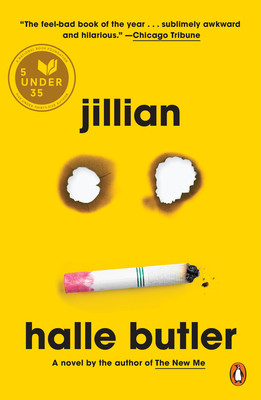 Jillian
A Novel
Paperback

* Individual store prices may vary.
Other Editions of This Title:
Digital Audiobook (7/6/2020)
Paperback (2/17/2015)
Description
The "sublimely awkward and hilarious" (Chicago Tribune), National Book Award "5 Under 35"-garnering first novel from the acclaimed author of The New Me--now in a new edition

Twenty-four-year-old Megan may have her whole life ahead of her, but it already feels like a dead end, thanks to her dreadful job as a gastroenterologist's receptionist and her heart-clogging resentment of the success and happiness of everyone around her. But no one stokes Megan's bitterness quite like her coworker, Jillian, a grotesquely optimistic, thirty-five-year-old single mother whose chirpy positivity obscures her mounting struggles.

Megan and Jillian's lives become increasingly precarious as their faulty coping mechanisms--denial, self-help books, alcohol, religion, prescription painkillers, obsessive criticism, alienated boyfriends, and, in Jillian's case, the misguided purchase of a dog--send them spiraling toward their downfalls. Wickedly authentic and brutally funny, Jillian is a subversive portrait of two women trapped in cycles of self-delusion and self-destruction, each more like the other than they would care to admit.
Praise For Jillian: A Novel…
Acclaim for Halle Butler and Jillian:
 
"In its ability to induce paralyzing existential depression, the fiction of Halle Butler is perhaps matched only by those Black Friday news stories in which grandmothers get trampled in front of stacks of fifty-five-inch TVs." —Jia Tolentino, The New Yorker

"[A] claustrophobic, anxiety-inducing book." —Lydia Kiesling, The New Yorker 
 
"Few authors capture the acidic angst of downtrodden millennials like Butler." —Huffington Post
 
"Butler [writes] with deft clarity and dry wit, turning expectation on its head . . . A frank depiction of modern indecency." —Electric Literature
 
"Droll, scatological, and delightfully subversive." —The Rumpus

"Hilarious and sharp." —New York Post 

"So human that you'll want to push [the characters] away from you and cuddle them close at the same time." —Flavorwire
 
"Subversive . . . a frank account of discontent [and] a depressing yet exacting criticism of modernity." —PopMatters

"Outrageous [and] amusing . . . [Jillian] reads like rubbernecking or a junk-food binge, compelling a horrified fascination and bleak laughter in the face of outrageously painted everyday sadness." —Kirkus Reviews

"[A] poison pill of a novel . . . Butler's aim is perfect, and her touch deft." —Publishers Weekly
 
"[A] striking debut." —Booklist
 
"This book is incredible. The deadpan way it nails what it is to be a human who lies to herself and tells different lies to everyone else makes me want to laugh and scream. It is hilarious and weird, my two favorite qualities in a book." —Lindsay Hunter, author of Ugly Girls and Don't Kiss Me
 
"An authentic and beautiful portrait of a self-proclaimed asshole." —Chelsea Martin, author of Even Though I Don't Miss You
 
"Halle Butler's Jillian is a wry, smart portrait of two women set on separate courses of self-destruction, each of them judging the other on the way down. This is a bold debut, a quick, vicious ride." —Cari Luna, author of The Revolution of Every Day
 
"A hilariously brutal tale of a woman destroying herself with cheery selfishness. I laughed myself nauseous watching the people surrounding Jillian struggle between exasperated judgment and aggravated compassion. Never before have a pair of characters made me so sick with hatred and empathy at once. Butler is writing exactly what I want to read." —Jac Jemc, author of A Different Bed Every Time and My Only Wife
 
"Halle Butler is a self-assured new voice in fiction, bringing fresh humor and originality to her engaging debut." —Elizabeth Crane, author of We Only Know So Much
Penguin Books, 9780143135524, 208pp.
Publication Date: July 7, 2020
About the Author
Halle Butler is the author of Jillian and The New Me. She has been named a National Book Award Foundation "5 Under 35" honoree and a Granta Best Young American Novelist.