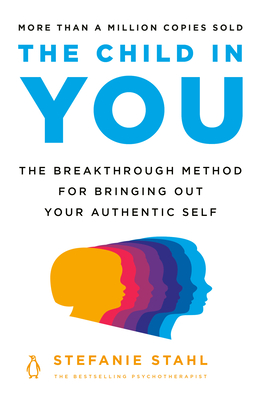 The Child in You
The Breakthrough Method for Bringing Out Your Authentic Self
Paperback

* Individual store prices may vary.
Description
The breakthrough million-copy international bestseller about how to befriend your inner child to find happiness

"Compassionate, clear-eyed, and insightful . . . The Child in You is like your own personal therapist that you can carry around with you." --Lori Gottlieb, New York Times bestselling author of Maybe You Should Talk to Someone

Nominated for Malcolm Gladwell, Susan Cain, Adam Grant, and Daniel H. Pink's Next Big Idea Club

We all want to be loved and to feel safe to express who we really are. But over time we grow estranged from what brings us our purest happiness--because everyday traumas, unyielding societal expectations, and the judgment of our parents and peers submerge our true self beneath layers of behaviors rooted in fear and shame and mistrust. In The Child in You, psychologist Stefanie Stahl guides you, step-by-step, through her therapeutic method that has helped millions to peel away these layers and reconnect with their inner child--both the shadow child, representing our deepest insecurities and the part of our self-esteem that is injured and unstable, and the sun child, representing our greatest joys and the part of our self-esteem that remains positive and intact.

The many examples and exercises in this book will help you discover your shadow child and sun child, identify which of the shadow child's dozen self-protection strategies are at work in you, and put into practice the array of proven self-reflection strategies to overcome negative influences and beliefs. Because it's never too late to have a happy childhood, or to bring your authentic self out from the shadows so you can embody your radiant individuality.

A PENGUIN LIFE TITLE
Praise For The Child in You: The Breakthrough Method for Bringing Out Your Authentic Self…
"[An] insightful exhortation for self-acceptance . . . It's easy to understand why . . . it was the number one bestselling non-fiction title for three consecutive years [in Germany]. . . . A helpful guide that offers lots to think about, combined with practical advice." ―Booklist

"A fascinating insight into how our childhoods can cause us problems now but how simple exercises can give your inner child back the confidence and clarity we all want." ―Stylist

"At long last, this million-copy international bestseller is available for English-speaking readers. Clinical psychologist Stefanie Stahl explains how to shed past traumas and societal pressures to uncover your most joyful, most authentic self." ―Next Big Idea Club Magazine

"[Stefanie Stahl's] paradigm for getting in touch with your inner child puts your truest self within easy reach." ―Lori Gottlieb, New York Times bestselling author of Maybe You Should Talk to Someone

"This book is a revelation. I can see why so many people all over the world have found in it a path to happiness, self-love, and fulfilling relationships." ―Marci Shimoff, #1 New York Times bestselling author of Happy for No Reason and Chicken Soup for the Woman's Soul

"It's almost impossible to read this book without contemplating your childhood and identifying areas for expansion and healing. Stefanie's practical, informative, inspiring, and highly-accessible approach to addressing psychological phenomena makes this book a hit in my eyes. I highly recommend people buy this book and do the exercises provided." ―Vex King, bestselling author of Good Vibes, Good Life

"I adored this book! Both mind-expanding and easy to digest, it is extremely helpful to me as a person, partner, mother, and writer, and my life is definitely better―brighter, more enjoyable, less dominated by fear―for having read it." ―Cathy Rentzenbrink, bestselling author of The Last Act of Love

"For anyone who goes on a personal growth journey, it is impossible to reach full wholeness without inner child work. This breakthrough guide is a must-read for anyone who is committed to healing, happiness, and full health. Stefanie Stahl offers effective strategies to help you trust yourself so you can live a fulfilling, authentic, connected life." —Shannon Kaiser, author of The Self-Love Experiment and Joy Seeker

"I thoroughly recommend The Child in You, which will help anyone who wants to improve their mental wellbeing. We should all know our inner child, and Stefanie Stahl shows how we can get to do so, exploring this concept with warmth and accessibility." ―Julia Samuel, author of Grief Works

"A thousand thanks for this simplified path to discovering your inner child. I have used this therapeutic model in my practice to excellent results. In fact, in a recent seminar, a 73-year-old man broke out in tears and stammered: 'All of my major life decisions are becoming clear to me now.' He put his wife's hand over his own, clutched both to his heart, and promised his inner child: 'I will heal us before our life on earth is over.' " —Hilde Wiemann, certified family and relationship coach

"This book has helped countless people open their hearts to themselves again, and in doing so has truly brought a wave of love into the world." ―Eva-Maria Zurhorst, couples therapist and bestselling author

"Stefanie Stahl has succeeded in getting psychological issues out of the sickness corner and making them so accepted that her exercises make you want to deal with yourself and develop personally. Many of my clients have taken The Child in You as the impetus for further therapy or coaching and said that without it, they would never have had the drive to really take this step." ―Jasmin Schott Carvalheiro, psychologist, mindfulness trainer, and author
 
"Stefanie Stahl is a gift, and her book is a miracle weapon―clear, understandable, never didactic. It dispenses with the usual empty phrases and esoteric calendar slogans and shines with real, tried-and-true knowledge. It's an absolute eye-opener! Stefanie Stahl is without a doubt the most successful psychotherapist in German-speaking countries. And rightly so. I love her." ―Lars Amend, life coach, bestselling author, and podcast host
 
"The Child in You is kind of a 'therapy to go.' It can be used at any time, wherever you are. The goal is to find a home in yourself. The path is self-reflection. You will recognize and understand deeply entrenched patterns. You can reshape them. And you will be surprised how the book continues to work internally." ―Dr. Christian Bernreiter, business coach and author
 
"Stefanie Stahl has the unique ability to address both the mind and the heart in a way that is simple, clear, and practical. Her books have helped millions to navigate emotional turmoil and intimate relationships with more maturity and ease." ―Vivian Dittmar, course instructor, author, and founder of the Be the Change foundation
 
"Like no other, Stefanie Stahl has a gift for explaining complex psychological phenomena in a vivid and catchy way. With her model of the shadow child and the sun child, she has helped millions of readers to bolster their self-esteem and develop more zest for life." ―Jens Corssen, psychologist, business coach, and author
 
"Stefanie Stahl's books didn't hit a nerve for nothing: They are accessible, practical, down-to-earth, and written with a good dose of humor. Those who practice the exercises can take away effective lessons for life." ―Andreas Knuf, psychotherapist and author
 
"With The Child in You, Stefanie Stahl has achieved something that was long overdue and that is very close to my heart: to get psychology out of a professional niche―often socially stigmatized―and to place it at the center of our society. She has a playful approach to such topics as self-worth and self-concept and has helped many people." ―Dr. Tobias Esch, physician, professor, health researcher, and bestselling author

"The Child in You has been an accessible and well-structured aid for patients in my practice for almost five years. The exercises are clear, practical, and very effective. The central concept is completely appropriate for short-term therapy, with very good and measurable success. Concretely depicting the sun child and shadow child helps patients to deal with their childhood problems quickly and effectively." ―Dr. Yakovlev, specialist in psychiatry and psychotherapy

"This is one of the very rare books that really succeeds in bringing psychological knowledge into the mainstream. . . . Highly recommended." ―Dr. Elisabeth Kals, professor, Catholic University of Eichstätt-Ingolstadt
 
"Stefanie Stahl has achieved groundbreaking success with her new model of the inner child. With her highly effective method, deep psychological wounds can be healed even without therapy. Millions of readers agree." ―Dr. Burkardt Düssler, author and specialist in psychosomatic medicine and psychiatry
 
"An exciting and easy read—easy to both understand and work with, and exciting because understanding the concept changes so deeply and fundamentally the way you feel about yourself. It lights the way toward self-acceptance, self-love, and happiness." ―Karin Behrend, psychotherapist

"This book is an eye-opener and it has literally helped millions of people understand and coach themselves to a better life. I was deeply impressed by Stefanie Stahl's unique talent for explaining the human psyche and the concepts of inner child work in such an intelligible way. Stefanie's teachings should be part of the curriculum in primary school, and I can definitely recommend reading and working with them!" ―Dr. Mareike Awe, life coach and bestselling author
Penguin Life, 9780143135937, 352pp.
Publication Date: December 29, 2020
About the Author
Stefanie Stahl is a clinical psychologist and the bestselling author of more than ten books. She has had her own psychotherapy practice in Germany for more than twenty-five years and conducts seminars about self-esteem, love, and the fear of commitment. The Child in You has sold close to two million copies in Germany, where it has been the #1 bestselling nonfiction book for five consecutive years, and has been translated into nearly thirty languages.