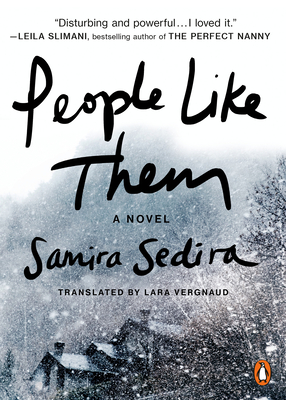 People Like Them
A Novel
Paperback

* Individual store prices may vary.
Other Editions of This Title:
Digital Audiobook (7/5/2021)
Description
A prizewinning, "riveting" (The New York Times Book Review) psychological suspense novel inspired by a true story about a couple in an insular French village whose lives are upended when a family of outsiders moves in.

"Icy and chilling . . . In sharply drawn sentences, Sedira summons the beauty of a small French village, and the shocking acts of the people inside it." —Flynn Berry, Edgar Award-winning and bestselling author of Under the Harrow and Northern Spy

"Disturbing and powerful . . . I loved it." —Leila Slimani, bestselling author of The Perfect Nanny

Anna and Constant Guillot live with their two daughters in the peaceful, remote mountain village of Carmac, largely deaf to the upheavals of the outside world. Everyone in Carmac knows each other, and most of its residents look alike—until Bakary and Sylvia Langlois arrive with their three children.

Wealthy and flashy, the family of five are outsiders in the small town, their impressive chalet and three expensive cars a stark contrast to the modesty of those of their neighbors. Despite their differences, the Langlois and the Guillots form an uneasy, ambiguous friendship. But when both families begin experiencing financial troubles, the underlying class and racial tensions of their relationship come to a breaking point, and the unthinkable happens.

With piercing psychological insight and gripping storytelling, People Like Them asks: How could a seemingly "normal" person commit an atrocious crime? How could that person's loved ones ever come to terms with it afterward? And how well can you really know your own spouse?
Praise For People Like Them: A Novel…
A New York Times Book Review Editors' Choice
Winner of the Eugene-Dabit Prize for the Populist Novel

"[A] delicious page-turner."
—Entertainment Weekly

"A potent little mélange of psychological suspense and racial tension . . . [and a] bucolic but unsettling portrayal of small-town jealousies and greed, class divides and incipient racism. . . . People Like Them seem[s] at times more like a film — lulling and then horrifying the observer in its portrayal of village life gone terribly wrong."
—The Los Angeles Times

"Translated fluidly from the French by Lara Vergnaud . . . Issues of class and race emerge [and] Sedira refuses to stereotype or follow easy routes. . . . No one will emerge unscathed."
—The New York Times Book Review

"A taut examination of race and class . . . deftly translated . . . Sedira lays bare the perils of a callous society dominated by money and status, and the insidious racism that drives an ordinary man to murder."
—The Guardian (UK)

"Icy and chilling, People Like Them is an investigation both of a crime and of the society that nurtured it. The novel's precise, vivid writing brings to mind two other knock-outs from France, The Adversary by Emmanuel Carrère and Based on a True Story by Delphine de Vignan. In sharply drawn sentences, Sedira summons the beauty of a small French village, and the shocking acts of the people inside it."
—Flynn Berry, Edgar Award-winning author of Under the Harrow and Northern Spy

"An impressive [debut] . . . The author deftly avoids the easier black and white morality in favor of the much more complex and realistic shades of grey. . . . This is the kind of book that you shouldn't pick up late at night, because you won't be putting it down again any time soon. People Like Them is the best kind of compulsive, and will keep you glued to its pages until they're done."
—Mystery and Suspense Magazine

"In her first novel to be translated into English, Sedira packs a powerful punch. . . . Deeply unsettling yet compulsively readable."
—Kirkus Reviews (starred)

"Sedira's gripping tale . . . depicts how the realities of race, class, and socioeconomic status tragically supersede the national ideals of liberty, equality, and brotherhood in an insular French community."
—Booklist

"An engrossing tale of suspense, with a narrative voice that grips from the first page and incisive psychological insight that raises questions about class, race, marriage, and what it takes to commit a terrible crime."
—The Arab Daily News

"Unflinching. Every word in this crisply told story matters, and every seemingly-casual moment is laced with dread, daring you to look away. You won't."
—Ani Katz, author of A Good Man

"People Like Them is a terrific novel. Dark and unsettling and brilliantly concise. I'll be thinking about it for a long time."
—Jane Casey, author of The Burning

"Captivating."
—L'humanité

"Full of empathy."
—Le Nouveau Magazine Littéraire

"Perfectly executed, and prize-worthy."
—La Marseilleise

"Absolutely admirable . . . One of the best books I've read recently."
—Bernard Poirette, Europe 1
Penguin Books, 9780143136279, 192pp.
Publication Date: July 6, 2021
About the Author
Samira Sedira is a novelist, playwright, and actress who was born in Algeria and moved to France with her family when she was very young. In 2008, after two decades of acting for film and the stage, she became a cleaning woman, an experience that inspired her autobiographical novel L'odeur des planches (The Smell of the Stage). People Like Them is her fourth novel and the first to be translated into English. Lara Vergnaud (translator) is an award-winning translator who specializes in North African literature.