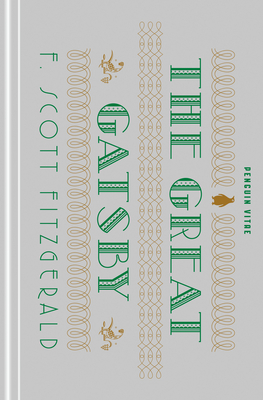 The Great Gatsby (Penguin Vitae)
Hardcover

* Individual store prices may vary.
Other Editions of This Title:
Digital Audiobook (1/17/2021)
Digital Audiobook (1/31/2021)
Digital Audiobook (1/4/2021)
Digital Audiobook (2/22/2021)
Digital Audiobook (1/8/2021)
Digital Audiobook (5/17/2021)
Digital Audiobook (12/17/2020)
Digital Audiobook (9/9/2020)
Paperback (4/8/2020)
Description
A collectible hardcover edition of one of the great American novels—and one of America's most popular—featuring an introduction by Min Jin Lee, the New York Times bestselling author of Pachinko

A Penguin Vitae Edition

Young, handsome, and fabulously rich, Jay Gatsby seems to have everything. But at his mansion east of New York City, in West Egg, Long Island, where the party seems never to end, he's often alone in the glittering Jazz Age crowd, watching and waiting, as speculation swirls around him—that he's a bootlegger, that he was a German spy during the war, that he even killed a man. As writer Nick Carraway is drawn into this decadent orbit, he begins to see beneath the shimmering surface of the enigmatic Gatsby, for whom one thing will always be out of reach: Nick's cousin, the married Daisy Buchanan, whose house is visible from Gatsby's just across the bay.

A brilliant evocation of the Roaring Twenties and a satire of a postwar America obsessed with wealth and status, The Great Gatsby is a novel whose power remains undiminished after a century. This edition, based on scholarship dating back to the novel's first publication in 1925, restores Fitzgerald's masterpiece to the original American classic he envisioned, and features an introduction addressing how gender, race, class, and sexuality complicate the pursuit of the American Dream.

Penguin Vitae—loosely translated as "Penguin of one's life"—is a deluxe hardcover series from Penguin Classics celebrating a dynamic and diverse landscape of classic fiction and nonfiction from seventy-five years of classics publishing. Penguin Vitae provides readers with beautifully designed classics that have shaped the course of their lives, and welcomes new readers to discover these literary gifts of personal inspiration, intellectual engagement, and creative originality.
Praise For The Great Gatsby (Penguin Vitae)…
"Virtuosic . . . Both imperfect and sublime . . . I've read and loved Gatsby for a very long time. . . . I've always loved it because it shows that Fitzgerald understood unfairness. . . . I cannot imagine a more persuasive and readable book about lost illusions, class, White Americans in the 1920s, and the perils and vanity of assimilation. . . . I turn to Gatsby because it gives me the sober wisdom to imagine and revise my own American dream, and for that, it has a lasting hold." ―Min Jin Lee, from the Introduction

"One of the most quintessentially American novels ever written." ―Time
 
"The American masterwork, the finest work of fiction by any of this country's writers." ―The Washington Post


Penguin Classics, 9780143136347, 240pp.
Publication Date: November 16, 2021
About the Author
F. Scott Fitzgerald (1896-1940) was born in St. Paul, Minnesota, and went to Princeton University, which he left in 1917 to join the army. He is said to have epitomized the Jazz Age, which he himself defined as "grown up to find all Gods dead, all wars fought, all faiths in man shaken." In 1920 he married Zelda Sayre; their traumatic marriage and her subsequent breakdowns became the leading influence on his writing. Among his publications were five novels, This Side of Paradise, The Beautiful and Damned, The Great Gatsby, Tender Is the Night, and The Last Tycoon; six volumes of short stories; and The Crack-Up, a selection of autobiographical pieces.

Min Jin Lee (introduction) is the author of the New York Times bestselling novel Pachinko, which was a finalist for the National Book Award and one of The New York Times Book Review's Ten Best Books of 2017, and of the nationally bestselling novel Free Food for Millionaires. A writer in residence at Amherst College and the recipient of fellowships from the Guggenheim Foundation and the Radcliffe Institute for Advanced Study at Harvard, she lives in New York.

Philip McGowan (editor, notes) is an executive board member of the F. Scott Fitzgerald Society, the president of the European Association for American Studies, a senior lecturer at Queen's University Belfast, and the editor of the Oxford University Press centenary edition of F. Scott Fitzgerald's This Side of Paradise.