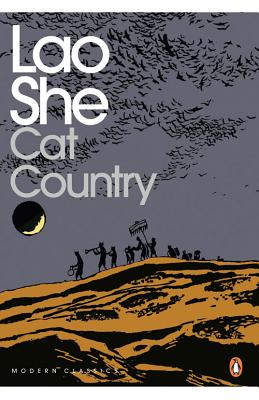 Cat Country (Paperback)
Penguin Books China, 9780143208129, 240pp.
Publication Date: December 1, 2015
* Individual store prices may vary.
Description
Lao She's only work of science fiction is both a dark, dystopian tale of one man's close encounter with the feline kind and a scathing indictment of a country gone awry

When a traveler from China crash-lands on Mars, he finds himself in a country inhabited entirely by Cat People. Befriended by a local cat-man, he becomes acquainted in all aspects of cat-life: he learns to speak Felinese, masters cat-poetry, and appreciates the narcotic effects of the reverie leaf—their food staple. But curiosity turns to despair when he ventures further into the heart of the country and the culture, and realizes that he is witnessing the bleak decline of a civilization.
About the Author
Lao She was born in Beijing in 1899 and later studied in London where he developed an appetite for English literature. Many of his works are considered modern Chinese classics, loved by generations of readers for his unique literary style and deft use of humor. His career saw the creation of works ranging from the local, Rickshaw Boy—about the moral degradation of a Beijing rickshaw puller, to the science fiction classic, Cat Country, and the much loved play, Teahouse.
Praise For Cat Country…
"It's in Cat Country that Lao She stretches himself the furthest, producing one of the most remarkable, perplexing, and prophetic novels of modern China. On one level it is a work of science fiction—a visit to a country of cat-like people on Mars—that lampoons 1930s China. On a deeper level, the work predicts the terror and violence of the early Communist era and the chaos and brutality that led to Lao She's death at the Lake of Great Peace. Cat Country is often called a dystopian novel, but when Lao She took his own life, it was an uncannily accurate portrait of the reality around him."  —New York Review of Books
"Fascinating . . . makes an ideal companion piece to George Orwell's Nineteen Eighty-Four."  —Times Literary Supplement

or
Not Currently Available for Direct Purchase