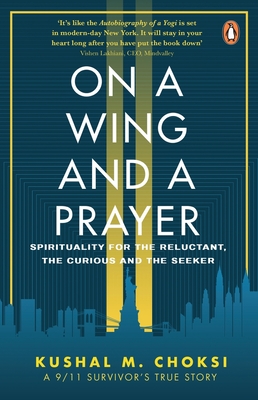 On a Wing and a Prayer
Spirituality for the reluctant, the curious and the seeker
Paperback

* Individual store prices may vary.
Description
What would you do if your life turned upside down overnight?

Witnessing the devastation of 9/11 before his eyes and narrowly escaping death, Kushal's life was never going to be the same again. Suddenly, all his pursuits felt meaningless and he felt a void within him like he had never felt before-until one day, when he reluctantly decided to spend an afternoon with a spiritual master in New York City.

From being a Wall Street trader immersed in the material world to embarking on a quest to find answers to life's biggest questions, Kushal Choksi writes about his doubts, struggles and revelations on a spiritual path as a left-brained skeptic. On a Wing and a Prayer is one such (true) account of one man finding himself on a fifteen-year long journey shadowing the spiritual leader Gurudev Sri Sri Ravi Shankar.
Praise For On a Wing and a Prayer: Spirituality for the reluctant, the curious and the seeker…
'An absorbing and enchanting breathwork bildungsroman that moves us from the meniality of modern corporate culture to the mesmerisms of meditation' —James Nestor, New York Times bestselling author of Breath: The New Science of a Lost Art

'It's like Autobiography of a Yogi set in modern-day New York. It will stay in your heart long after you have put the book down'—Vishen Lakhiani, CEO, Mindvalley; author of New York Times bestseller The Code of the Extraordinary Mind, Nautilus Book Award winner

'Like the WWII pilot forced to land his battle-damaged plane on "a wing and a prayer", Wall Street banker Kushal Choksi is forced by catastrophic events to embark on a remarkable journey of spiritual self-discovery. A poignant, funny, and thought-provoking read!' —Carol Kline, New York Times bestselling co-author of Happy for No Reason, Love for No Reason, five books in the Chicken Soup for the Soul series and Conscious Luck: Eight Secrets to Intentionally Change Your Fortune

'Kushal delivers a powerful and earnest narrative of a curious mind's struggle to know what lies beyond the unknown and to find a purpose along the way' —Jeffrey Perlman, brand architect, former CMO, Zumba Fitness.

'Kushal's authentic journey of self-exploration inspires us all to question what it really means to lead a successful life. His heartfelt account will appeal to anyone seeking answers from within'—Chandrika Tandon, business leader, humanitarian and Grammy-nominated artist

'On a Wing and a Prayer is a life-changing spiritual adventure. Deeply insightful and superbly written!' —Emma Seppälä, author of The Happiness Track; science director at Center for Compassion and Altruism Research and Education (CCARE), Stanford University
India Penguin, 9780143451679, 320pp.
Publication Date: October 15, 2021
About the Author
Kushal M. Choksi is an entrepreneur, a first-time author and a former Wall Street trader. After graduating from Carnegie Mellon University, he started his career at Goldman Sachs in New York City. Narrowly escaping death during the 9/11 attacks, he realized that life was too short to be playing safe. This got him started down the path of an eventful entrepreneurial journey, comprising of one failed venture and two successful acquisitions of an investment fund as well as a tech start-up. He currently runs Elements Truffles, an artisanal chocolate company that he co-founded with his wife. More about him at kushalchoksi.com.