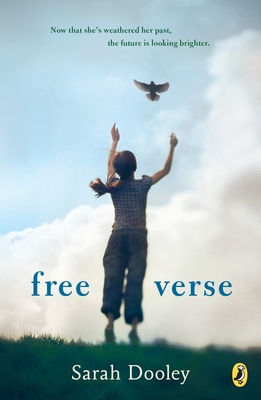 Free Verse (Paperback)
Puffin Books, 9780147509154, 368pp.
Publication Date: March 7, 2017
Other Editions of This Title:
Prebound (3/7/2017)
Hardcover (3/15/2016)
* Individual store prices may vary.
Description
A critically-acclaimed tale for fans of Sharon Creech's Walk Two Moons. Set in a West Virginia coal-mining town, this is part One for the Murphys and part Locomotion.

When her brother Michael dies in a fire, Sasha Harless has no one left and nowhere to turn. He'd been her caretaker since their mother ran off and their father died in the mines. And before his accident, Michael made Sasha promise him that she would leave Caboose, West Virginia for a better life someday. Now, she's in foster care, feeling more stuck and broken than ever.
        Trying to cope with her brother's death, Sasha returns to school and is introduced to poetry and finds it's a new way to express herself when spoken words just won't do. She even discovers family she didn't know she had, including a younger Mikey Harless, who's just as broken as she is. But just as she's settling into her new life, tragedy strikes the mine her cousin works in. While fearing the worst, Sasha takes Mikey and finally makes her escape. But will running from Caboose really fix the pain in Sasha's life, or will she have to discover a new way to heal?

Free Verse was the 2012 winner of the Phyllis Naylor Working Writer Fellowship through the PEN American Center 
About the Author
Sarah Dooley has lived in an assortment of small West Virginia towns, each of which she grew to love. Winner of the 2012 PEN/Phyllis Naylor Working Writer Fellowship, she has written two previous novels for middle-grade readers. Sarah is a former special education teacher who now provides treatment to children with autism. She lives in Huntington, West Virginia, where she inadvertently collects cats. She's a 2006 graduate of Marshall University.
Praise For Free Verse…
Praise for Free Verse:

* "Dooley subtly exposes readers to poetic forms that invite engagement, understanding, and expression, while Sasha and her extended family are depicted with a sweetness reminiscent of Cynthia Rylant—a southern soulfulness that is warm even as it reveals the downtrodden struggles of a mining community."—Booklist, starred review
 
* "The changes in [Sasha's] life, the anguish she feels, and her journey forward are expertly portrayed through Dooley's use of first-person narration, which is sensitive and gentle without being soft or sentimental. The poetry is wonderful and feels authentic to Sasha's years…"—School Library Journal, starred review 

* "In this gripping story, Dooley balances a clear-eyed depiction of families wrestling with addiction, financial stress, and trauma with the astonishing resilience of children and the human capacity for love."—Publishers Weekly, starred review

"Sarah Dooley mixes poetry and prose to powerful, poignant effect in her novel Free Verse... This story brims with hard-won insight into the travails and small joys of life."—The Washington Post

"Sasha is a natural with words. They bubble out of her, spilling emotions onto paper that she couldn't otherwise articulate. And as she experiments with different forms, Sasha discovers poetry's double blessing: The structure stabilizes her, while the creativity sets her free."—The Christian Science Monitor

"The story mounts a quiet defense of the nobility of broken people… who hold on when all seems lost and sacrifice much out of love for their children. Sasha's quietly moving poems… trace the evolution of her appreciation for what she has and her understanding that one must find one's own way to wholeness after loss."—The Bulletin of the Center for Children's Books 

"Dooley cleverly weaves into her novel different verse forms… giving her protagonist poet… the courage to stay put long enough to let the strength of her emotions settle inside. Dooley winningly combines engaging plot twists and rich character development with the introspective and thematic power of poetry: not to be missed."—Kirkus Reviews 

"Dooley shows readers the richness of small-town life… Tween fans of realistic fiction will find depth in this novel."—VOYA 
 
"Sasha lives in a tough coal mining world, and the hurts of her losses are deep. But her ability to see the beautiful and the lovely and the goodness of the world around her is equally deep, and her skill in expressing that depth is one of the things that will save her.  This novel is a triumph of art over loss, a story that will make you believe in the capacities of poetry."—Gary Schmidt, author of Newbery Honor-winning The Wednesday Wars
 
"Free Verse is exactly the sort of thing that we wish we saw more of in young people's literature, and Sarah Dooley is exactly the sort of author who needs and deserves this fellowship. It is a startling book, surprising at every turn, and its exploration of poverty, trauma, and loss deserves to be read by as wide an audience as possible."—Daniel Handler, Lyn Miller-Lachmann, Neal Shusterman, and Susanna Reich, judges for the 2012 PEN/Phyllis Naylor fellowship