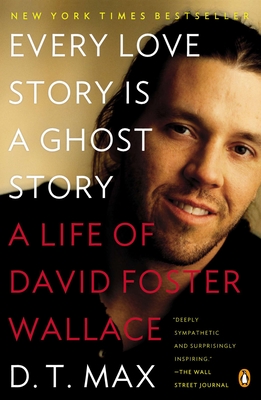 Every Love Story Is a Ghost Story (Paperback)
A Life of David Foster Wallace
Penguin Books, 9780147509727, 368pp.
Publication Date: August 27, 2013
Other Editions of This Title:
Hardcover (8/30/2012)
MP3 CD (8/11/2015)
Compact Disc (9/28/2016)
Compact Disc (8/30/2012)
MP3 CD (8/30/2012)
Compact Disc (8/30/2012)
MP3 CD (8/30/2012)
* Individual store prices may vary.
Description
The acclaimed New York Times–bestselling biography and "emotionally detailed portrait of the artist as a young man" (Michiko Kakutani, The New York Times)

Since his untimely death by suicide at the age of forty-six in 2008, David Foster Wallace has become more than the representative writer of his literary generation—he has become a symbol of sincerity and honesty in an inauthentic age, a figure whose reputation and reach grow by the day. In this compulsively readable biography, D. T. Max charts Wallace's tormented, anguished, and often triumphant battle to succeed as a novelist as he fights off depression and addiction to emerge with his masterpiece, Infinite Jest. Written with the cooperation of Wallace family members and friends and with access to hundreds of Wallace's unpublished letters, manuscripts, and journals, this revelatory biography illuminates the unique connections between Wallace's life and his fiction in a gripping and deeply moving narrative that will transfix readers.
About the Author
D. T. Max is also the author of The Family That Couldn't Sleep: A Medical Mystery. A staff writer for the New Yorker, he lives outside New York City with his wife and two children.
Praise For Every Love Story Is a Ghost Story: A Life of David Foster Wallace…
Praise for
Every Love Story Is A Ghost Story
:  
"In his revealing new biography, D.T. Max gives us a sympathetic portrayal of Wallace's life and work, tracing the connections between the two, while mapping the wellsprings of his philosophical vision…what Mr. Max's book does do -- and does powerfully – is provide an emotionally detailed portrait of the artist as a young man." —Michiko Kakutani,
The New York Times

"All readers, even those who know nothing of Wallace, will be moved by the portrayal of one man's honest struggle with mental illness…the book's] poignancy is in its emphasis on Wallace's years of hard-earned survival and his efforts, though unrealized, toward artistic transformation." —Sam Sacks, The Wall Street Journal

"A well-crafted, insightful chronicle of this singular writer's life and literary work…Max's biography succeeds on multiple levels: through his astute interpretations of Wallace's literary output and liberal quotes from the writer himself, this book very much embodies the spirit and life of Wallace…for this reader, the biography provides a measure of solace – that is this great writer can't be among us, at least he can be remembered in all of his genius and complexity." —S. Kirk Walsh, The San Francisco Chronicle

"I'm having trouble remembering when I was last so consumed by any piece of writing, fiction or non…Max's focus is, not surprisingly, more or less resolutely on Wallace's life as it related to his art. This decision to strip the story down to its narrative essentials pays off in terms of compulsive readability…In providing a more complete sense of Wallace than we ever had while he lived, it makes his death feel more real, somehow more irrefutable. And, for anyone who felt a profound emotional connection to Wallace and his work, there's a strenuously cathartic dimension to this: the experience of knowing him more fully, and of thereby feeling more completely the force and finality of his absence." —Mark O'Connell, Slate.com

"You find it painful, frightening, and, yes, gripping, to read about someone in chronic and severe emotional distress. In writing a chronologically narrated, thoroughly researched, objective-as-imaginable biography, Max has created a page turner." —Rivka Galchen, The New York Times Book Review

"Max's long-awaited bio, Every Love Story is a Ghost Story, helps us understand the man behind the words, and the mind behind the suicide…[Max] makes Wallace begin to cohere and become more approachable, more real…necessary reading if you care about DFW or the cultural moment that shaped him and then felt his impact." —Evan Hughes, GQ.com

"Documenting the life of a writer as revered and tormented as the late David Foster Wallace is a fraught task at best. D.T. Max has done an admirable job with Every Love Story is a Ghost Story…what emerges is a vivid portrait of an artist whose verbal brilliance was continually hampered, and ultimately silenced, by debilitating mental illness." —Steve Almond, The Boston Globe

"Max's long-awaited biography of David Foster Wallace has been the end-of-summer book for readers of literary fiction. It has inspired countless reviews, conversations, and online outbursts…Max somehow manages to tell a compelling story that peels back the public image of Wallace without stripping it bare, creating a portrait of a troubled and gifted man who crafted some of our time's best writing and giving readers a fuller sense of the relation of the work to the life." —Samuel Cohen, The Believer

"While Max appears to greatly admire Wallace as a writer and feel compassion for him as a man, he is never starry-eyed, or pulls his punches. Every Love Story is a Ghost Story is as illuminating, multifaceted, and serious an estimation of David Foster Wallace's life and work as we can hope to find." —Elissa Schappell, Vanityfair.com

"Brilliant and compulsively readable…Max's new biography deftly reassembles the life of David Foster Wallace…strips away the legend and gives us an all-too-human writer…a convincingly intimate and lucid narrative…Max is respectful throughout – and his account of the writer's final days is devastatingly measured." —Taylor Antrim, Vogue.com

"Full of all kinds of strange surprises, painting the most complete, and warmest, portrait of Wallace yet." —Rolling Stone