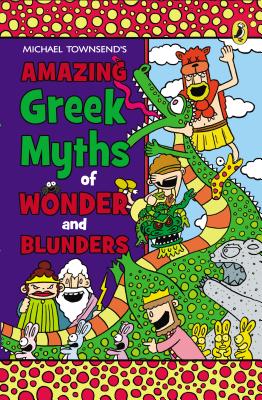 Amazing Greek Myths of Wonder and Blunders
Paperback

* Individual store prices may vary.
Description
A laugh-out-loud funny graphic novel "for fans of either comic books or Percy Jackson, or both."—School Library Journal

From Hercules' snake assassin slippers to Arachne's wicked weaver rap songs, these are the mythic monsters and Hellenic heroes that have captured Western culture for centuries--but a whole lot more fun. Each story showcases the wondrous and blunderful antics of gods and mortals in bright graphics that rival the super-heroic action of The Lightning Thief, burst with the knock-yoursocks- off humor of Jeff Kinney, and still remain unerringly faithful to the original myth. Kids won't be able to resist the bickering sheep, unruly rulers, and undercover details of Amazing Greek Myths--while teachers, librarians, and parents can relish this new way to share moral messages that remain as relevant today as they were a thousand years ago.
Praise For Amazing Greek Myths of Wonder and Blunders…
Praise for Amazing Greek Myths of Wonder and Blunders


"Brash colors, quirky humor, and authentic retellings combine to make this compilation of stories about Pandora, Icarus, Demeter, Hercules, and other stars in the classical-myth canon both brilliant and engaging. Townsend balances text and visually communicated information in a way that few graphic novels for the chapter-book set seem to be able to maintain. The architecture and attire are all ancient world, while touches of contemporary humor don't come off as overly anachronistic—the punch line to "How many centaurs does it take to screw in a lightbulb?" is "None . . . because lightbulbs don't exist!" Other running gags include stupid sheep and funny taglines at the close of each tale. The lessons of the myths ring true, and their graphic stagings should keep readers, whether familiar with Bulfinch's classic versions or not, enthusiastically turning the pages."--Booklist
"Ten familiar myths—the stories of Pandora, Arachne, Midas, Perseus, and others-are embellished with humor, the gory parts glossed over, and served up in blazing color for fans of either comic books or Percy Jackson, or both. Most of the stories come with a moral, although some (Persephone, Pyramus and Thisbe) take the form of just-so stories. Conversational, up-to-date language and broad jokes help to make the stories accessible and coordinate well with the simple, cartoon illustration style. The artist has deployed a wide array of bright solid colors in such a way that contrast between foreground and background is maintained. The tone, as well, is somewhat unrelenting, with much shrieking, sobbing, yelling, and spinning eyeballs."--School Library Journal
Puffin Books, 9780147510693, 160pp.
Publication Date: February 6, 2014
About the Author
Mike Townsend (www.mikeisgreathelikeschocolatecake.com) lives and draws in Philadelphia.
or
Not Currently Available for Direct Purchase