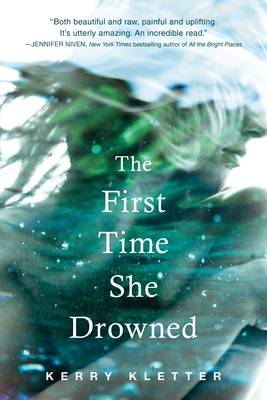 The First Time She Drowned (Paperback)
Speak, 9780147513274, 352pp.
Publication Date: March 14, 2017
Other Editions of This Title:
Digital Audiobook (3/14/2016)
Hardcover (3/15/2016)
CD-Audio (3/15/2016)
* Individual store prices may vary.
Description
The beautiful struggle of a girl desperate for the one relationship that has caused her the most pain. In "one of the most lyrical novels I've ever read. Haunting and exquisite." —Nicola Yoon, #1 New York Times bestselling author of Everything, Everything and The Sun is Also a Star

 Cassie O'Malley has spent the past two and a half years in a mental institution--dumped there by her mother, against her will. Now, at 18, Cassie emancipates herself, determined to start over and reclaim her life. But when the unhealthy mother-daughter relationship that defined Cassie's childhood and adolescence threatens to pull her under once again, Cassie must decide: whose version of history is the truth, and whose life must she save?


TEEN VOGUE listed as "One of the best books you need to know now."
PASTE MAGAZINE lists it as "one of their most anticipated debuts of 2016" and as "one of the best books of the year so far."
ALA BOOKLIST names it to their "Top 10 First Novels for Youth" list
Included in B&N Teen Blog's Best Young Adult Books of 2016

More praise for The First Time She Drowned:
"Lyrical, emotional...resonant." —Entertainment Weekly 

"Beautiful and passionate . . . [Kletter is] a writer of great distinction and infinite promise." —Pat Conroy, #1 New York Times bestselling author of The Prince of Tides and South of Broad

". . . An incredible read. Be warned though—you will want to read Cassie's story, start to finish, in one sitting. And then you will want to race to put it in the hands (and hearts) of everyone you know and love." —Jennifer Niven, New York Times bestselling author of All the Bright Places

"The First Time She Drowned is an exquisite and masterful dive, a brave exploration into the complexities of family, and the saving grace of friendship. Kletter's writing is hypnotic, her characters alive, her story tragic, beautiful, hopeful. Simply put, this book is stunning." —David Arnold, critically acclaimed author of Mosquitoland and Kids of Appetite

"[A] beautiful, gut-wrenching ache of a story. If you are at all interested in books, this is required reading." —Becky Albertalli, author of the Morris Award-winning Simon vs. the Homo Sapiens Agenda
 
"The best writers are able to tell the most difficult stories with the most empathy, and that's just what Kletter does in this haunting debut about a girl lost in the depths of her family's secrets and shame. Complex, affirming, and beautifully written." —Stephanie Kuehn, author of the Morris Award-winning Charm & Strange

"Gorgeous, sumptuously lyrical, luminous…a feast for lovers of language. The First Time She Drowned singlehandedly shatters every argument that YA books aren't fit fare for adults." —Jeff Zentner, author of The Serpent King
About the Author
Kerry Kletter has had a lifelong passion for story. She holds a degree in literature and has an extensive background in theater, having appeared in film, television, and onstage. When not writing, Kerry can be found surfing, running, working with animals, or singing loudly in her car while stuck in LA traffic. A native of Ridgewood, New Jersey, Kerry now lives in Santa Monica, California, with her partner, screenwriter David Zorn. The First Time She Drowned is her debut novel. Follow her on Twitter @kkletter.
Praise For The First Time She Drowned…
Praise for The First Time She Drowned:

"Lyrical, emotional...resonant." —Entertainment Weekly, MUST LIST

"Beautiful and passionate . . . [Kletter is] a writer of great distinction and infinite promise." —Pat Conroy, #1 New York Times bestselling author of The Prince of Tides and South of Broad

"Kerry Kletter's The First Time She Drowned is the kind of book I love best—a lovely and haunting keep-you-up-all-night heart-wrencher that is both beautiful and raw, painful and uplifting. It's utterly amazing. An incredible read. Be warned though—you will want to read Cassie's story, start to finish, in one sitting. And then you will want to race to put it in the hands (and hearts) of everyone you know and love." —Jennifer Niven, New York Times bestselling author of All the Bright Places

"Sentence by sentence . . . one of the most lyrical novels I've ever read. Haunting and exquisite." —Nicola Yoon, #1 New York Times bestselling author of Everything, Everything

"The First Time She Drowned is an exquisite and masterful dive, a brave exploration into the complexities of family, and the saving grace of friendship. Kletter's writing is hypnotic, her characters alive, her story tragic, beautiful, hopeful. Simply put, this book is stunning." —David Arnold, critically acclaimed author of Mosquitoland and Kids of Appetite 

"[A] beautiful, gut-wrenching ache of a story. If you are at all interested in books, this is required reading." —Becky Albertalli, author of the Morris Award-winning Simon vs. the Homo Sapiens Agenda

"The best writers are able to tell the most difficult stories with the most empathy, and that's just what Kletter does in this haunting debut about a girl lost in the depths of her family's secrets and shame. Complex, affirming, and beautifully written." —Stephanie Kuehn, author of the Morris Award-winning Charm & Strange

"Gorgeous, sumptuously lyrical, luminous…a feast for lovers of language. The First Time She Drowned singlehandedly shatters every argument that YA books aren't fit fare for adults." —Jeff Zentner, author of The Serpent King
 
* "[An] excellent debut novel....heart-wrenching....Readers who enjoy the suspense of unreliable narrators, as in Adele Griffin's Loud Awake and Lost or Stephanie Kuehn's Complicit, will appreciate this one." —Booklist, starred review

"This heartfelt, lyrical debut will strike a chord with older teens who appreciate contemporary fiction." —Kirkus Reviews

"An absorbing read...fans of realistic fiction will be drawn to this book." —VOYA

"Kletter's exploration of a dysfunctional family through the eyes of a daughter is raw with emotion…a sophisticated read…lyrical." —School Library Journal 

"A complex novel that ultimately uplifts." —Publishers Weekly 

"A stunning story of family and friendship" --BookRiot

"Raw and evocative" --Buzzfeed

Best of Lists
TEEN VOGUE listed as "One of the best books you need to know now."
BARNES & NOBLE Teen Blog lists it as "one of their most anticipated debuts of 2016" and as "one of the best books of the year so far."
PASTE MAGAZINE lists it as "one of their most anticipated debuts of 2016" and as "one of the best books of the year so far."
ALA BOOKLIST names it to their "Top 10 First Novels for Youth" list