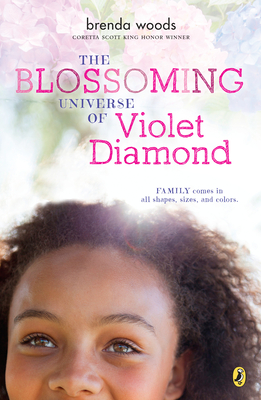 The Blossoming Universe of Violet Diamond (Paperback)
Puffin Books, 9780147514301, 240pp.
Publication Date: January 22, 2015
Description
Coretta Scott King Honor winner Brenda Woods' moving, uplifting story of a girl finally meeting the African American side of her family explores racism and how it feels to be biracial, and celebrates families of all kinds.
Violet is biracial, but she lives with her white mother and sister, attends a mostly white school in a white town, and sometimes feels like a brown leaf on a pile of snow. Now that she's eleven, she feels it's time to learn about her African American heritage, so she seeks out her paternal grandmother. When Violet is invited to spend two weeks with her new Bibi (Swahili for "grandmother") and learns about her lost heritage, her confidence in herself grows and she discovers she's not a shrinking Violet after all. From a Coretta Scott King Honor-winning author, this is a powerful story about a young girl finding her place in the world.
About the Author
Brenda Woods (www.brendawoods.net) was born in Cincinnati, Ohio, raised in southern California, and attended California State University, Northridge. She is the award-winning author of several books for young readers: Coretta Scott King Honor winner The Red Rose Box, Saint Louis Armstrong Beach, VOYA Top Shelf Fiction selection Emako Blue, My Name is Sally Little Song, and A Star on the Hollywood Walk of Fame. Her numerous awards and honors include the Judy Lopez Memorial Award, FOCAL award, Pen Center USA's Literary Award finalist, IRA Children's Choice Young Adult Fiction Award, and ALA Quick Pick. She lives in the Los Angeles area.
Advertisement