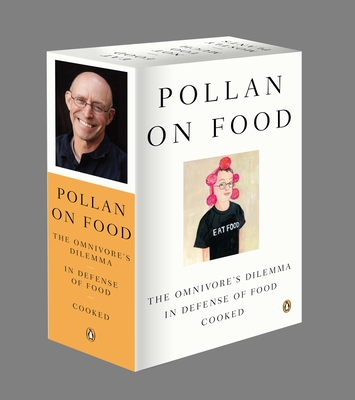 Pollan on Food Boxed Set: The Omnivore's Dilemma; In Defense of Food; Cooked (Paperback)
The Omnivore's Dilemma; In Defense of Food; Cooked
Penguin Books, 9780147514899
Publication Date: October 22, 2014
Description
The three groundbreaking books from our most trusted guide to food, now brought together for the first time
In a few short years, Michael Pollan has completelytransformed America's understanding of eating.Now, "Pollan on Food"collects the"New York Times" bestselling author's three masterworks into onememorable package. First, the groundbreakingbook that started it all, "The Omnivore's Dilemma," in which Pollan turns his own omnivorous mindto the seemingly straightforward question of whatwe should have for dinner. Next, with"In Defense ofFood," Pollan proposes a new (and very old) idea thatcomes down to seven simple but liberating words: Eat food. Not too much. Mostly plants. Finally, in"Cooked," Pollan explores the previously unchartedterritory of his own kitchen; showing the enduringpower of the four classical elements fire, water, air, and earth to transform the stuff of nature intodelicious things to eat and drink."Pollan on Food"isthe perfect answer for those looking to unravel thesecret to good and healthy eating.
About the Author
Michael Pollan is the author of eight books, including"Cooked," "Food Rules," "In Defense of Food," "The Omnivore s Dilemma," and "The Botany of Desire," all "New York Times" bestsellers. He livesin Berkeley, California."
Advertisement