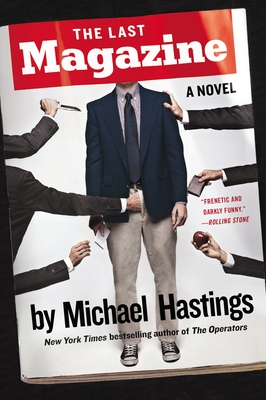 The Last Magazine (Paperback)
A Novel
Plume, 9780147516183, 352pp.
Publication Date: May 12, 2015
Other Editions of This Title:
Digital Audiobook (6/16/2014)
Hardcover (6/17/2014)
Compact Disc (6/17/2014)
MP3 CD (6/17/2014)
Compact Disc (6/17/2014)
* Individual store prices may vary.
Description
"The funniest, most savage takedown of the American news media since Fear and Loathing: On the Campaign Trail '72."—The Washington Post

Michael Hastings' untimely death at the age of thirty-three rocked the journalism community. But the New York Times bestselling author of The Operators left behind an unexpected legacy: a wickedly funny novel based on Hastings's own journalistic experiences in the mid-2000s. Discovered in his files, the novel features a wet-behind-the-ears intern named Michael M. Hastings who must choose between his career and the truth. A searing portrait of print journalism's last glory days, The Last Magazine earned Hastings comparisons to Evelyn Waugh and Hunter S. Thompson and stands as a testament to one of America's most treasured reporters.
About the Author
Michael Hastings was a contributing editor to Rolling Stone and a correspondent at large for BuzzFeed. Before that he worked for Newsweek, where he rose to prominence covering the wars in Iraq and Afghanistan. He was the recipient of the 2010 George Polk Award for his Rolling Stone magazine story The Runaway General. Hastings was the author of three books, I Lost My Love in Baghdad, Panic 2012, The Operators, and The Last Magazine. He died in 2013, and was posthumously honored with the Norman Mailer Award for Emerging Journalist.
Praise For The Last Magazine: A Novel…
"What a novel it is! Tenacity and perseverance were the qualities that helped Hastings become a star reporter for GQ and Rolling Stone, and they inform the novel's narrative, creating a story as engrossing as it is believable. While the characters are not always likable, they are unfailingly engaging. And the breakneck pace of the narrative is so unrelenting, it makes you wonder if Hastings lived as he wrote." –Newsweek

"Even from the grave Mr. Hastings has demonstrated anew an ability to reframe the debate. The novel….reads as vivid archaeology that reveals much about the present moment… The milieu of the book paints a picture of a treehouse where like minds connive and look for an opening. But far below them, there is the sound of sawing – steady and implacable. The tree will fall….Remarkable."—David Carr, The New York Times

"Scathing, funny, rollicking."—The Barnes and Noble Review

"Frenetic and darkly funny." – Rolling Stone

"Terrifyingly funny ….entrancing, compelling." – Shelf Awareness

"The Last Magazine is tender and brutal, worldly and inbred, high-minded and gross, smartly rendered and rough around the edges — and quite often hilarious…The Last Magazine is the funniest, most savage takedown of the American news media since Fear and Loathing: On the Campaign Trail '72, by his hero Hunter S. Thompson."—James Rosen, The Washington Post

 "[The Last Magazine] is fast and funny and humane. When I put it down, it called to be picked up again." –Dwight Garner, The New York Times

"What makes this novel work—really, I can't think of a better little tome to take to the beach—is that it's just so much fun, so wicked, so amusing, and so brilliantly observed. The caricatures of people living and dead (career-wise) are only part of its charm. I haven't read a better send-up of hackery since the last time I dove into Evelyn Waugh's 1938 classic Scoop."—Christopher Dickey, The Daily Beast

"As a provocative piece of thinly fictionalized nonfiction, [The Last Magazine] is a posthumous mission accomplished…Hastings's book is a message in a bottle that has belatedly washed up on shore to force us to remember how we landed where we are now."—Frank Rich, New York Magazine

"That voice. That witty, subversive voice we thought we'd lost, is back for one last romp. Hastings decodes the culture even more incisively in fiction, with wild bursts of imaginative mischief. So damn funny."—Dave Cullen, New York Times bestselling author of Columbine

"[Hastings'] keen eye for the creatures of the New York media universe focuses on the fabricated lifestyles of that world's desperate inhabitants. Here, no one is immune….The suffering amid the insufferable is comic gold, and Hastings had no time for heroes. The world he created is filled with lost boys stamping their feet for validation. This could be the perfect summer bro comedy. Paging Judd Apatow!"—Mark Guarino, Chicago Tribune
 
"A convincing account of the perils of war -- and of the journalistic wars of an institution under siege from New Media…. The Last Magazine remains a loving account of a profession Hastings believed was honorable and tried to honor. Only the guilty have something to fear." –Paul Wilner, San Francisco Chronicle
 
"Surely Michael Hastings would have savored the taste of revenge had he lived to see his first novel, The Last Magazine published…The humor throughout is searing….entertaining."—Sherryl Connelly, New York Daily News

"Remarkable... Hastings, the novelist, reminds one at times of the early Robert Stone." —Booklist

"A messy, caustic and very funny satire.... A ribald comedy about doing time in the trenches and the bitter choices that integrity demands." --Kirkus
or
Not Currently Available for Direct Purchase