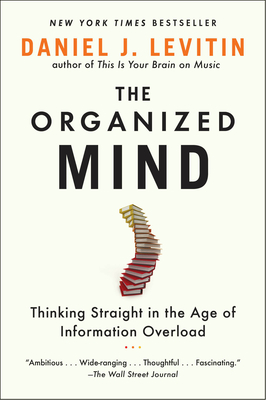 The Organized Mind
Thinking Straight in the Age of Information Overload
Paperback

* Individual store prices may vary.
Other Editions of This Title:
Digital Audiobook (8/18/2014)
Prebound (9/1/2015)
Description
New York Times bestselling author and neuroscientist Daniel J. Levitin shifts his keen insights from your brain on music to your brain in a sea of details.

The information age is drowning us with an unprecedented deluge of data. At the same time, we're expected to make more—and faster—decisions about our lives than ever before. No wonder, then, that the average American reports frequently losing car keys or reading glasses, missing appointments, and feeling worn out by the effort required just to keep up.

But somehow some people become quite accomplished at managing information flow. In The Organized Mind, Daniel J. Levitin, PhD, uses the latest brain science to demonstrate how those people excel—and how readers can use their methods to regain a sense of mastery over the way they organize their homes, workplaces, and time.

With lively, entertaining chapters on everything from the kitchen junk drawer to health care to executive office workflow, Levitin reveals how new research into the cognitive neuroscience of attention and memory can be applied to the challenges of our daily lives. This Is Your Brain on Music showed how to better play and appreciate music through an understanding of how the brain works. The Organized Mind shows how to navigate the churning flood of information in the twenty-first century with the same neuroscientific perspective.
Praise For The Organized Mind: Thinking Straight in the Age of Information Overload…
"[An] impressively wide-ranging and thoughtful work...The Organized Mind is an organized book, but it also rewards dipping in at any point, for there are fascinating facts and examples throughout."—The Wall Street Journal

"From how not to lose your keys to how to decide when the risks of surgery are worth it, Levitin focuses on smart ways to process the constant flow of information the brain must deal with."—The Washington Post

"[M]ore than a self-help book...Levitin's insights into sleep, time, socializing and decision-making are profound."—San Jose Mercury News

"[An] ingenious combination of neuroscience and self-help."—Kirkus Reviews

"Dan Levitin has more insights per page than any other neuroscientist I know. The Organized Mind is smart, important, and as always, exquisitely written."—Daniel Gilbert, Harvard University, author of Stumbling on Happiness

"Combine genuine knowledge and scholarship with plain common sense and what do you get? A book that is really worth reading: Dan Levitin's The Organized Mind."—The Honorable George P. Shultz, 60th U. S. Secretary of State

"There are surprising parallels between Levitin's work and mine. Today's environment in war, business, and just about everything else has increased in speed and complexity to the point where the essential quality required for success is adaptability. The Organized Mind provides the latest neuroscience on cognitive adaptability and how to apply it to so that leaders can excel. It is a tremendous achievement, and a must read for leaders at every level."—General Stanley McChrystal, U. S. Army (ret.)

"A brilliant and engaging book about the science of thinking. The Organized Mind provides the tools that we all need to understand and manage the deluge of information that assaults us every day."—Jerome Groopman, MD and Pamela Hartzband, MD, Harvard Medical School, authors of Your Medical Mind

"A profound piece of work. Levitin documents the mismatch between our narrow bandwidth hunter-gatherer minds and the multitasking chaos of today's world. He even shows us how to stay sane in environments that are constantly tempting us to stretch ourselves hopelessly thin."—Philip E. Tetlock, Wharton School, University of Pennsylvania

"An erudite synthesis of Levitin's own contributions, recent advances in our understanding of attention and memory, and a deep perspective on the ways the human mind works."—Stanley Prusiner, M.D. Nobel Laureate, director of the Institute for Neurodegenerative Diseases, University of California, San Francisco

"Daniel Levitin's book follows in the ancient tradition of knowledge as a guide to a better life.  Discover the creative power of organized thought, whether you are a writer or a scientist, a disorganized mess or a super robot seeking new frontiers of effectiveness."—Eric Kaplan, co-executive producer and writer, The Big Bang Theory, writer, The Simpsons and Flight of the Conchords

"An eloquent spokesperson for our field. Levitin writes about the brain with an ease and familiarity that is captivating."—The late David Hubel, Nobel Laureate in honor of discoveries concerning information processing in the human visual system

"Fascinating...Combing neuroscience and cognitive psychology, the Organized Mind underscores the critical importance of individuals taking charge of their own attentional and memory systems so they can lead optimally productive and satisfying lives. Invaluable insights are offered with regard to organizing our homes, social world, time, decision-making, and business world."—Nadine J. Kaslow, Ph.D., president of the American Psychological Association and professor and vice chair, Emory University School of Medicine

"This book is far more than tips on how to think clearly and manage information overload. It is also a tour through some of the most exciting aspects of contemporary neuroscience and cognitive science, with a specific emphasis on implications for everyday life. Anyone who has ever wondered about the mind will find much that is fascinating and useful in these pages."—Stephen Kosslyn, dean, Minerva Schools of Arts and Sciences at the Keck Graduate Institute, former chair, department of psychology, Harvard University

"Running a major PBS television series on tight budgets and turnarounds requires organization and efficiency and sometimes a little magic too. Levitin's behind the curtain peek at the brain's inner workings of decision-making provides that extra bit of magic—and would make a fascinating documentary in and of itself!"—Pamela Hogan, Emmy award-winning Producer for PBS

"In the age of TMI, we all need better organized minds.  With characteristically clear prose and scientific insight, Dan Levitin gives us tips on how to get or mental closets in order.  I really enjoyed this book."—Joseph LeDoux, Center for Neural Science, New York University

"Dan Levitin has done it again.  Having explained music and the brain, now he shows us the best, most effective ways to organize the rest of our life by giving us key insights into how the brain works.  His style is so appealing, his knowledge so deep and practical, that we learn, from The Organized Mind, not only why we do what we do, but how, potentially, we can run our lives more smoothly, efficiently, and even happily."—Cathy N. Davidson, director, The Futures Initiative, City University of New York

"Using the latest information on the brain and how it works, Levitin presents a series of ideas on how to organize one's life and business.  Essential reading for anyone who aspires to be highly effective.  Or even find their keys!"—David Eidelman, MD, dean of the McGill University Medical School

"The Organized Mind reads like a movie— not the dry tome you might expect. It's an exciting tour through the science of productivity and how to best manage your thinking to get things done—and be more creative at the same time."—David Allen, author of Getting Things Done
Dutton, 9780147516312, 544pp.
Publication Date: September 1, 2015
About the Author
Daniel J. Levitin, Ph.D., is the New York Times bestselling author of This Is Your Brain on Music, The World in Six Songs, The Organized Mind, and Weaponized Lies. His work has been translated into 21 languages. An award-winning scientist and teacher, he is Founding Dean of Arts & Humanities at the Minerva Schools at KGI, a Distinguished Faculty Fellow at the Haas School of Business, UC Berkeley, and the James McGill Professor Emeritus of Psychology and Music at McGill University, Montreal, where he also holds appointments in the Program in Behavioural Neuroscience, The School of Computer Science, and the Faculty of Education. Before becoming a neuroscientist, he worked as a session musician, sound engineer, and record producer working with artists such as Stevie Wonder and Blue Oyster Cult. He has published extensively in scientific journals as well as music magazines such as Grammy and Billboard. Recent musical performances include playing guitar and saxophone with Sting, Bobby McFerrin, Rosanne Cash, David Byrne, Cris Williamson, Victor Wooten, and Rodney Crowell.