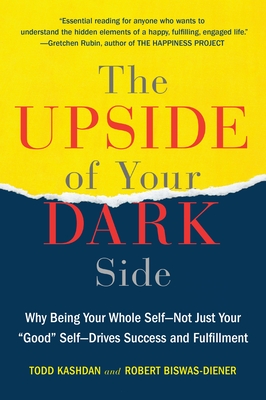 The Upside of Your Dark Side
Why Being Your Whole Self--Not Just Your "Good" Self--Drives Success and Fulfillment
Paperback

* Individual store prices may vary.
Other Editions of This Title:
Digital Audiobook (9/24/2014)
Compact Disc (9/1/2015)
MP3 CD (9/25/2014)
Description
Audible Best Seller of 2017
 
Inc. 11 Great Business Books 
 
New York Magazine Best Psychology Books
 
LinkedIn's 12 Books on Leadership to Read



Two mavericks in the field of positive psychology deliver a timely message

Happiness experts have long told us to tune out our negative emotions and focus instead on mindfulness, positivity, and optimism. Researchers Todd Kashdan, Ph.D., and Robert Biswas-Diener, Dr. Philos., disagree. Positive emotions alone are not enough. Anger makes us creative, selfishness makes us brave, and guilt is a powerful motivator. The real key to success lies in emotional agility. Drawing upon extensive scientific research and a wide array of real-life examples, The Upside of Your Dark Side will be embraced by business leaders, parents, and everyone else who's ready to put their entire psychological tool kit to work.
Praise For The Upside of Your Dark Side: Why Being Your Whole Self--Not Just Your "Good" Self--Drives Success and Fulfillment…
Audible Best Seller of 2017
 
Inc. 11 Great Business Books 
 
New York Magazine Best Psychology Books
 
LinkedIn's 12 Books on Leadership to Read


"At long last, here's a book on why happiness can make us sad and mindfulness might be overrated. The Upside of Your Dark Side offers a provocative, evidence-based case for a balanced life. If you haven't read it yet, you should feel guilty—and it turns out that will be good for you."
—Adam Grant, author of Give and Take

"With verve, humor, solid research, and lots of examples, the authors cut through prevailing myths about happiness to show what actually creates a fulfilling, contributing life. Brave, bold, and brilliant."
—Rick Hanson, PhD, author of Buddha's Brain

"Anger, guilt, regret, and anxiety have no place in a happy life, right? Wrong. The Upside of Your Dark Side illuminates the essential role played by negative emotions. And then goes further, revealing the benefits of personality traits we tend to downgrade such as grandiosity and selfishness. Essential reading for anyone who wants to understand the hidden elements of a happy, fulfilling, engaged life."
—Gretchen Rubin, author of The Happiness Project

"The Upside of Your Dark Side offers one of the most important messages of recent psychological science: that you don't need to avoid discomfort or distress to have a meaningful and joyful life. The authors provide a highly refreshing alternative to the idea that one must pursue happiness at all costs. There is much to be learned from the experience of negative emotions, and from this book."
—Kelly McGonigal, PhD, author of The Willpower Instinct

"I feel like I have five new superpowers after reading this book. It turns out that leading a good and satisfying life doesn't mean we have to try to be happy, calm or optimistic all the time. We can learn to use uncomfortable feelings like anger, anxiety, guilt, sadness or boredom to be kinder, braver, smarter, more creative and more persuasive. The dark side does indeed have an upside -- and this book teaches us how to harness it, so we can truly lead more heroic and purposeful lives."
—Jane McGonigal, PhD, author of Reality Is Broken

"Full of scientific research yet laugh-out-loud funny, this book is a must read. The authors turn everything on its head—questioning the wisdom of positive psychology and the pursuit of happiness—all in order to help us flourish and be happy!"
—Kristin Neff, PhD, author of Self-Compassion

"My experience with hundreds of clients tells me that happiness and well-being result from facing and accepting bouts of fear, shame and self-doubt. I am so glad that Todd and Robert chose to illustrate the science behind embracing negative emotions in this engaging book. It will help you live a deep, rich and meaningful life."
—Pamela Slim, author of Body of Work and Escape from Cubicle Nation

"Do we really need another book about happiness? Don't we all already know those '10 Steps to Certain Happiness'? The answers, surprisingly, are "Yes" and "No".Yes, we need this book by Todd and Robert because No, we don't know it all about happiness. It turns out there's a hugely under-utilized tool to increase your capacity for happiness. The very Dark from which we run away is often the path to the Light. If you've ever wondered how you can use what's Difficult to get closer to what's Good, this just might be the book for you."
—Michael Bungay Stanier, Senior Partner, Box of Crayons and author of Do More Great Work
Plume, 9780147516442, 304pp.
Publication Date: September 1, 2015
About the Author
Todd B. Kashdan, PhD, is a twin, has twin seven-year-old daughters, and has plans to rapidly populate the world with great conversationalists in Fairfax, Virginia.

The son of prominent positive psychologist Ed Diener, Robert Biswas-Diener, Dr. Philos., lives in Portland, Oregon.