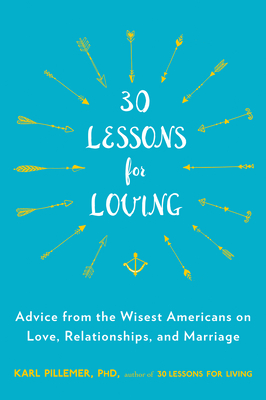 30 Lessons for Loving
Advice from the Wisest Americans on Love, Relationships, and Marriage
Paperback

* Individual store prices may vary.
Other Editions of This Title:
Digital Audiobook (1/31/2015)
MP3 CD (2/1/2015)
Compact Disc (2/1/2015)
Description
From the author of the beloved 30 Lessons for Living

Readers of Karl Pillemer's first book cherished the sage advice and great stories shared by extraordinary older Americans. Now, Pillemer returns with lessons on the most talked-about parts of that book: love, relationships, and marriage. Drawing on interviews with seven hundred long-married elders, 30 Lessons for Loving delivers timeless wisdom from a wide range of voices on everything from choosing "the one" to dealing with in-laws, money, children, and, yes, sex.

Whether readers are searching for the right partner or working to keep the spark alive, 30 Lessons for Loving illuminates the path to lifelong, fulfilling relationships.
Praise For 30 Lessons for Loving: Advice from the Wisest Americans on Love, Relationships, and Marriage…
Praise for 30 LESSONS FOR LOVING

"I loved 30 Lessons for Loving.  It's a treasure trove of great advice from some of the wisest people in the world. They've experienced just about everything in their relationships over the years, and their advice to us is both enlightening and enriching." —Hal Urban, Author of Life's Greatest Lessons and Positive Words, Powerful Results
 
"This rich and revelatory book offers us a rare gift: vivid narratives born of struggle and resilience, hard work and humor, and forged out of mutual respect, loyalty, and love."--Sara Lawrence-Lightfoot, EdD, author of The Third Chapter: Passion, Risk, and Adventure in the 25 Years After 50
 
"30 Lessons for Loving is a real contribution for helping us make important decisions about relationships, and nurture love once we have someone we treasure."--Pepper Schwartz, PhD. author of the Normal Bar: The Surprising Secrets of Happy Couples
 
"Couples of all ages will enjoy reading this book together and will profit from using this book as a guide as they develop as partners throughout the lifespan." —Kathleen McCartney, PhD, President of Smith College
 
"Karl Pillemer presents the wisdom of the ultimate experts in relationships, those who have made love and marriage work over the long run by learning from their mistakes and striking a viable balance between their hearts and minds." – Steven Stosny, Ph.D., author of Living & Loving after Betrayal and How to Improve Your Marriage without Talking about It.
 
"There is one thing in life that cannot be rushed - experience! So the wise listen to those who have gone before them, eager to learn what they can from the experience of others. The experience of others shows us the path of joy, and warns us away from the paths of anguish and pain. I thoroughly enjoyed 30 Lessons for Loving, it contains ten thousand years of experience."--Matthew Kelly, author of The Dream Manager and The Rhythm of Life
 
"A must-read for anyone contemplating marriage. The knowledge and wisdom gathered from this huge group of elders is both modern and timeless. It is inspiring, insightful, witty, and often -- surprising. This is everything about living -- and loving -- in a long relationship I wish my grandmother had told me. I highly recommend it for engaged couples and newlyweds."--Amy Dickinson, "Ask Amy" syndicated advice columnist

Praise for Karl Pillemer and 30 LESSONS FOR LIVING
 
"Thank you, Dr. Pillemer, for gathering all this wisdom in one book before it is lost. I can't imagine anyone whose life will not be enriched by this book." 
--Rabbi Harold Kushner, author of When Bad Things Happen to Good  People

"The 'Wisest Americans' have a lot to teach the rest of us. Some of this advice is refreshing common sense. Much of it is truly surprising. It is always heartfelt and ever-endearing - equal parts information and inspiration. This is a book to keep by your bedside and return to often."
--Amy Dickinson, nationally syndicated advice columnist "Ask Amy"

"This is a fabulous book! Karl Pillemer has done an incredible job of bringing together the collective wisdom of hundreds of Americans into an entertaining, thought provoking, and practical book. Give it a read. You will find yourself getting out of bed in the morning with new enthusiasm."
--Matthew Kelly, author of The Rhythm of Life and Off Balance

"30 lessons for Living is an absolute gem! Thank you Karl Pillemer for taking the time to collect such a valuable trove of wisdom, and for sharing it with us in such a readable book. It's one that I'll recommend often. All of it is wonderful, but I particularly appreciated the lessons on honesty and saying yes to opportunities. Read this book - you'll get more out of life and have fewer regrets."
--Hal Urban, author of Life's Greatest Lessons

"If you want to hear the wisdom of the aged, this easy-to-read book, based on years of penetrating interviews by a prominent sociologist, tells you what they have learned about love, work, marriage, and parenting."
--Howard S. Friedman, Ph.D. & Leslie R. Martin, Ph.D., authors of The Longevity Project
Avery, 9780147516534, 304pp.
Publication Date: December 1, 2015
About the Author
Karl Pillemer, PhD, is professor of human development at Cornell University and founder of the Cornell Institute for Translational Research on Aging.
or
Not Currently Available for Direct Purchase