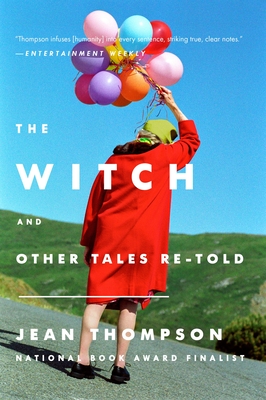 The Witch
And Other Tales Re-told
Paperback

* Individual store prices may vary.
Description
National Book Award finalist and New York Times bestselling author Jean Thompson's new collection of "bewitching improvisations on fairy tales" are "spellbinding" (Booklist, starred review).

Capturing the magic and horror in everyday life, The Witch and Other Tales Re-told revisits beloved fables that represent our deepest, most primeval fears and satisfy our longings for good to triumph over evil (preferably in the most gruesome way possible). From the wolf in "Little Red Riding Hood" to the beauty asleep in her castle, The Witch and Other Tales Re-told triumphantly brings the fairy tale into the modern age.
Praise For The Witch: And Other Tales Re-told…
Praise for The Witch and Other Tales Re-told

"In this spooky, enthralling, and morally complex collection, National Book Award finalist Thompson…shows evil, wonder, and majesty...Thompson skillfully infuses our banal world of technology, reality TV, and pop psychology with genuine horror....as eerie as anything you'll find in the Brothers Grimm."—Publishers Weekly

"[S]hrewdly unnerving and bewitching improvisations on fairy tales... clever, caring, funny, and wrenching.... Thompson's wizardly command is spellbinding, and her keen and unexpected revelations are, by turn and twist, grim and ebullient."—Booklist (starred)

"[A] series of exuberantly imaginative riffs on traditional folk and fairy tales...they offer all the chills and suspense embedded in those ancient pinnacles, gorges and deep, dark woods....[a] spirited, provocative collection."—Valerie Miner, San Francisco Chronicle

"[An] arresting collection. Thompson transforms old tales, rendering them at once familiar and surprising."—Rob Cline, The Iowa Gazette

"The dangers [in Thompson's stories] are, in fact, so familiar that one might miss the foreboding peculiar to fairy tales where anything might happen....And that is something Thompson does especially well. She has a clear, strong sense of how all sorts of people work, sometimes a mystery even to themselves, and her smart, spare style, conveying these inner workings in an almost matter-of-fact way, is a sly modern counterpart of the age-old storyteller's voice, simply reporting the way things are, however strange."—Ellen Akins, Minneapolis Star-Tribune

"In this collection of eight updated fairy tales, Jean Thompson demonstrates once again that she's a modern-day Katherine Mansfield, capturing the culture with trenchant wit. These stories are entertaining, but also creepy; just when you think you know where Thompson is going—you look around and nothing is familiar anymore. Thompson is a wizard of the short story, and these tales are magical—and diabolical."—Julia Keller, NPR's Best Books of 2014
Plume, 9780147516985, 272pp.
Publication Date: September 29, 2015
About the Author
Jean Thompson is the New York Times bestselling author of numerous novels and story collections, among them A Cloud in the Shape of a Girl, The Year We Left Home, City Boy (a National Book Award finalist), and Wide Blue Yonder. She lives in Urbana, Illinois.
or
Not Currently Available for Direct Purchase