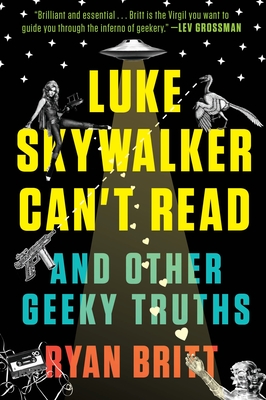 Luke Skywalker Can't Read
And Other Geeky Truths
Paperback

* Individual store prices may vary.
Other Editions of This Title:
Digital Audiobook (11/23/2015)
MP3 CD (11/24/2015)
Compact Disc (11/24/2015)
Compact Disc (11/24/2015)
Description
The perfect gift for anyone who embraces the joy of fandom and geeking out, this collection of essays celebrates the fans of Star Wars, Star Trek, Doctor Who, Sherlock Holmes, Lord of the Rings, and much more.

Pop Culture and sci-fi guru Ryan Britt has never met a monster, alien, wizard, or superhero that didn't need further analysis.

Essayist Ryan Britt got a sex education from dirty pictures of dinosaurs, made out with Jar-Jar Binks at midnight, and figured out how to kick depression with a Doctor Who Netflix-binge. Alternating between personal anecdote, hilarious insight, and smart analysis, Luke Skywalker Can't Read contends that Barbarella is good for you, that monster movies are just romantic comedies with commitment issues, that Dracula and Sherlock Holmes are total hipsters, and, most shockingly, shows how virtually everyone in the Star Wars universe is functionally illiterate.
 
Romp through time and space, from the circus sideshows of 100 years ago to the Comic Cons of today, from darkest corners of the Galaxy to the comfort of your couch. For anyone who pretended their flashlight was a lightsaber, stood in line for a movie at midnight, or dreamed they were abducted by aliens, Luke Skywalker Can't Read is full of answers to questions you haven't thought to ask, and perfect for readers of Chuck Klosterman, Rob Sheffield, and Ernest Cline. 

"Ryan Britt is . . . the Virgil you want to guide you through the inferno of geekery." —Lev Grossman, author of the bestselling Magician's trilogy
Praise For Luke Skywalker Can't Read: And Other Geeky Truths…
"Ryan Britt is one of nerd culture's most brilliant and most essential commentators...the Virgil you want to guide you through the inferno of geekery." —Lev Grossman, author of the bestselling The Magicians Trilogy
 
"Ryan Britt is an uncontrolled experiment—a genre omnivore who has spent his time on this earth flying to other galaxies, undersea cities, freaky amusement parks, Middle Earth, Transylvania, Sherlock Holmes' London, and the Cretaceous. His essays are reliably smart, surprising, provocative, and funny." —Karen Russell, Pulitzer-Prize-nominated author of Swamplandia!

"One of the most witty, fun, warm, and insightful essay collections out there. If Luke Skywalker had a favorite book, it would be this one." —Ophira Eisenberg, host of NPR's Ask Me Another and author of Screw Everyone

"Luke Skywalker Can't Read is personally revealing, effortlessly funny, carefully researched, and optimistic about the place of sci-fi/fantasy in the greater world of popular entertainment." —Cecil Baldwin, narrator of Welcome to Night Vale

"Whether he's exploring paradoxes in Back to the Future, the fundamental illiteracy of the average Stormtrooper, or being tied up and held over a rooftop by a couple of dominatrices, Ryan Britt is an amiable, perceptive, and highly entertaining observer of the sci-fi scene. I gulped down these essays like Dracula downing a pint of blood." —Teddy Wayne, author of The Love Song of Jonny Valentine

"Ryan Britt's debut collection is a wisecracking, intimate and intelligent voyage through universes both real and imagined. But to a certain kind of reader –- the kind whose teenage weekends were spent at sci-fi conventions and comic book stores— it is also something much more. Luke Skywalker Can't Read is a glorious geek manifesto, illuminating the essential and often misunderstood essence of geekdom: not the pursuit of esoterica-obsessed loners but a vital and complex community, a far-away galaxy where fellow misfits meet to swap the ray guns, talismanic rings, and radioactive potions for their daily battles back on Planet Earth." —Stefan Merrill Block, author of The Story of Forgetting and A Storm at the Door
 
"Sci-fi and fantasy fans, meet your new best friend. Ryan Britt has an encyclopedic knowledge of geek culture, from Aurebesh to Zardoz, and this collection of essays feels like you're hanging out with him at the world's nerdiest bar. Luke Skywalker Can't Read is smart, insightful, and totally fun." —David M. Ewalt, author of Of Dice and Men: The Story of Dungeons & Dragons


Plume, 9780147517579, 224pp.
Publication Date: November 24, 2015
About the Author
Ryan Britt has written for The New York Times, Electric Literature, The Awl, VICE Motherboard, Clarkesworld Magazine, and is a consulting editor for Story Magazine. He was the staff writer for the Hugo-Award winning web magazine Tor.com, where he remains a contributor. He lives in New York City.
or
Not Currently Available for Direct Purchase