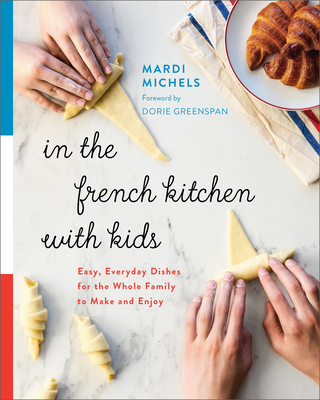 In the French Kitchen with Kids
Easy, Everyday Dishes for the Whole Family to Make and Enjoy: A Cookbook
Paperback

* Individual store prices may vary.
Description
Shortlisted for the 2019 Taste Canada Awards! From the writer and recipe developer behind eat. live. travel. write comes a new cookbook for parents, children and Francophiles of all ages. Forget the fuss and bring simple, delicious French dishes to your home kitchen with Mardi Michels as your guide.

Twice a week during the school year, you'll find Mardi Michels--French teacher and the well-known blogger behind eat. live. travel. write--directing up to a dozen children in her school's science lab as they slice, dice, mix, knead and, most importantly, taste. Whether they're learning to make an authentic ratatouille tian or tackling quiche made with pastry from scratch, Mardi's students can accomplish just about anything in the kitchen once they put their minds to it.

In her first book, Mardi shows that French food doesn't have to be complicated. The result is an elegant, approachable cookbook featuring recipes tailored for young chefs and their families. From savory dishes like Omelettes, Croque-Monsieurs or Steak Frites to sweet treats like Profiteroles, Madeleines or Crème Brûlée, readers will find many French classics here. With helpful timetables to plan out baking projects, as well as tips on how to get kids involved in the cooking, this book breaks down any preconceived notion that French cuisine is too fancy or too difficult for kids to master. With Mardi's warm, empowering and encouraging instructions, kids of all ages will be begging to help out in the kitchen every day of the week.
Praise For In the French Kitchen with Kids: Easy, Everyday Dishes for the Whole Family to Make and Enjoy: A Cookbook…
"One of the best ways to have fun and bond with young people is to cook with them as partners. Kids are inherently creative; the smell and taste of the dishes produced will stay with them permanently. In the French Kitchen with Kids, a thorough, well-organized, approachable and friendly cookbook, will take your child on a delectable culinary voyage leading to a lifetime of lasting memories."
—Jacques Pépin

"Mardi brings the flavors of France into your home, and makes them fun for the family to prepare together. From Quick Croissants to silky Crème Caramel, In the French Kitchen with Kids brings everyone to the table, in the true French spirit."
—David Lebovitz, author of My Paris Kitchen

"As a French mother of two and a passionate cook, I applaud Mardi's French-inspired approach to inviting kids into the kitchen. Her extensive teaching experience shines through the entire book, and encourages parents everywhere to share their love of simple, homemade foods with their children."
—Clotilde Dusoulier, author of Tasting Paris and the blog Chocolate & Zucchini

"I have always marveled at the French talent for educating their children in matters of taste. No age is considered too young to start learning to recognize quality food and to appreciate the pleasures of a shared table. Mardi Michels' inviting new book creates the kind of allure that will excite children about cooking and leave them feeling empowered and proud of their results. A perfect place to set off on a lifetime adventure of good eating."
—Laura Calder, author of French Food at Home and The Inviting Life

"Cooking French food with kids might sound like a recipe for disaster. But with veteran kids cooking teacher Mardi Michels as a guide, your tiny chefs will soon be whipping up everything from poulet rôti to profiteroles! With a clear, concise, and friendly directions, filled with practical advice, and luscious photos, In the French Kitchen with Kids makes French cuisine easy and accessible for all ages."
—Ann Mah, author of Mastering the Art of French Eating and The Lost Vintage

"We love this collection of irresistible recipes and useful kitchen tips. But the real star of the book is Mardi's warm and confident encouragement that kids and parents alike can master delicious French food."
—Laura Keogh and Ceri Marsh, authors of The School Year Survival Cookbook and How to Feed a Family

"Mardi Michels's knowledge and dedication to teaching the next generation about the joys of cooking the French classics is obvious, and her fun, thoughtful approach is not only inspiring, it's totally infectious! My family and I can't wait to take her with us on our next kitchen adventure." —Gail Simmons, food critic, TV host and author of Bringing It Home: Favorite Recipes from a Life of Adventurous Eating

"Pint-sized cooks will love learning how to make impressive French classics, and Mardi Michels is uniquely qualified to instruct them. . . Michels knows firsthand what kids can cook when given the opportunity. From a classic omelette to croissants and ratatouille three ways (each accommodating different skill levels), In the French Kitchen with Kids is filled with recipes that cooks of all ages will adore." —The National Post
Appetite by Random House, 9780147530776, 192pp.
Publication Date: July 31, 2018
About the Author
MARDI MICHELS is a full-time French teacher to elementary school-aged boys and the author of eat. live. travel. write--a blog focusing on culinary adventures near and far. As part of her job, she runs cooking classes for boys aged 7 to 14, called Les Petits Chefs and Cooking Basics. Mardi grew up in Australia, lived and taught in Paris for over five years and now calls Toronto home. In 2014, Mardi and her husband purchased a historic home in southwest France, which they operate as a vacation rental property. Mardi is also a Food Revolution Ambassador and in her spare time teaches French cooking and baking classes.