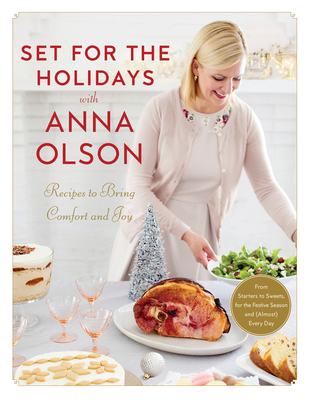 Set for the Holidays with Anna Olson (Hardcover)
Recipes to Bring Comfort and Joy: From Starters to Sweets, for the Festive Season and Almost Every Day
Appetite by Random House, 9780147530813, 344pp.
Publication Date: October 16, 2018
* Individual store prices may vary.
Description
Shortlisted for the 2019 Taste Canada Awards
Get set for holiday season success, with more than 100 savoury and sweet recipes from celebrity baker and chef Anna Olson.

When does the festive season begin for you? For Anna, it's with the first pumpkin pie of the year. Pumpkin pie isn't something she bakes on any old evening, so it signifies something very special when she does: the start of the holidays! In Anna's house, the holidays are a time for coming together with family and friends, celebrating traditions, and making some new ones, too. In this festive cookbook, Anna shares the recipes she most loves to make during the holiday season--for occasions like a festive brunch, entertaining a crowd, a cozy supper, Thanksgiving and Christmas dinner, an elegant New Year's evening--and sensational sweets such as holiday cookies, celebratory centerpiece cakes, festive pies and tarts, fancy bars and slices, and much more!

With every recipe is a spoonful of practical and supportive advice, including menu planning, make-ahead preparation, and hundreds of other hints and tips. Set for the Holidays will help add sparkle and take away stress from your holidays, so you can navigate the season with confidence!
About the Author
Anna Olson is the internationally-known host of the Food Network's Bake with Anna Olson, Fresh with Anna Olson, and Sugar, and the author of eight bestselling cookbooks on baking and cooking, including Bake with Anna Olson. Anna is a professionally trained chef and pastry chef who lives in Ontario, Canada, with her husband, Michael.
Praise For Set for the Holidays with Anna Olson: Recipes to Bring Comfort and Joy: From Starters to Sweets, for the Festive Season and Almost Every Day…
Praise for Anna Olson

"With multiple Food Network Canada shows and eight bestselling cookbooks under her belt, Anna Olson has become a household name across Canada. Although she is trained as a classical pastry chef, Anna's goal, in her own words, is always "to teach, empower, inspire, and instil confidence in the home cook," and she does so with a wide range of delicious, approachable meals." –Canadian Living