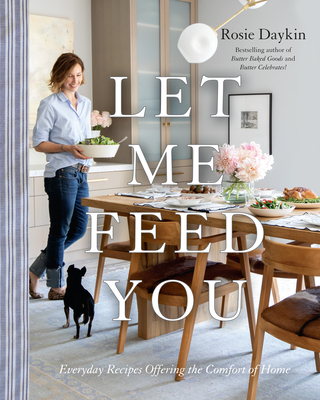 Let Me Feed You (Hardcover)
Everyday Recipes Offering the Comfort of Home
Appetite by Random House, 9780147531087, 288pp.
Publication Date: April 9, 2019
* Individual store prices may vary.
Description
Rediscover the simple pleasure of cooking for those you love with more than 100 delicious recipes for breakfast, lunch, dinner and, of course, dessert.

Rosie Daykin, founder of Butter Baked Goods and bestselling author of Butter Baked Goods and Butter Celebrates!, realized early on that her talent in life is feeding others. For her, cooking is a way of starting a conversation--a way of saying "thank you," "I love you," or simply "tell me about your day"--with something much tastier than just words.
Rosie's cooking is as unfussy and straightforward as it is delicious and beautiful. Given how busy life can be, she doesn't believe making a comforting home cooked meal should make it any more complicated--because complicated doesn't always mean better.

Let Me Feed You is a warm, humorous cookbook full of easy-to-follow recipes destined to become new favorites. It is a celebration of everyday life at home, filled with beautiful photography, funny stories, and Rosie's love of blue and white stripes. Let Me Feed You is the perfect gift for yourself, or for anyone in your life who has fed you, or loved you.
About the Author
ROSIE DAYKIN is the owner of Butter Baked Goods in Vancouver, Canada, and the bestselling author of Butter Baked Goods and Butter Celebrates! She has been a passionate home cook since she was six years old. After a career as an interior designer, she transformed her dream of opening a bakery into a phenomenal success story, with products sold at 300 fine retailers across the world. She lives in Vancouver with her husband, Paul; their daughter, India; one fat cat, Brian; and a small dog, Pickle.
Praise For Let Me Feed You: Everyday Recipes Offering the Comfort of Home…
"The honest and heartfelt dishes in Let Me Feed You left me salivating for more! Woven with tips, techniques, warm personal style and intimate snippets, you'll think of Rosie as a long lost friend by dessert. Feed, be fed and cherish these lovingly simple and inspiring everyday recipes for years to come! —Erin French, The Lost Kitchen

"In her new cookbook, the bestselling author of Butter Baked Goods and Butter Celebrates! shows novice and experienced cooks alike just how easy and rewarding it is to create classic comfort foods at home, for breakfast, lunch and dinner." —Eat North

"[Rosie Daykin's] latest book incorporates a lot of beautiful details from her personal life—including the story of an elderly family pup. The book also includes a host of savoury and sweet recipes—like a curried chicken sandwich—that you'll want to whip up ASAP." —Chatelaine

"As owner of Butter Bakery and Cafe and a mom, cookbook author Rosie Daykin learned how to balance cooking delicious food and keeping sane. It's in simple, homey foods done well." —Postmedia

"The founder of Butter Baked Goods focuses on the pleasure of feeding others with a humorous, unfussy book of home cooking, full of recipes to comfort, nurture, and celebrate." —Julie Van Rosendaal, The Globe and Mail
 
"While Daykin includes dessert recipes for good measure, this time out she prioritizes the kinds of food that keep her and her family fueled." —The Georgia Straight