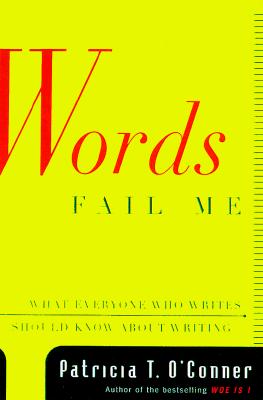 Words Fail Me
What Everyone Who Writes Should Know about Writing
Hardcover

* Individual store prices may vary.
Other Editions of This Title:
Paperback (9/7/2000)
Description
And not a minute too soon! Armed with our laptops and our PCs, we're the writing-est generation ever, cranking out e-mail, Web pages, electronic bulletin board postings, not to mention office memos, faxes, reports, newsletters, school papers, even memoirs and novels. But many of us were never taught how to write a sentence that makes sense, how to make sure our words do justice to our ideas. The result? Never have so many written so much so badly. Patricia T. O'Conner comes to the rescue with Words Fail Me, a practical and witty guide to the elements of good writing. She takes you through the writing process step by step. Pat O'Conner has done it again. So, there'll be no more staring blankly at an empty screen. Words Fail Me will charm the good writer out of you.
Praise For Words Fail Me: What Everyone Who Writes Should Know about Writing…
"O'Conner uses her playful sense of humor to help us swallow with a laugh the rules that schoolmarms once forced down students' throats.-The New York Times Book Review
"O'Conner is one of those sneaky-good writers: You don't see the effort behind her smoothness."-Salon.com "Read this one from end to end....Imagine what the Congressional Record would be like if bureaucrats wrote that way."-The Cleveland Plain Dealer
"Will delight the word lovers on your shopping list...Sassy." -Detroit News Free Press
"Remember Woe Is I? Well, Ms. O'Conner is back and she hasn't lost her touch. This book is worth the price just to read her chapter titles and headings."-Writers' Exchange
"Patricia T. O'Conner's Woe Is I and Words Fail Me are readable, sympathetic to the struggling writer and often just plain funny."-the Seattle Times
Houghton Mifflin Harcourt, 9780151003716, 224pp.
Publication Date: September 1, 1999
or
Not Currently Available for Direct Purchase